Tue, 6th Jun 2023 06:32 (GMT +7)
Top three strikingly beautiful islands in Ha Long Bay
Tuesday, 13/09/2022 | 11:23:21 [GMT +7]
A
A
While on holiday in Halong Bay, beautiful islands such as Titop, Tuan Chau and Monkey Island are must-see destinations that you should not miss.
It is not difficult to know how many islands in Halong bay there are, but with the number of up to 1969, finding the right places to visit is another story. Each of them has its own unique beauty and attractiveness, many of which have also been built into modern tourist destinations with professional and diverse services. You can book a night cruise, experience and explore the top 3 beautiful islands of Halong Bay below:
Titop Island Halong Bay - top worth-visiting islands in Halong Bay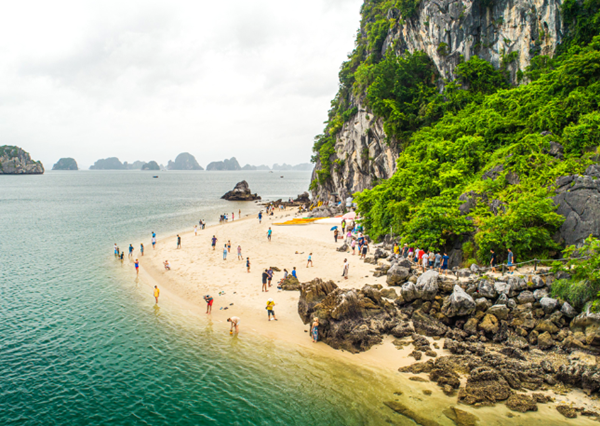 Located about 8km from Bai Chay port, this is one of the most typical islands in Halong Bay 1-day tours. Titop Island was named by President Ho Chi Minh, after a Soviet cosmonaut who went there with him in 1962. This island has a steep slope on one side and a slight slope on the other side, with a moon-shaped sandy beach embracing the island's foot. The white sand here is extremely flat, soft and clean because it is washed by the tide in all four seasons. Although having a fairly small area, the sandy beach is very airy and quiet with calm water all year round.
Similar to most other islands in Halong Bay, Titop has a wild and beautiful natural landscape, with water so clear that you can even see the pebbles on the sandy bottom. This place has not been much touched by human hands, but also because of that, there are not too many modern and diverse entertainment activities, which is why it's often included in the 1-day trip to Vietnam. In addition to immersing in the clear blue water of Moon beach, watching the romantic sunrise and sunset, you can also try water motorbikes or chartered parachutes renting from the small stalls of locals on the shore.
Tuan Chau - the top entertainment island in Halong Bay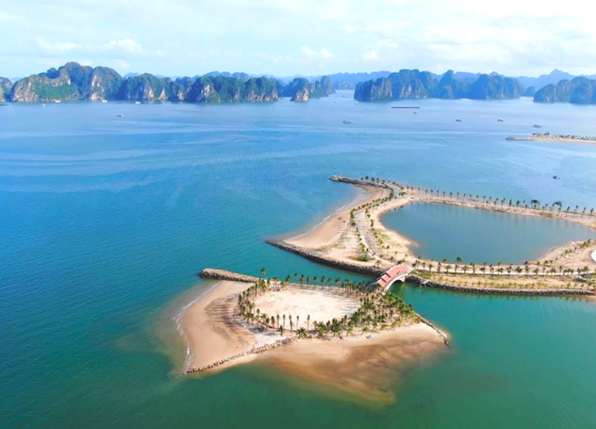 Tuan Chau is one of the most vibrant resort islands in Halong Bay, with a large area of up to 400 hectares. Connected to the mainland by a 2km long road, this place has favorable infrastructure conditions for easy traveling. In addition to being a place for you to enjoy a fresh atmosphere, this beach with fine white sand is also suitable for active sports and activities. On Tuan Chau island, there are many types of interesting games that you can participate in depending on your interests such as windsurfing, canoeing, kayaking or camping, team building, volleyball, soccer,... 
Not only is it one of the islands in Halong Bay that attract the most people, but Tuan Chau is also rated as the most important tourist destination of Quang Ninh Province. This place has been developed with many construction items that have been and are being built, including the villas with international standard infrastructure located right near the beach. You should also not miss the food street with many restaurants designed in beautiful royal architecture, offering European - Asian and local dishes made by famous and professional chefs. 
Some other most popular tourist attractions on Tuan Chau Island are the light-water music performance and the outdoor amusement park. The latter of those two is the highlight that makes this place stand out from other islands in Halong Bay, sometimes said to be a "miniature Disney Disney under water". Coming to the amusement park, you will have the chance to meet extremely lovely fairy-tale and cartoon characters, watch circus shows performed by monkeys, crocodiles, sea lions, seals, and so on.
Halong Bay Monkey Island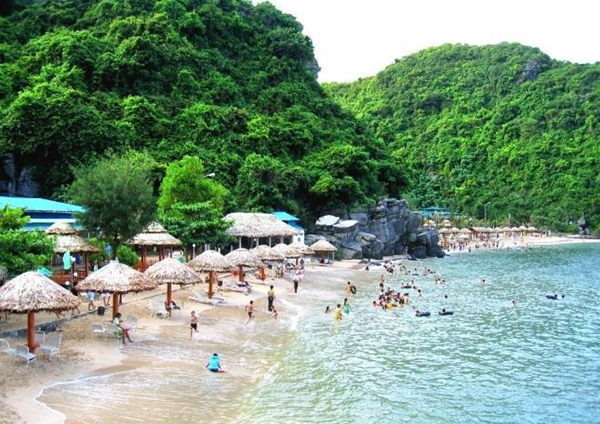 Monkey Island is one of the must-see islands in Halong Bay when you visit the bay, reached by boat from Beo wharf passing Cai Beo fishing village. Previously, this island was called Cat Dua because there are many wild pineapple trees on the island, whose fruits look delicious but cannot be eaten. The current name appeared since this place became home to more than 20 mischievous monkeys, extremely bold and not afraid of people. They often go down to the beach to play with tourists, and you can also feed them with foods such as bananas, apples, tangerines, candies, and so on.
Covering an area of about 3 square kilometers, this is one of the rather small tourist islands in Halong Bay, but it owns two of the most beautiful beaches of Quang Ninh beach paradise, namely Cat Dua 1 and 2. Monkey Island has a mountain-like structure with sandy shores stretching for kilometers, formed over millions of years by waves and wind bringing in sand, rocks, corals, shells of snails, seashells, shrimps, crabs, etc. In the summer, when other beaches become crowded, Monkey Island is the ideal place for those who want to avoid the hustle and bustle.
The longer Cat Dua 1 beach is an ideal bathing spot because the sea here is extremely clear and blue, with many convenient services on the shore such as rental of bathing suits, kayaks, etc. Meanwhile, Cat Dua 2 Beach is located on the right hand side, hidden behind a tiger-shaped mountain with a garden of more than 100m2 consisting of various trees and many kinds of birds. This place also has an extremely modern and professional resort suitable for the high-end segment, especially foreign guests who want to experience a relaxing time away from the crowded islands in Halong Bay. 
With the great values that nature bestows, the beautiful islands of Halong Bay have become a bright spot of tourism in Quang Ninh province. In addition to the places mentioned above, you can also consider islands like Quan Lan and Co To, or Bo Hon Island with the famous Sung Sot cave. Hopefully the information about the top 3 islands of Halong above will help you have a memorable trip to this paradise.
 About Vietnam Trips
- Company: Local Sunshine Co. Ltd - Experience Vietnam like a local!
- Address: No. 27 To Vinh Dien Street, Thanh Xuan District, Hanoi, Vietnam
- Website: https://vietnamtrips.com/
- Fanpage: https://www.facebook.com/amazingvietnamtrips
- Gmail: [email protected]
By Thu Hien