Fri, 8th Dec 2023 09:11 (GMT +7)
Party Central Committee's 8th plenum wraps up
Monday, 09/10/2023 | 08:16:27 [GMT +7]
A
A
The 13th Party Central Committee concluded its 8th plenum on October 8 morning, with all of its agenda completed after seven working days.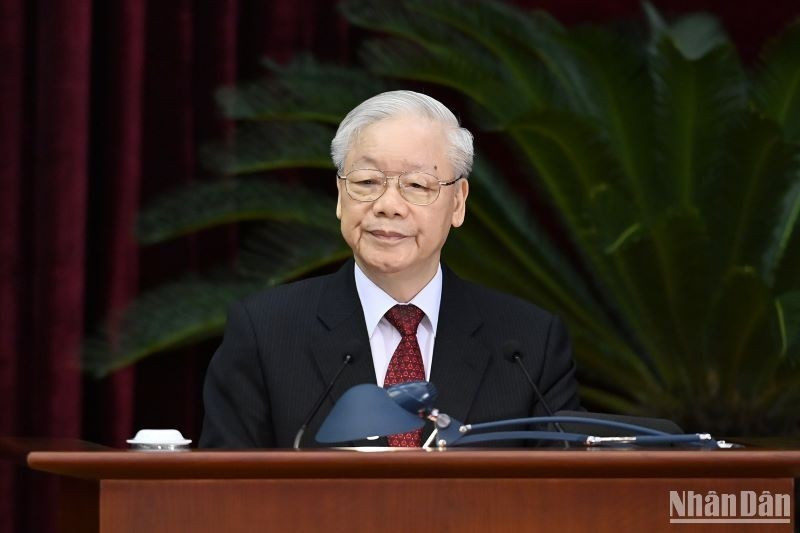 Speaking at the closing ceremony, Party General Secretary Nguyen Phu Trong said that amidst difficulties and challenges of the world and domestic situation, it is necessary to prioritise promoting and improving growth quality, creating jobs and increasing income for workers on the basis of maintaining macroeconomic stability, ensuring major balances of the economy, and ensuring social welfare.
He requested to keep a close watch on the international and domestic situation to promptly make appropriate and effective decisions, strive to achieve the highest level of major goals and targets for 2023 and the entire 13th term.
To successfully achieve the set goals, the Party chief stressed the need to urgently and seriously build and implement guidelines and policies concertedly and effectively; continue to promote the tradition of great national unity in the new period of development; supplement and improve laws and policies in accordance with the new situation to better promote the strength of all classes of people, and inspire the will and aspirations for development of the entire nation; and maintain the building and rectification of the Party and the political system.
It is also important to continue improving the validity and efficiency of the State's activities in building and implementing national solidarity policies; promoting socialist democracy, taking the people as the centre, the subject, the main resource and driving force, and the goal of national unity; and at the same time innovating the operations of the Vietnam Fatherland Front, socio-political organisations, and mass associations to make them truly represent the legitimate rights and interests of the people, and better serve national development, said the Party General Secretary.
He also emphasised the necessity to maintain and strengthen the Party's absolute and direct leadership in all aspects, as well as the State's centralised and unified management and administration for the cause of national building and safeguarding; while ensuring national interests at the highest level based on the basic principles of the United Nations Charter, international law, equality, cooperation, and mutual benefit; and firmly pursuing the goal of national independence and socialism; and maintaining a peaceful, stable environment and favourable conditions for the building and development of the country.
Attention should also be paid to increasing appropriate investment in building all-people national defence, people's security and people's armed forces so as to meet the requirements of protecting the Fatherland early and from afar, and not being passive or surprised in all situations; intensifying international integration and improving the effectiveness of international cooperation, the Party chief stressed.
Source: Nhan Dan