Thu, 5th Oct 2023 02:12 (GMT +7)
National Assembly stresses cybersecurity in e-transaction law discussion
Wednesday, 31/05/2023 | 08:46:57 [GMT +7]
A
A
It is necessary to detail the responsibilities of service providers and intermediaries in addition to the supervision of relevant state agencies, one deputy said.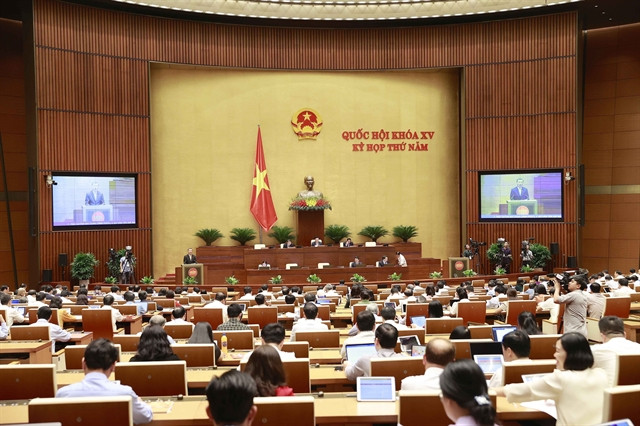 In the plenary session on Tuesday morning, National Assembly (NA) deputies agreed that amending the e-transaction law is crucial to national digital transformation, as well as protecting the rights and interests of those involved.
Speaking at the meeting, the chairman of the NA's Committee on Science, Technology and Environment Lê Quang Huy said that the current legal framework related to e-transactions is basically completed.
In the draft amendment of the 2005 E-transaction Law, Article 1 has been changed to only define transactions conducted through digital means, without going into details on the content, format and conditions for transactions in different sectors.
Each sector will have specific legal documents regulating its transactions.
The committee chairman also added that verification through SMS, OTP (one-time password) and Token OTP, biometrics and eKYC are common in e-transactions nowadays.
However, these are considered e-signatures only when combined logically with data messages, capable of identifying the signatories, and their consent to the content of the signed data messages.
Therefore, the draft amendment specifies the definition of "digital signature" and "e-signature", while also classifying digital signatures into three groups according to their use. These are specialised digital signatures, public digital signatures, and official digital signatures.
The document also states that other forms of verification through electronic means, which don't fit into the definition of digital signatures, will be regulated for implementation according to each sector's legal framework.
Bình Dương Province's NA deputy Nguyễn Hoàng Bảo Trân said that managing public and official digital signatures are two separate fields, each characterised by its subjects, objectives, management methods and infrastructure.
Careful consideration must be made in issuing regulations to state management agencies on this matter, she said.
Since 2007, official digital signature and public digital signature have been respectively assigned to the Ministry of Defence (MoD) and Ministry of Information and Communication (MIC) for management.
Official digital signatures, which are used among state, Party agencies and socio-political organisations, require a higher level of security.
"There can be risks if the MIC is required to manage both of these signature types as per the draft document," said NA deputy Trân. The responsibility for official digital signatures should be assigned to the defence minister, she said.
Sharing the same perspective, An Giang Province's NA deputy Hoàng Hữu Chiến also proposed that the drafting committee research further and specify the MoD's authority, and the Government Cipher Committee's role and responsibilities in managing, utilising and issuing official digital signatures.
Kon Tum Province's NA deputy Trần Thị Thu Phước gave high regard to the amendment, but note that criminal activities via e-transactions are complicated and intensifying.
This had not only caused harm to people and businesses, but also to their view on transactions on digital platforms, she added.
Phước said the draft amendment had specified measures to ensure cybersecurity, as well as the responsibilities of stakeholders.
However, to prevent cyber crimes, it would be necessary to detail the responsibilities of service providers and intermediaries in controlling and removing illegal content on digital platforms, in addition to the supervision of relevant state agencies.
On the same day, the NA also discussed several national infrastructure projects, including Ka Pét Reservoir in Bình Thuận Province, and a road project connecting Khánh Hòa, Lâm Đồng and Ninh Thuận provinces.
Source: Vietnam News