Wed, 4th Oct 2023 14:21 (GMT +7)
Circular economy promoted towards sustainable development
Wednesday, 16/08/2023 | 08:47:36 [GMT +7]
A
A
The development of science and technology creates more and more products with good quality, contributing to improving people's lives. However, its downside is the serious consequences of resource depletion and environmental pollution. In the context that the economy requires a recovery, in combination with the implementation of sustainable development goals, the importance of the "circular economy" has been appreciated, especially with sustainable business and start-up models.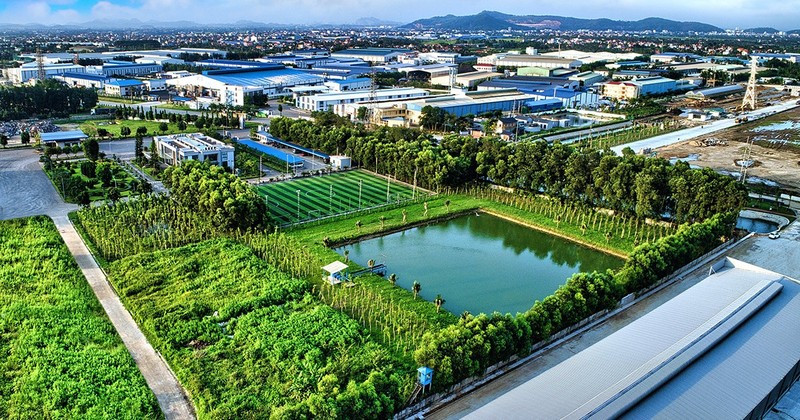 As people are facing increasingly serious challenges of environmental pollution and resource depletion, the circular economy model offers a visionary solution that can help change society and the economy.
New models
In Vietnam, many new production and business models that are closer to the circular economy in the private sector have been carried out successfully, creating many production and business opportunities and improving competition in the economy. The exemplary models are eco-industrial parks in Ninh Binh Province, Can Tho and Da Nang Cities, which save millions of USD per year.
Vietnam has formed a packaging recycling alliance. The foreign direct investment (FDI) business sector is quite active in promoting the circular economy through waste and by-product recycling plans, with modern and advanced waste treatment processes, which have been controlled transparently.
Nestlé Company produces unburnt bricks from boiler waste, processes fertilisers from non-hazardous sludge and uses milk cartons as ecological roofing. The company also plans to recycle and reuse 100% of product packaging by 2025. Heineken Vietnam Brewery Limited Company has nearly 99% of waste or by-products reused or recycled. Four out of six breweries of the company use heat from renewable energy and zero-carbon fuel. Unilever Vietnam Company carries out a programme to collect and recycle plastic packaging and sort waste on-site.
In the textile industry, parts of rags have been recycled by some businesses into new fabrics and clothes using part of this recycled fabric, which are labelled CE (which helps circulate products around the European and the European Free Trade Association - EFTA markets). The parts such as coffee grounds and husks have been used and manufactured into standard coffee cups that are labelled with CE products.
In the construction industry, measures to increase the use of recycled and unburnt construction materials will help assess the life cycle of buildings and promote the development of a secondary market for construction materials, as well as promote innovation in resource use and effectively solve material-intensive problems.
However, according to experts, production and business models, under the circular economy, have not been popular in Vietnam because most businesses are still operating according to the logic of the linear economy, with goals focused on the creation of short-term values while the circular economy is a model creating long-term values.
In addition, the legal and infrastructure conditions for the development of the circular economy are still lacking, with many shortcomings, making it difficult to deploy new business models. The circular economy requires a production and development strategy that uses the product as long as possible and a plan to bring materials back into production later. This requires a large investment in infrastructure for waste collection, sorting and recycling.
Difficulties and challenges also come from the small demand for cyclic products and substitutes and the lack of qualified and technical experts to implement this new economic model. The current measurement of the gross domestic product (GDP) index has not focused on considering social and environmental factors, so it has not been encouraging value creation in both sectors.
"Despite the challenges during the implementation, the circular economy brings many benefits to the community. Every change starts with small actions, we need to believe in it and help stakeholders support and believe." Pham Dung Nam, Director of the National Startup Support Centre of Vietnam (NSSC)
The circular economy is more difficult than creative innovation because innovation focuses on economic development, while the circular economy balances business while protecting and improving the environment. Therefore, the circular economy is not only a business and investment mobilisation process but also a strategy, requiring the participation of all stakeholders.
Challenges to be tackled
The Party's guidelines and State's policies on circular economy development towards sustainable development have been affirmed. Vietnam is continuing to perfect its socialist-oriented market economy institution, transforming from a linear economy to a circular economy, with many new business models based on the application of science-technology and innovation related to policy, contributing to rapid and sustainable economic development.
On February 11, 2020, Politburo issued Resolution No. 55-NQ/TW on "orientations for Vietnam's national energy development strategy until 2030, with a vision to 2045". The resolution affirms the priority for the development of renewable energy and power plants, using waste to protect the environment and develop the circular economy. The Law on Environmental Protection 2020 officially legalises regulations on circular economy.
The project on circular economy development in Vietnam approved by the Prime Minister through Decision No.687/QD-TTg dated June 7, 2022, determined that circular economy development is inevitable, in line with the trend and requirement of creating breakthroughs in economic recovery and implementation of the Sustainable Development Goals in Vietnam.
According to Director of Science and Technology Enterprise Market Development Department Pham Hong Quat, in the context of global economic integration, Vietnam has joined many new-generation Free Trade Agreements (FTAs) with many countries and regions, including commitments on safety standards for ecological environment, so the application of the circular economy model in Vietnam is an inevitable trend towards sustainable development.
Dr. Nguyen The Chinh, former Director of the Institute of Strategy and Policy on Natural Resources and Environment, proposed several solutions such as the State continuing to improve the system of policies and laws and promulgating regulations and standards for circular economy development in line with new trends in the region and the world; using technical and environmental standards and tax tools to limit the excessive use of resources and waste in the production process.
In addition, it is crucial to strongly renovate the economic growth model based on the efficient use of inputs, capital and labour, as well as promote the sustainable economic growth associated with the economical and efficient use of resources.
To promote the circular economy, it is essential to break down misunderstandings about the circular economy such as understanding this as a recycling process or a temporary trend that is only for large businesses such as brands, not startups. Nguyen Phuong Linh, Executive Director of the Management and Sustainable Development Institute
The circular economy is not only a way to recycle, but also an opportunity for businesses to grow sustainably, create value and develop through the efficient use of resources. The circular economy is not just for big business but is a popular and practical trend in the new era, attracting the attention of investors and consumers. Open creative innovation and circular economy support each other in building a sustainable and prosperous future, contributing to reducing waste and environmental pollution, and creating value and sustainable development for society and businesses.
Source: Nhan Dan