Sun, 28th May 2023 13:24 (GMT +7)
Binh Lieu graps golden opportunity to develop forestry industry
Friday, 14/10/2022 | 16:37:31 [GMT +7]
A
A
Binh Lieu's forest coverage rate accounts for 87% of the district's natural land area the 18,000 ha of protection forest and 22,000 ha of production forest. Thanks to effective forestry policies, thousands of households in this mountainous border district have stabilized their lives and even increased their probability of being rich.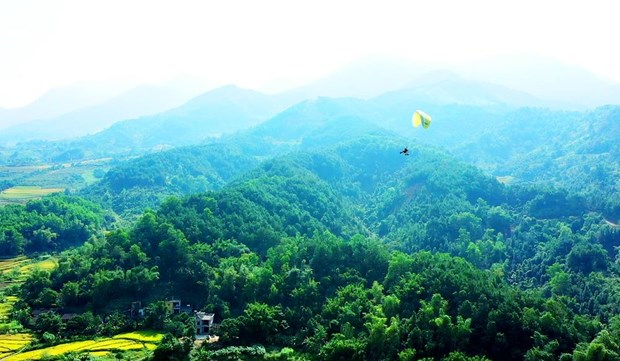 Hundreds of households in Binh Lieu district's Huc Dong commune have effectively developed the forest economy. It is known that the whole commune has over 300 households (about 50% of households in the commune) growing cinnamon and anise, with a total area of ​​more than 1,000 ha. Many families in the commune do not have forest land to grow cinnamon and anise. They purchase cinnamon bark and anise flowers, exploit pine resin and provide services for other households like transportation, peeling cinnamon bark, harvesting anise flowers, etc.
Similarly, in Dong Van commune, the movement to get out of poverty and get rich from the forest has taken place strongly in recent years. This has made an important contribution to the commune's poverty escape rate over the past 5 years. Specifically, Dong Van commune now has only nearly 4% of poor households, compared to 70% in 2016.
According to the Secretary of the Party Committee and Chairman of the People's Committee of Dong Van Ma Commune, Ma Di Son, the commune has recently promoted the allocation of land and forest and supported seedling for residents to promote forestry development.
Since 2015, inhabitants have planted over 2,000 ha of concentrated forest, mainly cinnamon, anise, sycamore, and acacia trees. Anise and cinnamon trees are well cared for by the locals, giving high yield and quality. Typically, in the flower harvest this year, the commune reached more than 60 tons of fresh fruit, which the average price was 70,000 to 75,000 VND/kg. Thereby, the season has brought a significant source of income, contributing to improving the lives of people.
Binh Lieu district has implemented many plans and programs to support the planting and development of forests, especially key crops such as cinnamon and anise. The construction and development of OCOP products are also included. At the same time, the district encourages people to strengthen forest taking care solutions, develop a plan to improve varieties of indigenous plants.
Especially, the residents are encouraged to plant more pine forests along with the bordering communes. They bring stable and long-term benefits to the planters, while also protecting the environment.
The district also actively cooperates with related authorities to manage well 18,000 ha of protection forest. The plan to establish Binh Lieu Protection Forest Management Board has been submitted to the province. This is a solution for sustainable protection forest management as well as the environment and landscape protection. At the same time, the plan will bring long-term forest economic value to the locality.
Forest economy has really become the main force for Binh Lieu locals to get out of poverty and get rich. In 2020, the whole district has 280 households escaping poverty thanks to stable income from the local forestry industry. This result is obtained mainly from the harvest and sale of about 340 tons of dried anise flowers, 270 tons of dried cinnamon bark, 537 tons of turpentine, and 172 tons of nuts, etc.
The forest value of Binh Lieu is now not only forest products, but tourism. Since 2015, the district has taken advantage of the natural beauty of the forest to organize the Flower Festival, forming a unique tourism product and cultural brand of the highland district of Binh Lieu. After many years of being successfully organized, the Binh Lieu flower festival not only creates a unique beauty, attracting a large number of visitors but also contributes to promoting a rapid increase in both area and quality of planted forests. Recently, many tourism activities organized by Binh Lieu are also associated with forests.
It is known that Binh Lieu is accelerating the progress of land and forest allocation in order to ensure that 100% of the forest area in the area is legally owned by local growers who will be more chances of increasing their income and living standards.
By Thu Nguyet