Tue, 6th Jun 2023 07:26 (GMT +7)
Young people should pay attention to sustainable development in creative start-ups: Deputy PM
Monday, 03/10/2022 | 08:32:07 [GMT +7]
A
A
The creative start-up process always has potential difficulties, so from the very beginning, young people should focus on sustainable development criteria, said Deputy Prime Minister Vũ Đức Đam.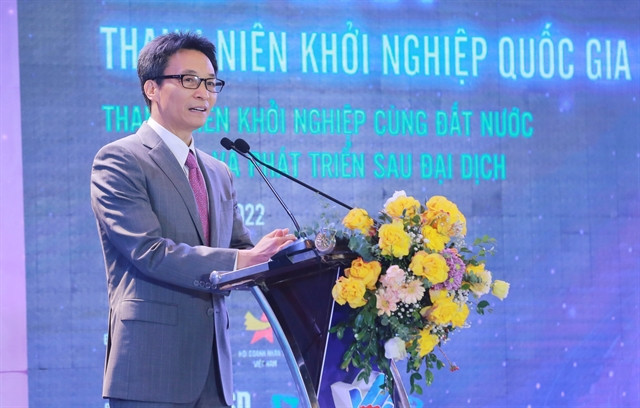 He made the statement at the National Youth Start-up Forum 2022, which was held by the Central Youth Union on Saturday.
Emphasising challenges facing the country, especially after the COVID-19 pandemic, Deputy PM Đam said that to continue the economic recovery and development, striving to make Việt Nam a high-middle-income country, young people were one of the important forces.
It is necessary to nurture and promote the spirit of legitimate enrichment in each young person, and among Vietnamese people.
All must create the most favourable conditions for start-up work and creative innovation, thereby improving Việt Nam's competitiveness in the international arena, including in the business environment and sustainable development.
Speaking at the forum, Standing Secretary of the Central Youth Union Nguyễn Ngọc Lương said after the first National Youth Start-up Forum in 2018 and the second in 2020, many policies have been developed and adjusted by ministries to promote start-ups.
Currently, Việt Nam is still in the process of recovering from the COVID-19 pandemic. With solidarity and consensus, the country was trying to gradually restore economic growth.
The forum was organised with the desire to connect and find innovative and breakthrough solutions to accelerate the process of socio-economic recovery in Việt Nam, he said.
Lương expressed his belief that the forum would receive many quality initiatives and solutions to perfect the start-up ecosystem and create a driving force to promote the community and develop the country.
During discussions at the forum, representatives suggested the Ministry of Labour, Invalids and Social Affairs (MoLISA) and the Ministry of Foreign Affairs consider specific policies to attract human resources for innovative start-ups.
Deputy Minister of Labour, Invalids and Social Affairs Lê Tấn Dũng said that exchanging human resources between different countries was important, especially among developing countries.
Việt Nam is a highly open economy. The country now accepts four kinds of foreign workers, including managers, executives, experts, and high-tech workers.
At present, about 100,000 foreign workers are employed in Việt Nam, actively contributing to the country's economic development.
Dũng acknowledged that there were still some barriers regarding permits for foreign workers to work in Việt Nam, but added that MoLISA was studying and carefully reviewing Decree 152/2020/ND-CP about recruiting and managing foreign workers in Việt Nam and Vietnamese employees working for foreign organisations.
The MoLISA will propose to the Government amendments and supplements to perfect and create the most suitable conditions for the workers.
Source: Vietnam News