Fri, 8th Dec 2023 09:59 (GMT +7)
VN upholds peaceful resolution principle of international disputes
Thursday, 16/11/2023 | 10:33:17 [GMT +7]
A
A
Việt Nam upholds basic principles of international law, especially the principle of peaceful resolution of international disputes, while the world is facing instability, conflict and confrontation.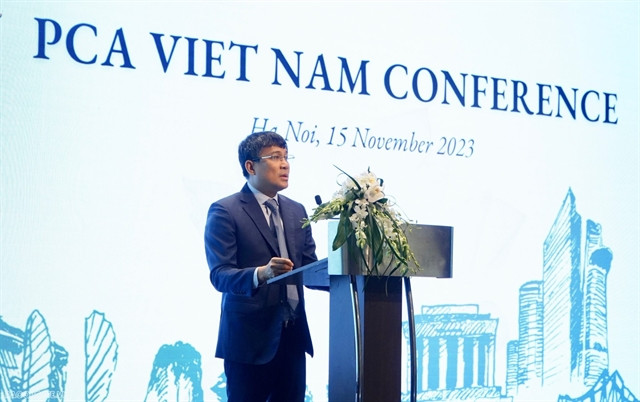 Deputy Minister of Foreign Affairs Nguyễn Minh Vũ made the statement at the opening session of the Permanent Court of Arbitration (PCA) Việt Nam conference on Wednesday in Hà Nội.
The conference was co-organised by the Ministry of Foreign Affairs of Việt Nam, the Permanent Court of Arbitration and the Việt Nam International Law Association.
The conference was attended by more than 100 delegates representing Việt Nam's ministries, agencies and sectors, as well as foreign diplomatic representative agencies in Hà Nội, representatives of law firms, and domestic and foreign experts operating in the field of international law.
Vũ also said the policy of perfecting the socialist rule-of-law state was requiring Việt Nam to build an effective legal system with a team of qualified lawyers and extensive international integration, as well as a dynamic legal environment.
On that basis, Vũ said that the conference was expected to be an opportunity for Vietnamese agencies, organisations, arbitrators and lawyers to gain more experience in preventing and handling international disputes.
The conference was expected to be a forum to effectively connect the Vietnamese legal community with the international legal community, contributing to making Việt Nam the selected location for countries and corporations when resolving disputes in the future, he said.
Speaking at the conference, PCA Secretary General Marcin Czepelak thanked the Vietnamese Government, ministries and sectors for the support and companionship during the operation of the PCA Office in Hà Nội over the past time; especially the visits of senior leaders to the PCA headquarters at the Peace Palace in the Netherlands.
He also added that the conference reflected the basic values of the PCA which were peace, legal principles and prosperity, creating opportunities for policymakers, experts and legal practitioners as well as businesses discussing deeper recent developments in conciliation procedures between countries, arbitration dispute resolution procedures between countries and investors, as well as between businesses.
He announced the PCA Office in Hà Nội has handled nearly 30 dispute resolution cases; and organised activities connecting with the lawyer and arbitrator community in Việt Nam, and training activities on dispute resolution for ministries, sectors and State corporations this year.
He hoped to turn the PCA – Việt Nam Conference into an annual event, aiming to turn Việt Nam into a location to deal with cases handled by the PCA.
PCA, through its office in Hà Nội, wanted to coordinate with Vietnamese agencies to continue perfecting regulations on arbitration proceedings, meeting international standards, creating a favourable environment for international arbitration in Việt Nam in the future, he said. 
Source: VNS