Wed, 29th Nov 2023 15:02 (GMT +7)
Vietnam Tet goods week held in France
Wednesday, 18/01/2023 | 16:32:39 [GMT +7]
A
A
The Vietnam Trade Office in France has coordinated with importer and retail group Carrefour to organize the Vietnam Lunar New Year (Tet) goods week in 2023.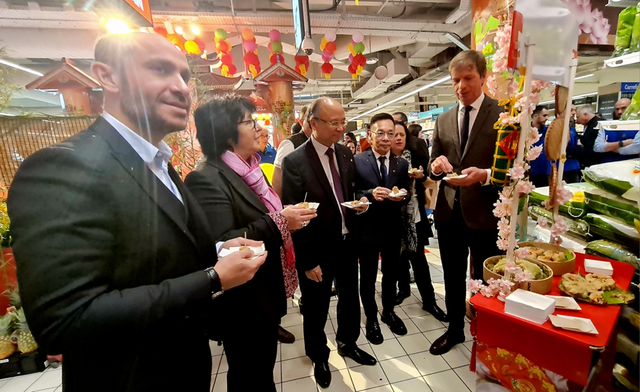 The Vietnam Trade Office in France said that the Vietnam Tet 2023 booth was officially opened at Carrefour Part Dieu supermarket in the commercial center of Lyon from January 13, attracting many people to visit and shop.
This is the first time that events promoting Vietnamese goods and images have been held outside the Paris metropolitan area, marking a new step in the trilateral cooperation and opening the next stage in the plan to spread the image of Vietnamese goods, cuisine and culture to a large number of French consumers.
Mr. Vu Anh Son, Head of the Vietnam Trade Office in France, said that this is one of the activities built by the office within the framework of the Scheme to promote Vietnamese enterprises to directly participate in foreign distribution networks.
Mr. Son said that within the framework of cooperation with Carrefour and E.Leclerc, the parties have cooperated with importers to successfully persuade partners to bring rice onto the list of reference goods, which means that the goods can be sold in all Carrefour and E.Leclerc supermarkets throughout France.
Mr. Dinh Toan Thang, Ambassador of Vietnam to France, said that this is the 4th such week organized by the Trade Office, the Embassy of Vietnam in France, in collaboration with Carrefour over the past 2 years of cooperation.
General Director of Carrefour supermarket chain, Mr. Bruno Lebon, said that Carrefour aims to bring more choices to French consumers and Vietnamese cuisine is one of the supermarket's priorities.
Trilateral cooperation to access major distribution channels and sell directly to consumers in France is a model implemented by the Vietnam Trade Office in France from the beginning of 2021. So far, the cooperation has helped Vietnam approach the 2 largest food retail distribution groups in France and in the top 5 of Europe, which are E.Leclerc and Carrefour.
Source: en.dangcongsan.vn