Thu, 5th Oct 2023 04:16 (GMT +7)
Vietnam makes remarkable reforms on public debt management: workshop
Friday, 18/08/2023 | 08:59:29 [GMT +7]
A
A
International experts shared experience in public debt management and gave recommendations to Vietnam at a consultation workshop in Hanoi on August 17.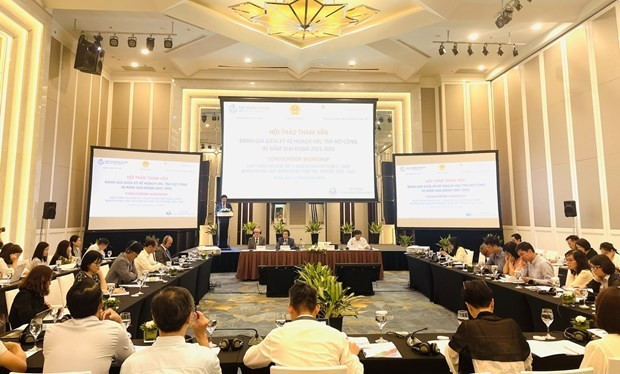 Such recommendations are expected to help the Ministry of Finance complete its mid-term review of the five-year plan for public debt borrowing and repayment for the 2021-2025 period.
The workshop was held by the ministry in coordination with the World Bank and the Swiss State Secretariat of Economic Affairs.
Representatives from ministries, agencies and localities also shared views on the mobilisation and use of loans in the period.
According to Truong Hung Long, head of the Department of Debt Management and External Finance under the finance ministry, Vietnam has become a middle-income country, meaning official development assistance (ODA) loans to the country will be gradually cut off in the time ahead.
The proportion of concessional loans and loans under market conditions will increase, leading to an increase in borrowing costs, especially in the context that world interest rates remained high, he continued.
Long highlighted outstanding achievements Vietnam has recorded in public debt management over the past time, saying public debt safety has been maintained within the limit approved by the National Assembly.
Thanks to such efforts, both Moody's and S&P, the two international credit rating agencies, upgraded Vietnam's ratings, while Fitch maintained its ratings last year, the official noted.
Andrea Coppola, the WB's Lead Country Economist, lauded Vietnam's reforms in public debt management in terms of legal framework and institutional management.
Vietnam will need more investment with the middle-income status, and the upper income status in the future, he pointed out, urging the country to post higher growth.
However, it is not easy as climate change is posing a host of challenges to the Southeast Asian nation, and in that context, the country should further reform its debt management, he said.
The Department of Debt Management and External Finance said in implementing the National Assembly's Resolution No. 23/2021/QH15 on the national financial plan and public debt borrowing and repayment for the 2021 – 2025 period, targets set by the legislature have all been achieved, with the Government's total loans reaching about 1.37 quadrillion VND (57.4 billion USD).
Source: Nhan Dan