Fri, 8th Dec 2023 10:22 (GMT +7)
Việt Nam SEA Games team established with more than 1,000 members
Tuesday, 18/04/2023 | 09:31:40 [GMT +7]
A
A
Minister of Culture, Sports and Tourism Nguyễn Văn Hùng on April 17 officially signed a decision to establish the Việt Nam team to take part in the 32nd SEA Games next month in Cambodia.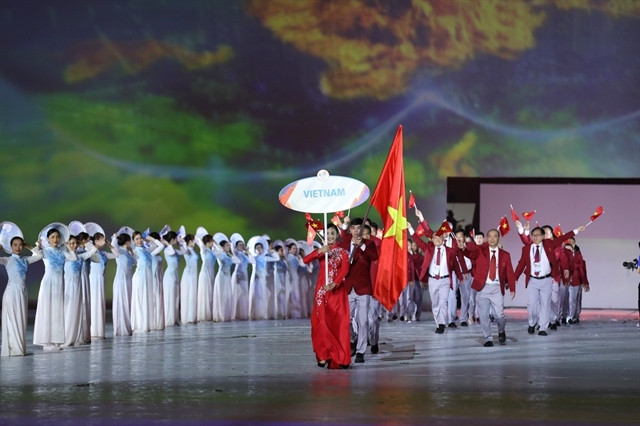 The 1,003-member contingent is led by Director of the Việt Nam Sports Administration Đặng Hà Việt and his two deputies, Hoàng Quốc Vinh, head of the Elite Sports 1 Department, and Ngô Ích Quân, head of the Elite Sports 2 Department.
The list includes 702 athletes, 189 coaches, 10 experts, doctors, officials and staff.
This is the largest team ever in a regional sports meet held outside Việt Nam.
The track-and-field team has the most with 55 competitors; swimming, finswimming and taekwondo teams have 21 each; judo and karate have 20 each; volleyball teams gather 14 each and weightlifting has 12.
They are also squads which won many gold medals for Việt Nam at the last Games in Hà Nội.
Only the men's and women's football teams have not been named because the official lists have not been finalised.
Cambodia will organise 608 events of 48 sports. Viet Nam plans to compete in 31 sports and 446 events.
Competitors of e-sports, triathlon and dance sport will take part in the Games.
The team has set a target of winning from 100 to 120 golds in Phnom Penh. The send-off ceremony will be held on April 19 in Hà Nội.
Speaking with sport officials on April 17, Minister Hùng expected athletes would compete with the best form and spirit for the pride of Việt Nam and confirm the country's high position in the region in terms of sports.
He asked the team to be in the top three in the medal tally while the men's and women's football teams must try their best to defend their titles.
"Each athlete in the 32nd SEA Games should be an ambassador popularising images of Việt Nam's people and our traditions and culture to international friends," Minister Hùng said. "To do that task successfully, we have to carefully prepare the athletes. We have to take care of their training and do the ideological work for them."
Hùng said athletes should not be arrogant when winning nor discouraged when losing. They must respect decisions of referees and have the right attitude when complaining, respecting opponents and the audience.
The Minister directed the VSA and the Việt Nam Olympic Committee to lure more sponsorships and bonuses to encourage athletes when in Cambodia.
Source: Vietnam News