Thu, 5th Oct 2023 04:01 (GMT +7)
Việt Nam eyes sustainable development of coastal cities
Tuesday, 15/08/2023 | 14:41:35 [GMT +7]
A
A
Currently, there are over 40 coastal cities across the country, including HCM City, Đà Nẵng, Nha Trang, Vũng Tàu, Rạch Giá, Phú Quốc.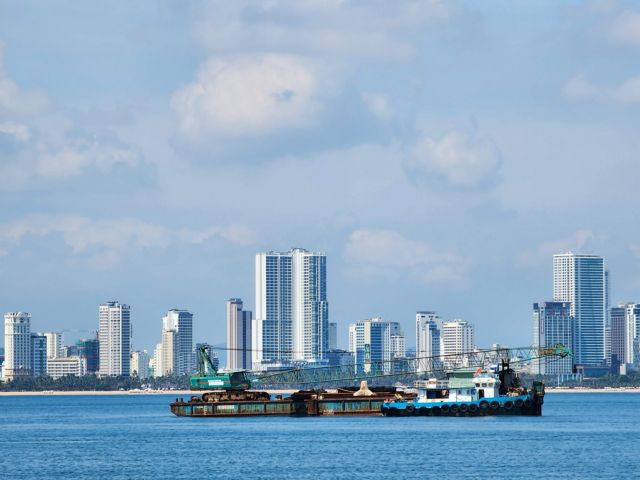 Việt Nam aims for a model of coastal eco-cities that are smart, climate-resilient, and sustainably developed, where urban planning for coastal areas will centre around people, said insiders.
According to planning and architecture experts, it is necessary to select and make a rational and balanced land allocation commensurate with economic objectives; and ensure a well-organised system of public spaces and seaside squares within urban areas of various sizes.
Assoc. Prof Đỗ Tú Lan and Dr. Đào Ngọc Như from the Urban Development Agency under the Ministry of Construction (MOC), underlined the necessity for urban design in coastal areas, especially the spaces in front of the sea.
Architectural works near the coast should have designs that are suitable for climate conditions, they said.
Experts and managers should identify focal points for coastal urban areas, especially entrance spaces, areas near seaports, and central squares, which adhere to green and smart construction standards.
With more than 3,200 km of coastline, about 3,000 islands of all sizes, hundreds of beautiful beaches, and pristine bays, Việt Nam boasts great potential for marine economic development, according to Lan.
Urban areas in general, and coastal urban areas in particular, are playing a significant role in the socioeconomic development of each locality, region, and the entire nation.
Efficient planning, management, and development of coastal urban areas are closely linked with environmental protection and adaptation to climate change. These are crucial issues that contribute to the sustainable development of the maritime economy, while simultaneously facilitating the transition towards industrialisation and modernisation in the economic structure.
Taking into account tourism development in coastal cities, Assoc. Prof. Phạm Trung Lương, Vice President of the Vietnam Association for the Protection of Marine Resources and Environment and a member of the National Planning Advisory Group, emphasised the importance of promoting sustainable and smart marine tourism urban development, saying that this element would create convenience and attractiveness for tourists, aligning with the global and regional trends in developing tourism destinations.
It was necessary to improve the system for collecting and processing waste from tourism to minimise negative impacts on the environment in general, and the coastal environment in particular, he said.
The Politburo issued Resolution No.06-NQ/TW dated January 24, 2022 on planning, construction, management, and sustainable development of urban areas in Việt Nam till 2030, with a vision toward 2045, affirming urbanisation is an objective necessity and a crucial driving force for rapid and sustainable socioeconomic development in the coming years.
According to the strategy for sustainable development of Việt Nam's marine economy until 2030 with a vision to 2045, pure marine economic sectors will account for about 10 per cent of the national GDP by 2030; and the economies of 28 coastal cities and provinces are estimated to mark up 65-70 per cent of the GDP.
By 2045, Việt Nam will become a strong maritime nation characterised by sustainable development, prosperity, security, and safety, and its marine economy will play a crucial role in the national economy.
These ambitious goals serve as significant directions, opening up opportunities and providing a driving force for coastal areas, including coastal cities.
Currently, there are over 40 coastal cities across the country, including HCM City, Đà Nẵng, Nha Trang, Vũng Tàu, Rạch Giá, Phú Quốc. The urban areas, including coastal ones, account for approximately 70 per cent of the national GDP growth, and increasingly demonstrate their importance for the nation's socioeconomic development. Economic growth in urban areas averages between 12 per cent - 15 per cent, 1.2 to 1.5 times higher than the national average growth rate.
Urban development serves as a motivation for economic growth, contributing to developing an independent, self-reliant, and integrated economy.
Source: Vietnam News