Thu, 5th Oct 2023 03:32 (GMT +7)
UNCLOS Group of Friends agrees to advance multilateralism, int'l cooperation
Thursday, 01/06/2023 | 14:46:35 [GMT +7]
A
A
Ambassador Dang Hoang Giang, Permanent Representative of Vietnam to the United Nations, chaired an ambassadorial-level meeting of the 12 founding countries of the Group of Friends on the 1982 United Nations Convention on the Law of the Sea (UNCLOS) in New York on May 31 to review their past activities and launch future tasks.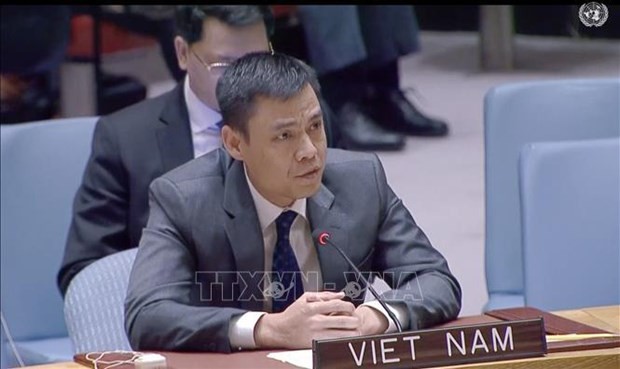 Ambassadors shared the view that despite various challenges such as COVID-19 pandemic and emerging global issues, the UNCLOS Group of Friends, with its 115 member states, has maintained regular activities and diversified forms of exchanges since its establishment.
Specifically, the group has held various dialogues and discussions on topics related to the UNCLOS 1982, shared understanding and practical experience in ocean governance, raised public awareness of the UNCLOS 1982 adherence, promoted the use of oceans for peaceful and sustainable purposes, and coordinated efforts to elevate its role and contributions in the UN forums. Its efforts and activities have been highly welcomed by friends and the UN.
On the occasion, they debated the group's future orientations as important events on maritime and ocean issues at the UN are to be held, such as the Meeting of States Parties to UNCLOS 1982 (SPLOS 33) and the adoption of the Agreement on the Conservation of Marine Biodiversity of Areas Beyond National Jurisdiction (BBNJ).
The diplomats vowed that the Group will continue actively upholding its role, diversifying its operating methods and persistently pursue its objectives, particularly in the context of advancing multilateralism and international cooperation, which are becoming increasingly essential.
Initiated by Vietnam and Germany in 2020, the UNCLOS Group of Friends is an informal exchange and coordination mechanism among countries, particularly at the UN, aimed at collaborating on areas of shared interest.
Its founding members include Argentina, Canada, Denmark, Germany, Jamaica, Kenya, the Netherlands, New Zealand, Oman, Senegal, South Africa and Vietnam. To date, the Group has 115 member states representing all geographic regions.
Source: Nhan Dan