Tue, 6th Jun 2023 06:48 (GMT +7)
Tra Co Communal House
Wednesday, 20/07/2022 | 16:42:18 [GMT +7]
A
A
Lying next to a beautiful beach in Tra Co ward, Mong Cai city, Tra Co Communal House has become an impressive attraction that tourists should not miss during their journey to discover the history and culture of Vietnam's northeastern-most land of Mong Cai city.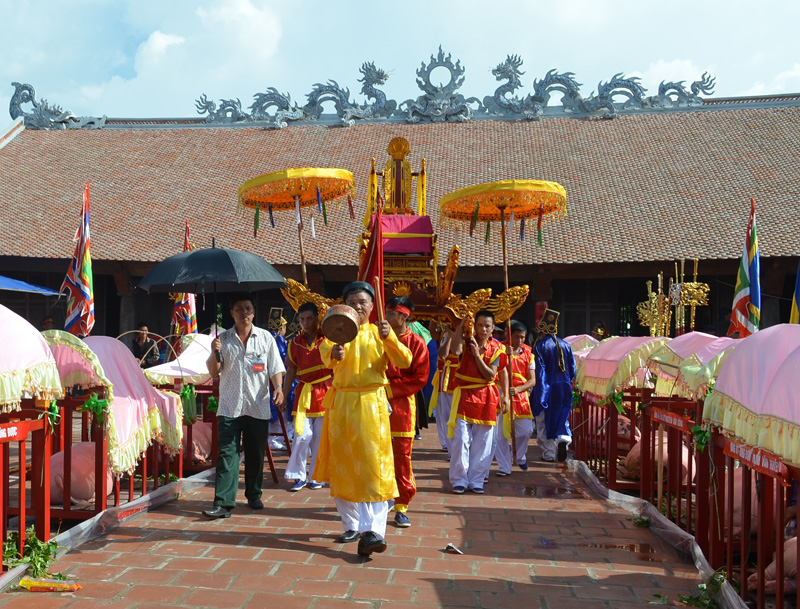 Built in 1461 with unique architectural style of the later Le Dynasty, the structure of Tra Co Communal House was dedicated to tutelary genies of the village. The historical relic is typical for village culture of Vietnam in feudal period.
The relic covers an area of 400m² and has a frame of rare wood. On the sides of the roof, the curved corners are adorned with dragon heads. Decorative carvings are crowded with mythological animals - unicorns, turtles, dragons, and phoenixes - and magical elements - flowers and clouds. The relic is famous for the dragon carvings on its doors and its transverse panels of gold and red lacquer.
In addition to aesthetic values, the Tra Co communal house preserves 12 royal decrees from the Nguyen Dynasty (1802 - 1945).
Annualy, the Festival of Tra Co Communal House  is held on the last day of the fifth lunar month each year to honor the tutelary genies of the village and pray for the villagers.
The spiritual highlight of this festival is a ritual procession from the communal house to a shrine to report to the village tutelary god while the fattest pig competition is the focus of the entertainment following the ritual procession.
Tra Co communal house festival was recognized as a national intangible cultural heritage in 2019and, previously, the communal house of Tra Co was selected in the list of national architectural monuments by the Ministry of Culture and Information (now the Ministry of Culture - Sports and Tourism).
Apart from Tra Co Communal House, Mong Cai border city's Tra Co ward  is also renowned for Cape Sa Vi, Tra Co Beach, Nam Tho Pagoda, Van Ly Khanh pagoda, Tra Co church, the stele commemorating Uncle Ho's visit to Tra Co in 1961 and the Sa Vi border information cluster. Every tourist is likely to have great impression on this beautiful and culturally rich land.
By Ta Quan