Tue, 6th Jun 2023 06:19 (GMT +7)
The new appearance of Quang Ha townlet
Wednesday, 21/09/2022 | 15:58:41 [GMT +7]
A
A
Quang Ha townlet was recognized as a grade IV urban area under Hai Ha district, Quang Ninh province. This recognition is expected to create favorable conditions for the improvement of the local economy in the coming time.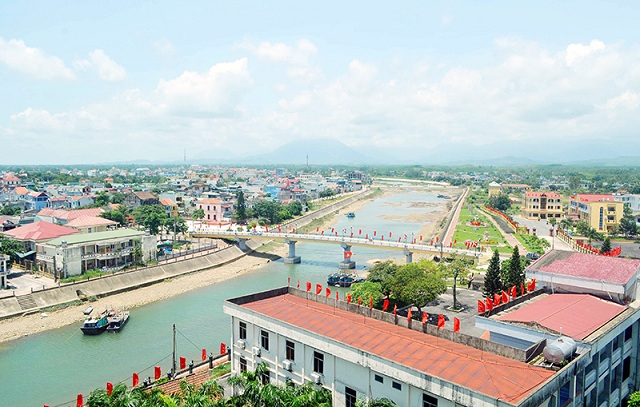 As the administrative, political, cultural, scientific-technical, economic - social center of Hai Ha district, the town has been identified as an important "breakthrough" point in the progress of Quang Ninh's socio-economic development.
Quang Ha has recently made great strides in socio-economic development, spacious urban appearance and annual economic growth. The poverty rate has a downward trend and locals' material and spiritual lives have been improved considerably.
After 20 years of renovation and development, Quang Ha townlet, Hai Ha district has so far grown strongly. To accomplish the goal of turning the townlet into a grade IV urban area, Hai Ha district has mobilized resources and attracted businesses to invest in technical and social infrastructure projects in the model of public-private cooperation to meet the practical needs of residents.
Since 2010, especially in the period of 2015-2020, Hai Ha district has focused on investing in upgrading, repairing, and building new constructions in the fields of health, education, culture, sports, and service trade as well as technical infrastructure works of Quang Ha townlet, such as 8 main inner-city roads, 6 drainage routes, and 6 community cultural centers, along with many commercial centers, residential markets, and areas in the South, etc. Various roads inside the townlet have been upgraded with concrete sidewalks and lighting system.
Besides, a series of projects related to the embellishment and development of Quang Ha have also been prioritized in recent years, such as an embankment dam in the south of Ha Coi river, a road connecting National Highway 18A to Hai Ha Seaport Industrial Park, an urban area in the north of the new road in Quang Ha, and a green park located in the center of Quang Ha.....
Regarding economic development, Quang Ha has allocated a considerable amount of capital as well as attracted investment to promote industrial and service development.  Commercial centers, supermarkets, hotels, restaurants as well as a system of trade, service, and residential markets have been built and effectively operated in this region.
Many investors have chosen Quang Ha to deploy large projects in Hai Ha Seaport Industrial Park, increasing the proportion of trade - services - industry and reducing the proportion of agriculture - forestry - fishery.