Thu, 5th Oct 2023 01:51 (GMT +7)
Sheraton Saigon Hotel and Towers debuts Li Bai dragon boat dumplings
Friday, 02/06/2023 | 08:52:47 [GMT +7]
A
A
As the Duanwu festival fast approaches, the Sheraton Saigon Hotel & Towers has launched innovative dragon boat dumplings, boasting delicate flavors made from authentic ingredients.
The pyramid-shaped sticky-rice dumplings (zongzi) are composed of five different filling choices wrapped in aromatic bamboo leaves with each dragon boat dumpling handcrafted by skilled culinarians of Li Bai Cantonese restaurant. The dumplings can be purchased individually or in gift sets.
Held annually on the fifth day of the fifth lunar month, the Dragon Boat Festival is commonly called Double Fifth Festival and is celebrated widely in China, Hong Kong, and Southeast Asia countries.
The festivities vary from region to region but share several distinctive features with ceremonies such as dragon boat races, folk entertainments, bathing in herbal concoctions, and feasts lavished with rice dumplings a notable part of celebrating Dragon Boat Festival with family members and friends.
Traditionally, dragon boat dumplings compose of bold tastes concocted with glutinous rice filled with seasoned pork belly, salted fried shrimp, sausage, salted egg yolk, shiitake mushroom, and assorted nuts.
In Vietnamese culture, dragon boat dumplings are similar to banh chung in terms of ingredients and texture, having a sweet twin version of called lye water rice dumplings, served with sugar or syrup.
Authentic Cantonese flavor
In the lead-up to the Dragon Boat Festival, Sheraton Saigon Hotel & Towers is launching the dragon boat dumplings under Li Bai's secret recipe for our third year, starring the savory Cantonese culinary style with authentic flavors.
The collection of deluxe dumplings highlights the classic filling including salted egg mixed with pork belly, signature chicken with Li Bai black pepper sauce, exquisite delicacies such as abalone to modern vegan options featuring shiitake mushrooms, lotus seed, and whole chestnuts bursting with tantalizing aroma.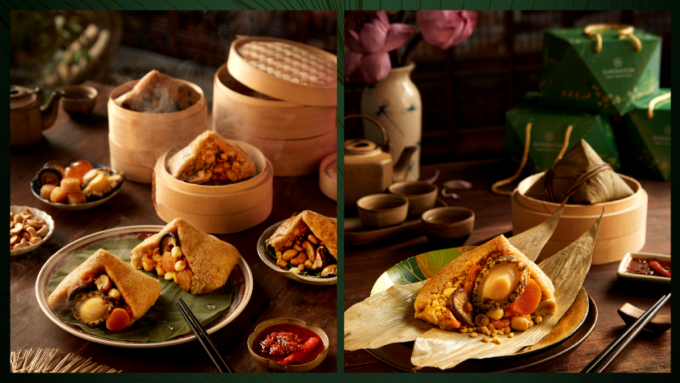 Each dumpling is meticulously crafted by Cantonese chefs, led by the talented Diep Nhieu with over 20 years experience, serving the renowned cuisine at Li Bai restaurant. For ultimate flavor blending, the zesty artisanal condiment - Li Bai's renowned X.O sauce is highly recommended to pair with dumplings as a dipping sauce.
Celebrating time-honored tradition
This year, the Dragon Boat Festival falls on June 22. Gastronomes can savor the freshly cooked dragon boat dumplings at Li Bai restaurant or indulge in the convenience of take-home options, perfect for gifting or long-term preservation.
Every order of two dumplings is packaged in an elegant octagonal box resembling a string of dumplings, which will make them excellent gifting options.
Dragon boat dumplings are available for purchase from May 24 to June 22 with the tasting booth at the hotel lobby from 9 a.m. to 7 p.m., daily.
Dumplings are priced at VND178,000+ per piece for assorted nuts with mushroom fillings (vegan option); VND188,000+ per piece for the options of pork belly and chicken with black pepper sauce and VND258,000+ per piece for the best-seller dried scallop, and VND348,000+ per piece for the exceptional premium abalone fillings.
Source: VnExpress