Thu, 5th Oct 2023 03:54 (GMT +7)
Reading area opened for children during summertime
Tuesday, 08/08/2023 | 09:51:03 [GMT +7]
A
A
"The Reading Point" has opened a space for reading and activities to children in HCM City during the summer break.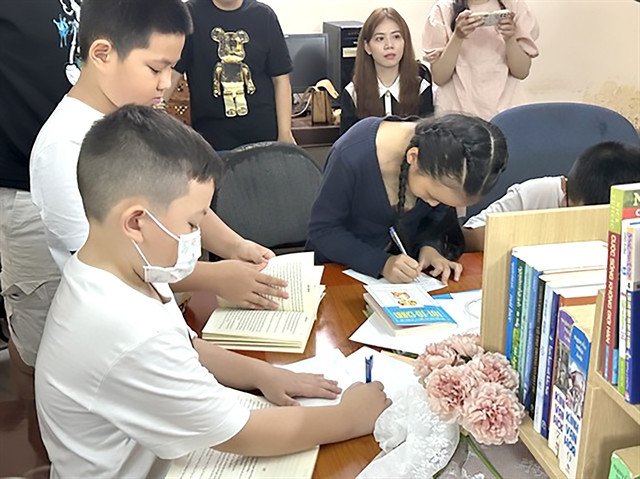 "The Reading Point" is a community-oriented space organised by the Văn học Publishing House, HCM City branch, in District 3.
Every Wednesday, children are guided by editors to read the full text of literary works from their school literature textbooks. On Saturday mornings, children have the freedom to choose books based on their interests and then receive guidance from editors to summarise the content and write literary criticism.
Additionally, on Saturdays, there are invited specialists, who are also the parents of the children that participate in the reading point, discussing topics like juvenile law, school nutrition, sports, and information technology.
Phạm Thanh Điệp, the Deputy Head of the Văn học Publishing House HCM City branch and the visionary behind the project, previously established a similar "reading point" in Hà Nội, which received enthusiastic responses from parents and young participants. When she moved to HCM City, she was determined to replicate these reading stations in a new location, and recently, her vision became a reality.
Diệp observed that urban children are increasingly engrossed in using phones and computers, which results in limited recreational options during the summer break when parents are at work.
"The Reading Point" was created with the hope of providing children a space to disconnect from electronic devices and immerse themselves in the world of books. Diệp said that this initiative will nurture the readers of the future.
Furthermore, she mentioned that there will be adjustments to the activity schedule to accommodate students' school schedules when the new school year begins.
She hopes there are more projects like this organized to create more and more places for children to develop their reading hobby.
Source: Vietnam News