Thu, 5th Oct 2023 03:17 (GMT +7)
Quảng Ninh Province exceeds investment capital goals six months early
Tuesday, 11/07/2023 | 15:48:09 [GMT +7]
A
A
Quảng Ninh province demonstrated its ability to attract both domestic and foreign capital in the first half of this year, solidifying its position as a prominent economic development hub in the northern region.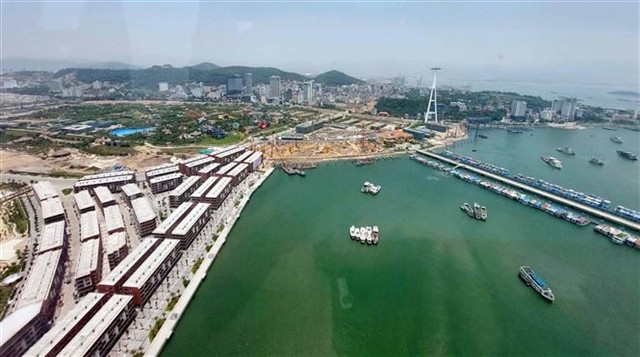 Quảng Ninh Province has achieved impressive results in both domestic and foreign investment attraction in the first six months of this year, solidifying its position as a prominent economic development hub in the northern region.
The province attracted VNĐ44 trillion (US$1.9 billion) worth of domestic capital, exceeding its target for the whole year by 2.4 per cent right in the first six months. This number also represented an increase of 29.8 per cent year-on-year.
Some notable projects include the Stavian Quảng Yên Petrochemical Plant, situated in the Quảng Yên Coastal Economic Zone, with a total expected investment capital of VNĐ36 trillion ($1.5 billion), and the construction investment project of Yên Hưng Liquid Cargo Port worth VNĐ792 billion.
Apart from domestic investment, Quảng Ninh has also successfully attracted $894 million in foreign direct investment (FDI), reaching 89 per cent of the target set by the provincial Party Committee's Resolution (minimum of $1 billion) and 74.5 per cent of the plan set by the provincial People's Committee ($1.2 billion).
The province has granted nine new FDI projects and planned to issue five additional projects with a total capital of nearly $800 million. Many of these projects belong to the "new generation" category, focusing on environmentally friendly processing and manufacturing industries that aim to reduce resource consumption.
Among the recent FDI projects is the approval of two factories by Foxconn Group in Sông Khoái Industrial Park, valued at $250 million. These projects are expected to create employment opportunities for nearly 2,000 local workers.
Hoàng Trung Kiên, head of the Management Board of Quảng Ninh Economic Zone, has expressed confidence in achieving the target of $1.2 billion from FDI projects.
In addition to traditional investors from mainland China, Hong Kong, Singapore and Japan, the province has attracted investment from Swedish investors for the first time. Autoliv Vietnam Company, with a total investment of $154 million, is establishing a project in Sông Khoái Industrial Park to manufacture safety products for export, with a capacity of 10 million products per year.
In recent years, Quảng Ninh has actively collaborated with ministries and regional leaders to promote investment activities and achieved remarkable results. The province has already implemented its Investment Promotion Programme for 2023 and is working on a scheme to attract prominent FDI investors to the region, with a particular focus on key industrial parks and economic zones such as Quảng Yên Coastal and Móng Cái Border Gate. The province prioritises eco-friendly manufacturing and processing industries.
Quảng Ninh is a leading coastal economic hub in the North. The province ranked fourth nationwide in terms of economic growth during the first half, with its economic growth rate (GRDP) reaching 9.46 per cent.
Source: Vietnam News