Sun, 10th Dec 2023 14:30 (GMT +7)
Quảng Ninh makes effort to preserve old fishing villages in Hạ Long Bay
Wednesday, 11/10/2023 | 08:52:41 [GMT +7]
A
A
Urgent action is needed to breath new life into Cửa Vạn and Vung Viêng fishing villages.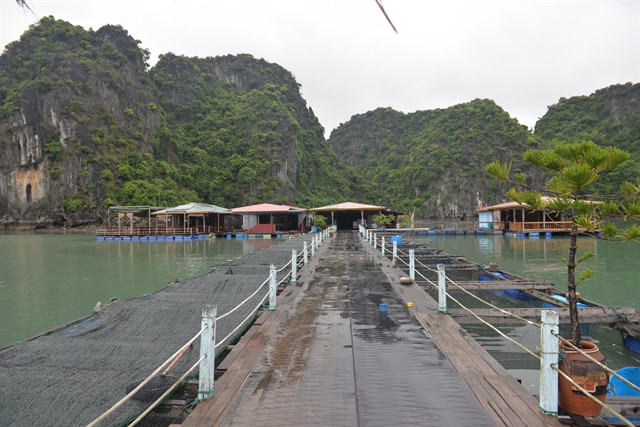 Cửa Vạn and Vung Viêng, two renowned fishing villages located in Hạ Long Bay in northern Quảng Ninh Province, are facing severe deterioration, with some structures slowly sinking into the sea.
Urgent action is needed to breath new life into Cửa Vạn and Vung Viêng fishing villages, Vietnam News Agency reported.
These villages have garnered significant popularity, particularly among foreign visitors. Cửa Vạn, in particular, has been ranked among the world's most enchanting villages by numerous renowned travel websites.
On September 26, floating classrooms located in the villages in Hạ Long Bay partly sank into the sea due to its long-standing deterioration. The classrooms, which were made of wooden houses and floated by barrels, served as educational spaces for children of fishermen.
In 2014, Quảng Ninh Province's People's Committee made a decision to relocate most of the residents to the mainland. Families found new homes in Hà Phong Ward, while a small group was permitted to engage in aquaculture activities in the old floating houses.
Nearly 70 floating houses and classrooms were entrusted to Hạ Long Bay's Management Board to preserve and develop tourism services in the bay. In Cửa Vạn Village, a floating cultural conservation centre was built for tourists.
The houses created a distinctive tourism experience, recreating the cultural heritage of the ancient fishing communities and offering an engaging and interesting experience for tourists.
However, due to constant exposure to saltwater and humidity of the sea air, they have gradually deteriorated and are at risk of sinking, underscoring the pressing need for intervention and restoration efforts.
Some residents have expressed their hope of getting back to their old life on the water after years of being relocated to the mainland as they struggled to find jobs.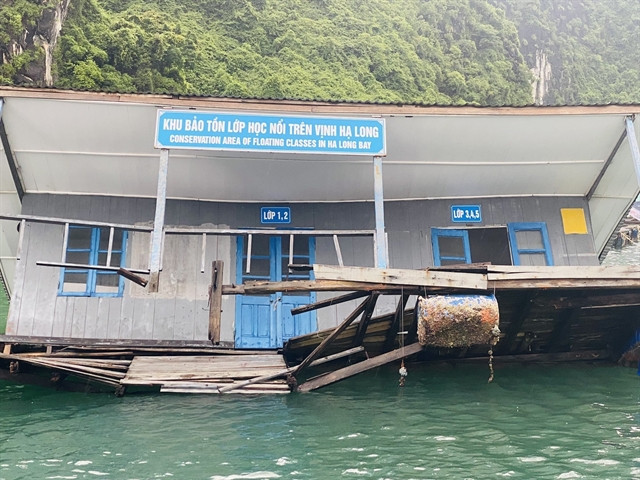 Nguyễn Văn Quý, a former resident of Vung Viêng fishing village, said he and his wife had returned to their old floating house to raise fish.
However, he said, he was not allowed to repair or move in as he had handed the house to local authority and it was now under conservation on the bay.
Quý said he hoped the Government would have policies to restore the fishing villages, so that he could go back to his old life. This would help attract tourists like before, he added.
Tăng Văn Phiến, director of the Vạn Chài Hạ Long Service Cooperative emphasised that Vung Viêng and Cửa Vạn fishing villages were significant attractions for tourists, especially foreigners, but the number of tourists has declined over the last three years.
Phiến suggested that authorities preserve and maintain these fishing villages and floating houses be jointly managed by local authorities, businesses and local residents.
The villages should be inhabited as this was essential for preserving and safeguarding the villages, their culture, and the traditional way of life on the bay, he said.
Vũ Kiên Cường, head of the Hạ Long Bay's Management Board said over the past three years, the fishing villages have been harshly affected by the weather. In addition, the funding for maintenance and repairs has been insufficient, leading to the deterioration of these floating houses.
In response to this issue, the management board has reported to the provincial People's Committee and developed a plan for renovating and repairing the floating houses.
Cường said preserving the cultural values of the fishing villages and providing livelihoods for the residents should be implemented at the same time.
The management board was currently reviewing legal frameworks for enabling sustainable aquaculture practices and ensuring that legal processes were adhered to in accordance with heritage protection regulations.
The management board was advising the provincial People's Committee on the implementation of the preservation and enhancement plan for Hạ Long Bay, which would establish legal frameworks to attract businesses and local communities to invest in tourism development.
Regarding the repair and reconstruction plan for floating fishing villages, the management board said it would classify the quality of floating houses. Those that were no longer usable would be removed and rebuilt while preserving the original architecture and form of the old structures. Safety standards would be enhanced to withstand weather conditions, particularly the erosive effects of seawater and sea winds, he said.
Cường said there were funding challenges. The management board has proposed the provincial People's Committee to allocate a portion of the Hạ Long Bay's entrance fees for the purpose of renovating and upgrading the fishing villages in the bay.
The provincial People's Committee has assigned this task to the Department of Finance and the Hạ Long City People's Committee, and the Hạ Long Bay Management Board. Results must be reported to the provincial People's Committee.
Source: VNS