Tue, 6th Jun 2023 06:44 (GMT +7)
Quảng Ninh embraces fintech as markets go cashless
Wednesday, 20/07/2022 | 09:07:34 [GMT +7]
A
A
Since the start of the month, shoppers at two markets in Hạ Long City, in the northern province of Quảng Ninh, have been able to pay for their products without using cash at all, as part of the province's plans to embrace financial technology products.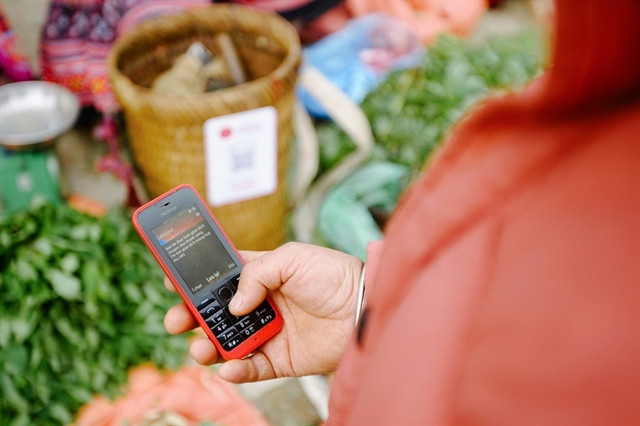 The "technology market - market 4.0" model has been applied to Hạ Long 1 and Hạ Long 2 markets. Instead of cash, people use digital payments for shopping activities and service fees.
Viettel Quảng Ninh implements non-cash payments for the two markets.
All small traders in the two markets accept digital payments via Viettel Money. Payment can be via the phone number, QR code or bank transfer.
Fees for electricity, water and environmental sanitation can also be paid with a Viettel Money account.
Lê Việt Hà, deputy director of the Viettel Quảng Ninh, said that to achieve the goal of electronic payment rates reaching 50 per cent by 2025, following the Government's direction, digital payments must become part of daily life, in urban and rural areas.
Therefore payment digitisation in markets was one of the solutions to achieve this goal sustainably, said Hà.
The Viettel Quảng Ninh has readied technology and human resources to coordinate with Hạ Long City to deploy cashless applications.
In April this year, Hạ Long City issued a plan to develop non-cash payments by 2025.
Under the plan, the city strives to have 90 per cent of people aged 15 and over with transaction accounts and have non-cash payments in e-commerce reach 50 per cent.
The number and value of non-cash payment transactions will increase by 20-25 per cent per year. All tuition fees in schools are paid with non-cash methods.
The Hạ Long City Public Administration Centre guided and supported citizens in making payment transactions on the National Public Service Portal.
By July 14 over 1,400 citizens had paid taxes and other fees through the system, with a total amount of nearly VNĐ17 billion (US$730,400), accounting for 84 per cent of total transactions.
Online payments are providing people with more choices about payment methods, contributing to reducing people's travelling time and saving costs for people and society.
Source: Vietnam News