Fri, 8th Dec 2023 10:24 (GMT +7)
Quang Ninh border guards take measures to prevent IUU fishing
Tuesday, 07/11/2023 | 16:10:14 [GMT +7]
A
A
Over the past years, troops of the Quang Ninh provincial Border Guard Command have actively implemented measures in the fight against all kinds of crime, while boosting law dissemination on illegal, unreported, and unregulated IUU fishing.
These activities have made contribution to maintaining stability in the coastal areas and ensuring social order for local residents.
Joining hands to remove E.C. yellow card on IUU fishing
Together with the fisheries sector to remove the yellow card of the European Commission (E.C.) on IUU fishing, the Quang Ninh provincial border units have taken drastic measures and mobilized troops to grasp situations at sea and conduct patrols to prevent trawlers and fishermen from illegally fishing in foreign waters...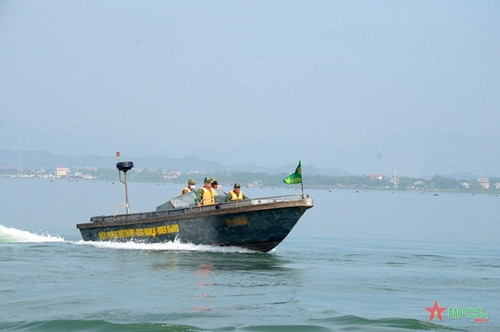 Being tasked with managing the waters of Wanwei, Jiang Ping, Dong Xing, and Fang Cheng (Guangxi, China) and the two border communes of Vinh Trung and Vinh Thuc in Mon Cai City, the Border Post of Van Gia Border Gate is working in such complicated and large areas, which are regularly violated by crimes for illegal fishing.
According to Political Commissar of the border unit, Colonel Vu The Rang, local people mostly live on fishing, aquaculture, and fisheries logistics services. However, their awareness of the law is still limited. Therefore, over the past time, the unit has actively launched law dissemination among the fishermen to raise their awareness of preventing IUU fishing. Together with local relevant forces, the unit conducts patrols and inspections to observe the prevention of IUU fishing as well as the exploiting of aquatic resources in the provincial coastal areas and neighboring areas. "Any cases of IUU fishing have been punished," he added.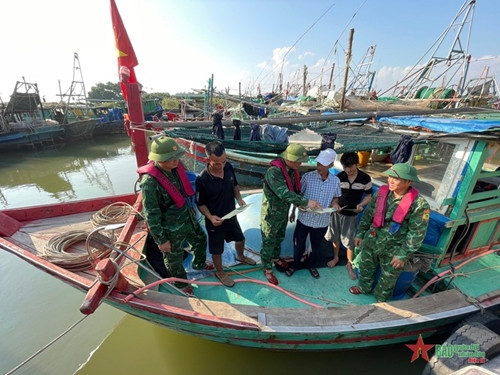 Amid the complicated developments of using prohibited fishing tools to exploit aquatic products and violate IUU fishing regulations, the Tra Co Border Post enhanced inspection and boosted law dissemination to raise fishermen's awareness of protecting aquatic resources and coordinate with functional forces to prevent illegal fishing.
Lieutenant Colonel Dao Xuan Nguyen, Political Commissar of Tra Co Border Post, held that in managing the complicated areas, the unit regularly mobilized the local people to follow the Party's viewpoints and guidelines, and State's policies and laws, as well as the locality's regulations. These practical activities have been highly appreciated by the local authorities.
Standing side by side with fishermen at sea
Lieutenant Colonel Nguyen Viet Doan, Political Commissar of Tran Island Border Post, visited each trawler to disseminate laws and instruct fishermen on how to address arising circumstances and locate their trawler, among others.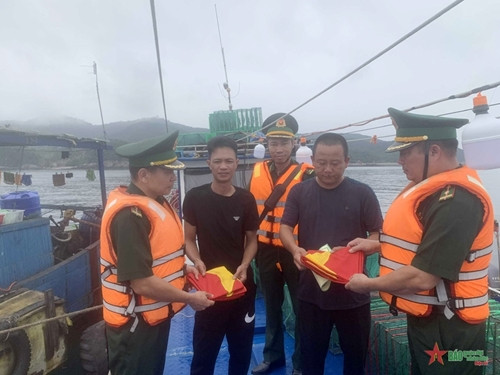 The border unit always considers becoming the fulcrum for fishermen to go fishing at sea as one of its main political tasks. Therefore, it focused on boosting dissemination work so as to mobilize fishermen to strictly follow all regulations on fisheries exploitation and environmental protection, the Party's viewpoints and guidelines, as well as State's laws.
"More importantly, the fishermen have provided border troops with much information, contributing to firmly protecting national sovereignty over sea and islands," Lieutenant Colonel Nguyen Viet Doan emphasized.
Tran Hung Cuong, a local fisherman, shared that he was encouraged to join the self-managed fleet of fishing boats. Accordingly, they can help each other whenever needed. In addition, troops of Tran Island Border Post not only disseminated information to mobilize fishermen to strictly follow the Party and State's guidelines and policies on preventing illegal fishing but also provided them with information related to the areas where they are going to fish and instructed them on how to connect with each other and handle dangerous situations.
Source: en.qdnd.vn