Thu, 5th Oct 2023 02:53 (GMT +7)
Provincial-level committees urged to better uphold their role in anti-corruption fight
Tuesday, 20/06/2023 | 08:18:14 [GMT +7]
A
A
Provincial-level Steering Committees on Prevention and Control of Corruption and Negative Phenomena should continue to take drastic actions in combating corruption in their locality without relying on higher-level agencies.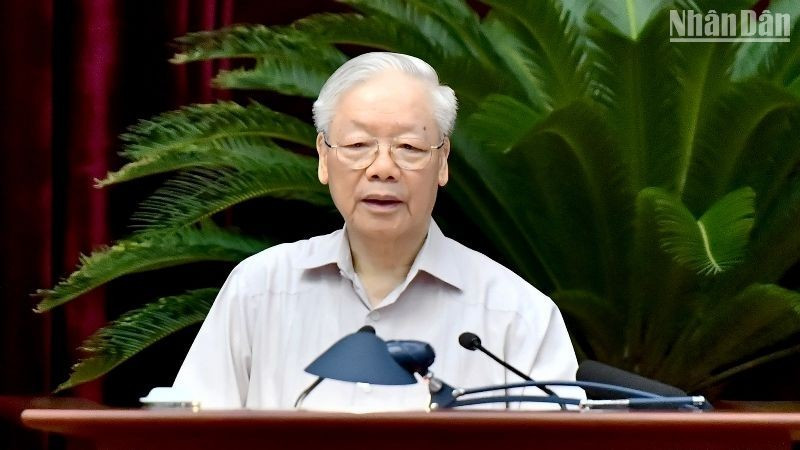 Party General Secretary Nguyen Phu Trong made the request while addressing a conference in Hanoi on June 19.
The conference, held by the Central Steering Committee on Prevention and Control of Corruption and Negative Phenomena, reviewed the one-year operation of the provincial-level committees.
The Party chief, who is also head of the central steering committee, stressed the important role of the committees, which were established by Standing Boards of municipal and provincial Party Committees and tasked with instructing and monitoring the combat in localities.
The committees and all-level Party Committees should carry forward their sense of responsibility, he said, urging greater efforts in building and rectifying the Party and the political system, and preventing and driving back degradations in political ideology, morality and lifestyle, and the phenomena of "self-evolution" and "self-transformation".
The Party chief also asked all-level Party organisations and Committees to strengthen their combat capacity, and leaders of the Party organisations and Committees, as well as agencies, organisations and localities to set examples in the fight.
He suggested the committees identify sectors and areas vulnerable to corruption and focus their leadership on the anti-coruption fight in those areas, while raising the efficiency of self-inspections. "If any agency or locality failed to detect corruption and negative phenomena during self-inspection, the heads of that agency or locality as well as its Party committee must bear responsibility and be subject to severe punishment," he said.
He also emphasised the need to quickly detect and promptly handle bottlenecks and issues of public concern in order to create greater changes for the better in the anti-corruption fight in localities.
He highlighted the role of the Vietnam Fatherland Front, socio-political organisations, press agencies and people in the combat, as well as the efficiency of supervisions by all-level People's Councils.
He suggested the provincial-level committees set up hotlines or take other suitable methods to receive public feedback on the work.
Source: Nhan Dan