Sun, 10th Dec 2023 14:14 (GMT +7)
Positioning the Vietnam tourism brand
Tuesday, 16/05/2023 | 14:46:07 [GMT +7]
A
A
Brand positioning can be understood as creating a unique position of a brand to ensure that target customers can recognise and clearly distinguish this brand from other competing brands.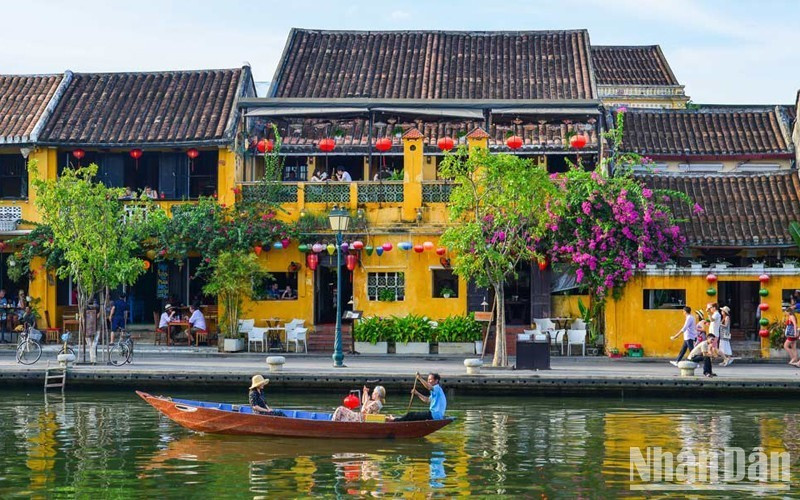 A country that has built a tourism brand is considered to have the golden key to open the doors of opportunity to reach a large number of tourists, especially international visitors. A good destination brand not only creates trust and sympathy for tourists but also contributes to motivating them to decide to travel.
Brand positioning is an important solution to increase the national tourism competitiveness, create favourable conditions for the development of specific products, and implement effective promotion and advertising plans. As such, many countries around the world usually focus on investing in positioning their national tourism brands, considering it as the foundation for deploying stimulus campaigns to attract international tourists.
In Vietnam, this issue has recently been paid more attention, but many have shared the opinion that the positioning of Vietnam's national tourism brand is still not very effective.
The evidence is that among many types and products of strength, Vietnam is still confused in finding a leading and highly competitive tourism product to create a brand highlight. And while many countries have established impressive, reliable, and sustainable brand slogans, the slogans of Vietnam tourism have changed a few times, including "Vietnam-A Destination for the New Millennium", "Welcome to Vietnam", "Vietnam - The Hidden Charm", and now "Vietnam-Timeless Charm", these are still considered to be too general, lacking specificity, and do not show the outstanding and different values of Vietnamese tourism compared to other countries around the area.
The lack of strategy on positioning the national tourism brand has made the promotion of Vietnam's tourism fall into a state of lack of concentration with no highlight and ineffectiveness.
Vietnam is home to abundant natural and human resources, which is convenient for developing diverse types of tourism. But it seems that this is also the reason why many people think that Vietnam is having difficulty in bravely choosing the strongest point to build a tourism brand. Contributing to "resolving difficulties" for this problem, the famous marketing expert Philip Kotler, while visiting Vietnam, suggested that Vietnam is "the world's kitchen". This suggestion was quickly accepted because the diversity and richness of identity in Vietnamese cuisine is completely capable of creating a competitive advantage.
In recent tourism forums, businessman Pham Ha - Chairman of the Board of Directors of Lux Group - an enterprise specialising in providing luxury travel services, emphasised that Vietnam should position the brand national tourism as heritage destination, because it is rare for any country to possess such a huge amount of heritage as Vietnam. Almost every region and locality in Vietnam has valuable tangible and intangible heritages.
According to Ha, heritage resources have a strong attraction for domestic and foreign tourists. The proof is that in recent years, Vietnam has been continuously honoured by the World Travel Awards - WTA as "The World's Leading Heritage Destination". Heritage sites such as Ha Long Bay, Hoi An Ancient Town, Hue Ancient Capital, and the Imperial Citadel of Thang Long have become "magnets" to attract tourists. Moreover, from heritage tourism, it is easy to connect and exploit other types of tourism such as resort, health care, event tourism, etc.
At the Forum on development of Vietnam's cultural tourism recently held within the framework of the Vietnam International Tourism Fair-VITM Hanoi 2023, many experts also affirmed the necessity of positioning the Vietnamese cultural tourism brand.
The Ministry of Culture, Sports and Tourism has issued a decision approving the project on building a national brand on cultural tourism. The project aims to position the Vietnamese cultural tourism brand based on unique cultural values, focusing on heritage values and culinary cultural values, thereby forming a system of destinations and tourism products that are characteristic, of high quality and value and are positively received by the market.
Thus, the suggestions and orientations are already there, the problem is that there should be an action strategy to be consistent in the selection, construction, and positioning of the national tourism brand.
This is never easy because it requires strategic decisions based on extensive research. Especially in the context of the COVID-19 pandemic that has brought the global tourism industry back to the starting line, the opportunity will only belong to those that know how to take advantage of their strengths to affirm their competitiveness in the race for tourism market share.
Source: Nhan Dan