Fri, 8th Dec 2023 10:10 (GMT +7)
New theatre centre offers training for young talents
Thursday, 13/04/2023 | 10:36:53 [GMT +7]
A
A
The HCM City Theatre's Associtiona has opened a theatre centre offering performance skills for young artists in HCM City.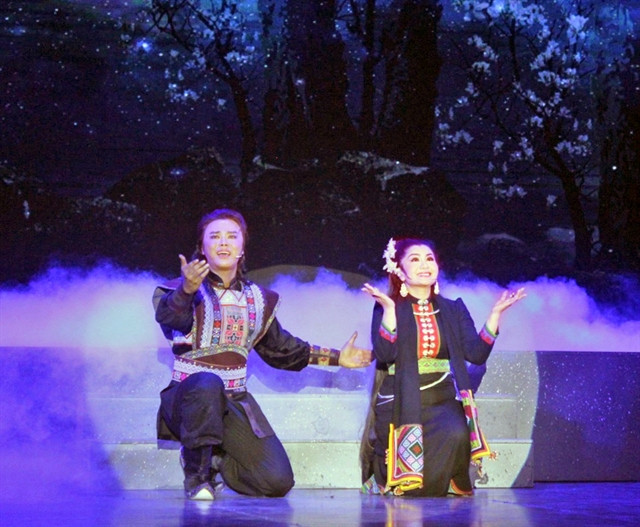 The HCM City Theatre Training Centre offers long and short-term training courses for young graduates of art schools and those who are working for drama troupes and theatres.
The courses are taught by celebrated artists, such as theatre director-actor Trần Ngọc Giàu, actress Mỹ Uyên, and script writer Trần Văn Hưng.
Cải lương (reformed opera) stars, including People's Artist Kim Cương and Meritorious Artist Lê Thiện, are also instructors.
The participants of the centre's courses will study singing, music and dance before being trained at different performance levels.
They will be trained in traditional art forms including cải lương (reformed opera) in the south, chèo (traditional opera) in the north, and tuồng (classical drama) in the central region.
They will also get opportunities to perform in dramas and theatre plays at 5B Small Theatre, a leading state-owned art troupe of the region.
"Our centre offers higher levels for a career not only in theatre, but in the film industry, communication and event planning, and even in advertising," said the centre's director- actress Trịnh Kim Chi.
According to Chi, who has 25 years in the industry, studying at school is not enough for young performers to properly know their art. "So our centre offers special courses to help them improve their performance skills," she said.
Chi began her career in 1994. She graduated in drama and theatre directing from the HCM City University of Theatre and Cinematography in 2019.
She opened the TKC Drama Club in 2015. Her club has 15 artists, not including stage workers, offering drama shows featuring both traditional and modern styles of Vietnamese drama.
Her club's actors have attended and won several top prizes for best drama play and best artist at national theatre contests and festivals.
Chi has also worked with art schools and traditional theatres to train students.
Source: Vietnam News