Tue, 6th Jun 2023 06:02 (GMT +7)
Khe Van waterfall
Wednesday, 23/11/2022 | 16:12:41 [GMT +7]
A
A
Owing to its pristine natural beauty, Khe Van waterfall in the mountainous district of Binh Lieu is known as an attractive destination for adventurous tourists.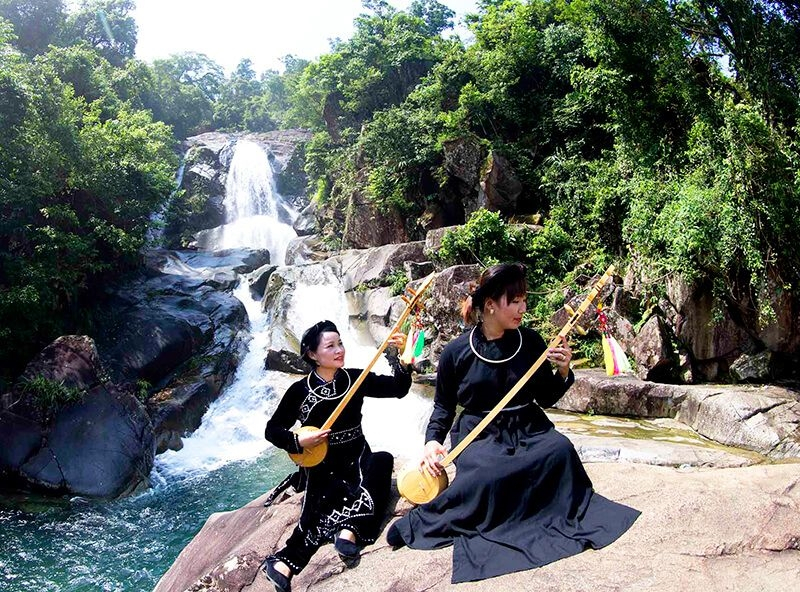 Khe Van waterfall is situated in Huc Dong commune in Binh Lieu district, about 12 kilometers from the town of Binh Lieu and 100 kilometers from Ha Long city. Tourists should travel by bus or motorbike to a defined parking site in the commune, then it takes them about 15 minutes to walk to the waterfall inside the forest. 
The journey through the pristince forest to get to Khe Van brings visitors an exceptional sense like they are walking in a road in fairy tales.
The waterfall is 100m high. The water runs from the Khe Van–Thong Chau mountain range 1,000m above sea level, creating three separate water layers. The top one is the large stream of water flowing from the cliff down to a large lake. Flowers and grass on the cliff enhance the view. A complex of imposing angled stones scattered under the water creates an amazing natural landscape.
The second layer of water is divided into two small waterfalls running beside each other. One flows down to streams and a wide lake. The large and flat stones are ideal places to rest and have a sunbath. This lake is a natural swimming pool inviting tourists to immerse themselves in the cool and fresh water.
The waterfall embraces different features in line with respective seasons. While it seems imposing in the rainy season, it looks silky and smooth in the dry one.  
Khe Van Waterfall is not only picturesque, it also has a cultural aspect. It's where San Chi and San Diu ethnic couples go on dates and sing soong co (folk songs of their groups). They set aside all work and go out to have fun at the area's waterfalls, lakes and streams. 
By Ha Phong