Sun, 28th May 2023 14:32 (GMT +7)
Hồng Hạnh perfects simple Quảng Ninh flavours
Monday, 24/10/2022 | 08:27:19 [GMT +7]
A
A
You will be surprised by how the food tray is varied and delicious, using the same ingredients.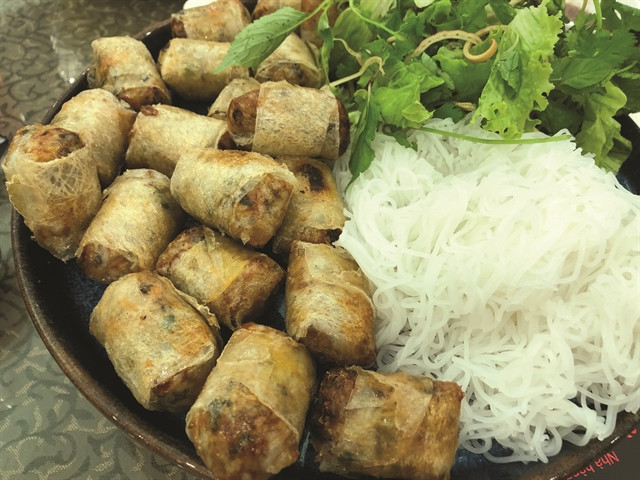 Any time you go to Quảng Ninh, you will be surprised by how the food tray is varied and delicious, using the same ingredients. Great chefs vary enormously, but all agree on one simple thing: great ingredients make great food.
Travelling to Quảng Ninh once a year never seems enough because every time we go, we stumble upon great places, restaurants included.
The Hồng Hạnh restaurant chain has six restaurants in its network. All located in Quảng Ninh. Located in a tall building with several floors that can cater to a large group of visitors simultaneously, the restaurant offers the best local food you are likely to find, including Tiên Yên chicken and, of course, Quảng Ninh seafood.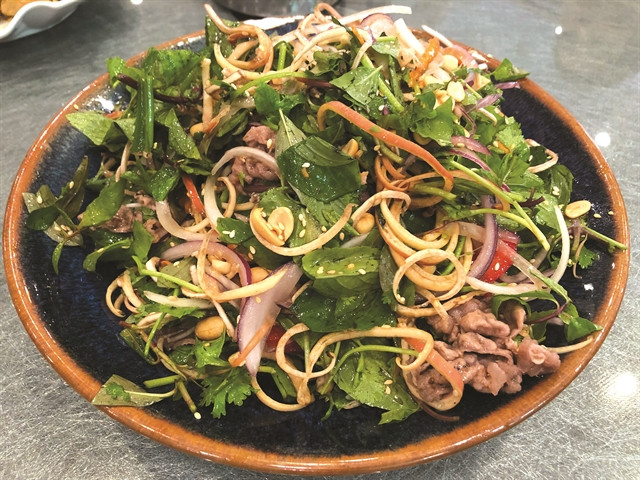 We had a table for 10, usually catering to large weddings or tourist groups, who need to be served quickly. A Lazy-Susan glass-turning tabletop is ideal for many guests like this.
As a big group, we got a promo and discount, so the meal cost VNĐ250,000 (US$12) per head for a nine-course feast.
A festive Vietnamese meal comes in several parts: food-for-fun, vegetables, steamed rice with a salty dish, and a hot soup to blend them all together.
First, we had a banana flower salad with beef, which was fresh and the meat very tender. The sweet and sour dressing was perfect. Next came the magnificent Tiên Yên boiled chicken with three-colour sticky rice: black bean, lotus seed and sweet red gourd.
The chicken from Tiên Yên is famous for its tender meat and large birds. Our table of 10 was served with only half a boiled chicken. It was so good we wanted to order some to bring home the next day, but a boiled one weighs 3 kilos and costs VNĐ850,000, too big for any family of four to consume, so we dropped the idea, and each picked one more piece and were content.
The food went on for three more courses: steamed squid, grilled pomfret, and seafood spring rolls. These dishes were meant to liven your appetite and not fill your stomach. But go carefully, after a few bites of squid, fish, and spring rolls, you might start feeling full.
A stir-fried vegetable dish rescued our system from too much protein. In a big feast like this, the amount of vegetables is invariably modest compared to the overwhelming meat or seafood protein options.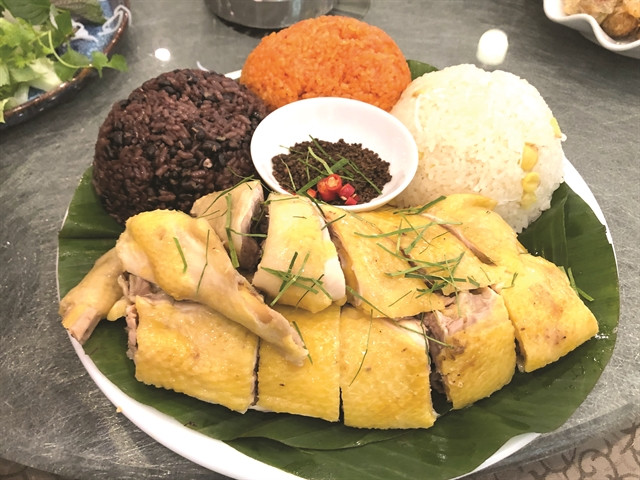 The port city of Hải Phòng is famous for its large seafood square rolls. We tried them previously, but the rice paper used was too thick, and the stuffing wasn't well blended.
While spring rolls were supposedly first created in Sài Gòn [former name of Hồ Chí Minh City], the chefs of Hải Phòng have lifted them to a new level with seafood stuffing, most notably sea crabs, which are so flavoursome and delicious.
This time, we were delighted to eat the little seafood spring rolls that are the restaurant's signature. Crispy and flavourful, each roll was pretty on the eye and a wonder to eat. The thin rice paper used to wrap the roll cracks when you bite into it. Everyone at our table agreed they were wonderful, and there were no leftovers.
But the real dish to make us full was still ahead. The combination of white rice, salted pork chips, fresh shrimp, and sour soup consumed with eggplant pickles was divine.
Looking at the large table full of not only good but gourmet food, cooked in the local style, reminded me of those days not so long ago when a package of instant noodles was a feast in itself. Be it simple or sophisticated, full of carbs or an abundance of seafood, it is the people we chat with over food that will make us happy above everything else.
When we are around kind people with a great sense of self and humour, we are happy to share simple food in hard times or great food in better times. Life's more meaningful that way.
Source: Vietnam News