Fri, 8th Dec 2023 10:06 (GMT +7)
Ha Long Bay named among 24 most ideal world destinations in 2024
Thursday, 19/10/2023 | 16:55:55 [GMT +7]
A
A
Forbes magazine has recently published a list of the 24 Best Places To Travel In 2024, which included Ha Long Bay. The list was compiled by Luxury Travel Advisor OvationNetwork.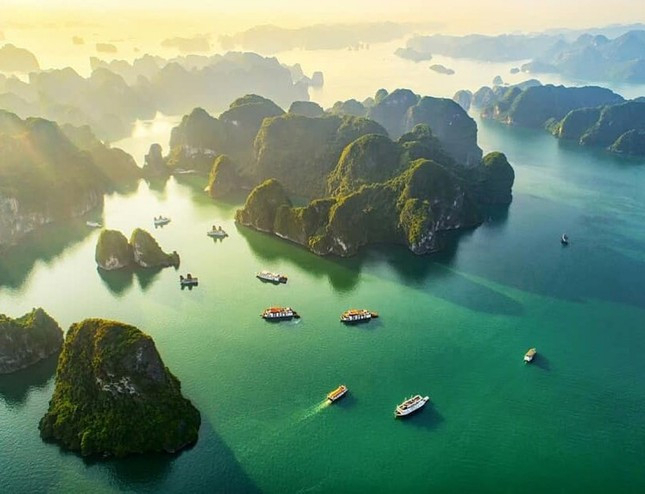 According to Forbes, Ha Long Bay is one of the most unique ecosytems and geological formations in the world.
Distinctive rock formations made up of limestone karsts and islets add to the magic of the unique destination. Whether you are a history buff, a nature lover, a foodie, or an advanture seeker, Ha Long Bay has something to offer everyone.
Previously, leading UK-based travel magazine Wanderlust selected Vietnam's Ha Long Bay as one of the 16 most favourite UNESCO world heritage wonders in Southeast Asia.
"Lying prostrate aboard an old wooden junker, peering out across the emerald waters as jungle-covered precipices rear out of nowhere isn't the only way to experience Halong Bay – it remains among the best, though," Wanderlust wrote.
The magazine commented: "These limestone karst pillars aren't unique to Vietnam, but nowhere on Earth is their scale so dramatic, sprouting some 1,600 spines from the waters of the Gulf of Tonkin, birthing towering islands and islets out of bounds to all but the native seabirds that have made them home.
"The site was first inscribed by UNESCO in 1994. Twenty-something years later, little has changed except how to see them and the increasing numbers of those who have. The slow-screw of erosion has notched hidden caves and dramatic arches into many of its rises.
"Kayak out for a more intimate look at the likes of Thien Cung, famed for its impressive stalagmites and stalactites; or drift past oysters farms and floating villages – ramshackle constructions linked by trembling walkways – to seek out secret beaches away from the boat-going hordes," it added.
Ha Long Bay, which is situated in Northeast Vietnam, is regarded as one of the world's geographical beauties due to its green seas scattered with hundreds of limestone islets, each capped with its distinct tropical jungle, the magazine said.
Tourists may enjoy the destination by diving and snorkeling, renting a canoe, or simply relaxing on the upper deck of their boat tour with a beverage in hand, it added.
The core area of Ha Long Bay was recognised twice by UNESCO as a World Natural Heritage site in 1994 and 2000, with global special values of geology. On November 12, 2011, Ha Long Bay, was announced by New Open World Organisation, as one of seven new natural wonders of the world.
By Phuong Loan