Wed, 29th Mar 2023 03:27 (GMT +7)
Government-to-localities conference opens to review 2022 performance, launch 2023 tasks
Tuesday, 03/01/2023 | 14:48:39 [GMT +7]
A
A
A teleconference between the Government and the 63 provinces and centrally-run cities opened on January 3 morning to review the 2022 performance and carry out the Party Central Committee's conclusions and the National Assembly (NA)'s resolution on the socio-economic development plan for 2023.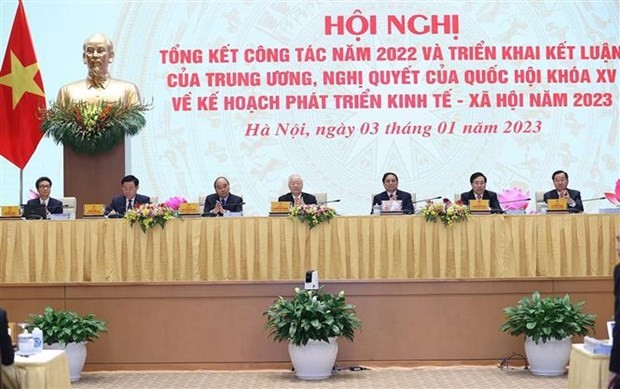 The event was attended by Party General Secretary Nguyen Phu Trong, President Nguyen Xuan Phuc, Prime Minister Pham Minh Chinh, and NA Chairman Vuong Dinh Hue.
In his opening remarks, PM Chinh said amid difficulties in the domestic and international situations in 2022, thanks to solidarity, strong resolve, great efforts, and drastic actions, Vietnam surmounted difficulties and challenges to fulfill the tasks assigned by the Party, State, and people.
Among the 15 main targets for 2022 set by the Party Central Committee and NA, 13 were achieved or surpassed. Notably, the macro-economy remained largely stable, inflation was kept under control, growth recovered fast, and major economic balances were guaranteed.
The consumer price index (CPI) increased 3.15% while the gross domestic product (GDP) was up 8.02%, increasing the size of the economy to 409 billion USD and per capita income to 4,110 USD. State budget revenue rose by 392 trillion VND (16.7 billion USD), 27.8% higher than the target. Total export and import value stood at 732.5 billion USD, with a trade surplus of 11.2 billion USD. More than 208,000 companies were established or resumed operations, 1.45 times higher than those withdrawing from the market.
Many international organisations kept and upgraded Vietnam's credit ratings and highly valued the country's economic results and prospects, the PM said.
However, he also pointed out certain shotcomings, difficulties, and challenges, including internal and external inflationary pressure; the slow disbursement of public investment and implementation of some policies in the socio-economic recovery and development programme; and latent risks in the stock, corporate bond, and real estate markets.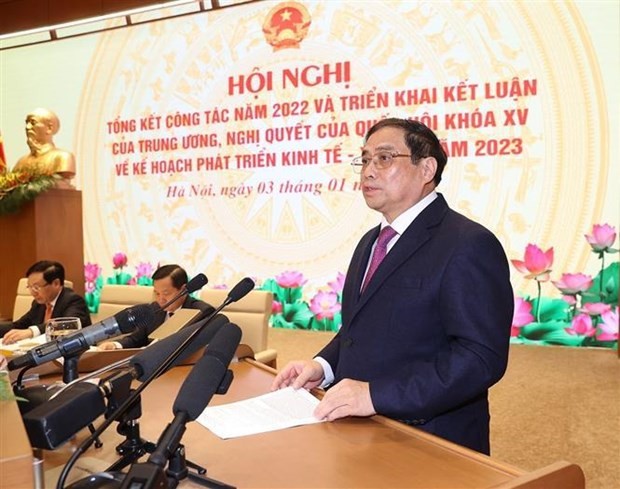 The Government leader held that the year 2023 holds special importance in the implementation of the socio-economic development plan for 2021 - 2025. Meanwhile, the world situation is forecast to continue witnessing fast, complex, and unpredictable changes. External and internal challenges, adverse factors, and emerging issues will continue considerably affecting the socio-economic situation, people's life, and security - defence in Vietnam.
To carry out the Party Central Committee and Politburo's conclusions along with the NA's resolution, the Government will direct ministries, sectors, and localities exert all-out efforts to successfully carry out the 2023 socio-economic development plan, PM Chinh added.
Source: Nhan Dan