Wed, 4th Oct 2023 14:26 (GMT +7)
First batch of Vietnam's early ripening lychees exported to UK
Friday, 09/06/2023 | 16:34:41 [GMT +7]
A
A
The TT Meridian Company has just imported 1 ton of Vietnamese early ripening lychees into the UK. This was the first official shipment of Vietnamese lychees to the UK this year.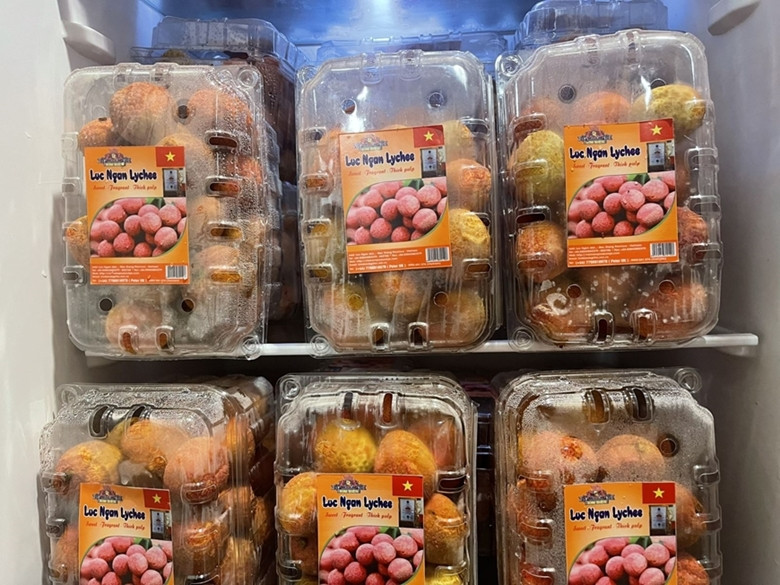 Mr. Thai Tran, CEO of TT Meridian Company, an enterprise specializing in the distribution of Vietnamese agricultural products in the UK, said that this year, the company imported pink lychees for the first time, which ripens about 1 month earlier than the other kinds of lychees, in order to compete with lychees from Mexico and China currently sold in the UK market. This batch of lychees will be distributed to Asian and local supermarkets in the UK. It is expected that each week the company will import from 3 to 5 tons of lychees depending on consumption demand.
According to Mr. Thai Tran, the TT Meridian imports Vietnamese early ripening lychees before Mexican and Chinese lychees are harvested and exported to the UK, in order to exploit the market early and create opportunities for good quality Vietnamese lychees to approach and conquer consumers in the host country. In particular, Vietnamese lychee products distributed in the UK market this year have a packaging bearing the image of the national flag of Vietnam, helping consumers to identify the national brand and confirming that lychee is a special product of Vietnam.
In addition, from now on, the TT Meridian Company will also use product packaging with the Vietnamese national flag to pack Vietnamese products distributed in the UK to build and promote the Vietnamese brand as a major producer and exporter of agricultural products in the world, helping consumers easily and quickly identify Vietnamese products on supermarket shelves in the UK.
CEO of TT Meridian Company shared that the initiative to identify Vietnam's brand through the national flag is one of the efforts of the company and its partners in Vietnam.
Source: en.dangcongsan.vn