Thu, 5th Oct 2023 02:20 (GMT +7)
Filling the "gap" of tourism human resources
Monday, 21/08/2023 | 08:12:49 [GMT +7]
A
A
The recent changes in visa policy towards more openness and the recent growth of domestic and international visitors have indicated good signs for the recovery of Vietnamese tourism. However, there is still the challenge on the "gap" of human resources following the COVID-19 pandemic.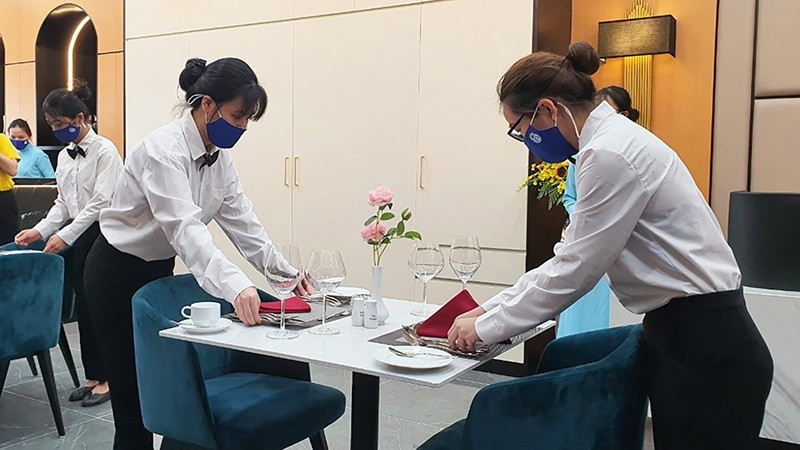 How to retain the current workforce, re-attract those who have quit their jobs and train additional new labour sources to ensure quality is an urgent problem posed to Vietnam's tourism.
The lack of quantity and weakness of quality
The COVID-19 pandemic, which has persisted for more than three years with complicated developments, has severely disrupted the chain of tourism linkage, thus negatively affecting human resources in the tourism industry. According to Vietnam National Authority of Tourism (VNAT), in 2021, only 25% of employees in the industry were still working full-time, 30% had to quit or terminate labour contracts, 35% temporarily quit, and 10% worked in moderation.
The movement of human resources to other industries have taken place strongly not only during the outbreak of COVID-19 but also after the pandemic, because many people have been still afraid of the industry's precariousness and vulnerability to major external shocks including COVID-19. Meanwhile, many workers who have changed to other industries have found new stable jobs, so they do not want to return. This has made the tourism industry face a huge challenge in recovering and improving the quality of human resources to meet the needs of the market.
Reports on the current situation of tourism human resources by 46 out of 63 localities across the country show that most of the provinces and cities that are key tourist destinations, such as Hanoi, Ho Chi Minh City, Khanh Hoa, Quang Ninh and Ninh Binh, have fallen into labour shortage. Only a few localities such as Da Nang, Thua Thien Hue and Ca Mau assessed that temporary human resources could meet the requirements of serving tourists due to slow recovery of visitors and low occupancy.
According to calculations by the VNAT, with the current growth rate, the tourism industry needs 40,000 new employees and 25,000 employees need to be retrained each year. However, universities only train 20,000 students every year, of whom the proportion of professionally trained tourism workers is still low, accounting for only 43% of the total number of tourism workers and nearly half do not know any foreign language.
Thus, Vietnam's tourism sector not only lack human resources but also face the weak quality of workers. Dr. Do Thi Thanh Hoa, Deputy Director of Tourism Development Research Institute, said human resources in Vietnam's tourism industry still have many aspects that cannot meet the task of tourism development in the context of developing a knowledge economy and deepening international integration. The number of human resources is still small, the structure is not uniform, and the practical capacity is not commensurate with the qualifications. Knowledge of integration, foreign languages, informatics, creative capacity, leadership, management, administration, and practical experience is still limited and does not correspond to the development requirements of the industry.
Developing high quality human resources
Speaking at the workshop themed "Vietnamese tourism human resources in a new context - Challenges and prospects" by the Institute of Tourism Development Research, Dr. Pham Le Thao from the Department of Travel Department under the VNAT said in order to restore tourism human resources, it is necessary to continue to implement policies to support businesses and maintain operations such as credit support, tax, and fee reduction to attract workers back. In addition, it is necessary to organise an investigation and study on the current situation of human resources in enterprises, thereby clearly determining the quantity, structure, and quality requirements to develop a specific plan for training, fostering, and developing tourism human resources.
To have enough new labour force to ensure quality, experts said that it is necessary to pay attention to investment into the system of tourism human resource training institutions. According to Assoc. Prof. Dr. Bui Thanh Thuy from Hanoi University of Culture, relevant ministries, agencies, and localities need to adjust the planning of the tourism training institutions to ensure conformity with the development requirements of each region. It is also crucial to focus on vocational skills training in association with integration demand, prioritise the development of new skills in tourism labour to meet the requirements of development including green labour skills, sustainable and responsible works, to keep pace with regional development, associated with improving foreign language ability and soft skills such as communications and teamwork in a multicultural environment.
If tourism businesses want to retain current employees, attract new workers, and encourage tourism human resources with high experience and vocational skills to return to work, the provision of a suitable salary and a friendly and civilised working environment are extremely important factors.
Dr. Ha Thanh Hai, Director of Lang Co Tourism Co., Ltd. emphasised that giving income commensurate with employees' capabilities and making a salary and bonus policy associated with each individual's task completion based on business results are the secret to reducing staff quitting jobs. Besides, it is necessary to develop a welfare regime with clear terms including working hours, breaks, overtime, holidays, personnel with excellent achievements, social insurance, gifts on holidays, and vacation regimes.
The linkage between enterprises and schools in training and recruiting high-quality human resources is of great significance. The businesses can build and maintain cooperative training relationships with vocational training institutions, intermediate schools, tourism vocational colleges, and universities. The cooperation not only solves the problem of labour shortage during the peak season but also creates the best recruitment source for enterprises.
Source: Nhan Dan