Wed, 4th Oct 2023 13:59 (GMT +7)
Emerging entertainment & dining spotlight by the heritage site
Thursday, 15/06/2023 | 08:23:32 [GMT +7]
A
A
World Heritage Site Halong Bay (Viet Nam) is among the top 25 most beautiful destinations on the planet, according to CNN. Not only is it blessed with an astonishing network of nearly 2,000 large and small islands, visitors can also experience an unrivalled first with a fine-dining cruise on the Paradise Delight.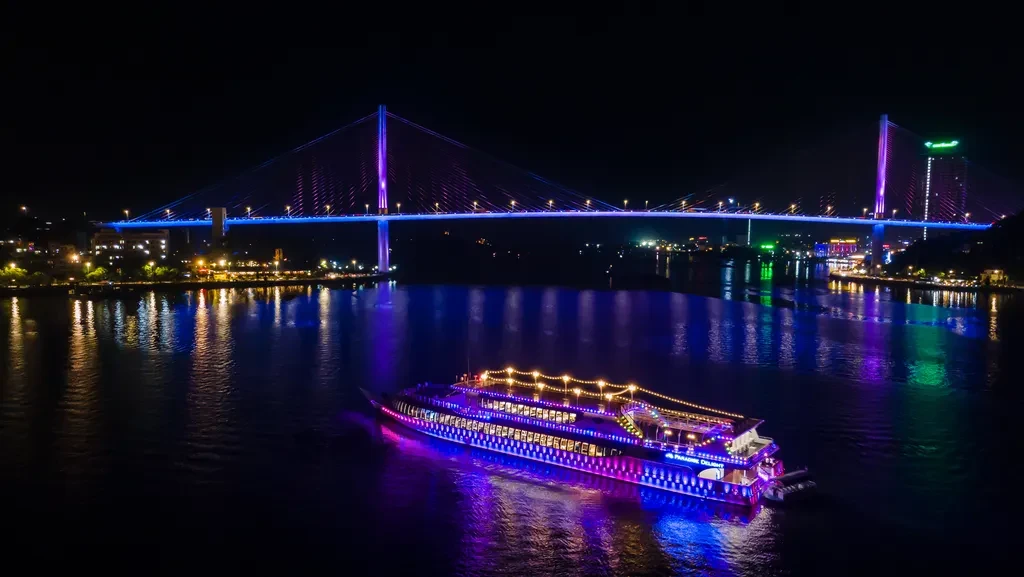 Modern European style with exclusive highlights
Stretching a full 80 metres with a capacity of 360 guests, Paradise Delight is considered the largest dining cruise on Halong Bay. The sumptuous El Loto and El Jazmin restaurants with neoclassical European architecture and panoramic infinity arched glass doors immediately catch diners' imaginations.
With the one and only Kids' Club on the bay, children can enjoy their tiny world with safe toys and activities, allowing parents to unwind and fully indulge in first-class dining, entertainment, and sightseeing.
Delectable Eurasian fare
Before stepping into an authentic culinary feast, guests can enjoy a French-style canapé with delicately presented snacks, eye-catching cocktails and fresh juices. Accompanied by the splendid sunsets along the shores of the heritage bay, this provides the perfect start on a gourmet journey.
Pioneering an on-board fine-dining experience, Paradise Delight serves guests two premium menus with two types of fine-dining experience.
El Loto restaurant on the 1st floor has a capacity of 200 guests and offers a buffet dining experience of Eurasian cuisine. El Jazmin offers a cosy, private space with a capacity of 100 guests, serving a set menu that harmonises meticulously crafted flavours with the perfect drinks pairings.
Awe-inspiring art performance
For the first time on a dining cruise line in Halong Bay and in Viet Nam, visitors can enjoy a visual spectacle show that combines music, laser and LED lighting, and contemporary dance, recreating the the legend of the dragon and the fairy, the endless beauty of the ocean, and life on a floating fishing village.
Under the mentorship of talented director Hoang Nhat Nam, "Choreography of the Sea" offer a stunning, fanciful atmosphere full of emotion.
Iconic rendezvous for entertainment shows
With premium cuisine, world-class services, ample capacity, and top-end facilities, Paradise Delight is the ideal rendezvous venue for mesmeric shows, parties, and conferences. Moreover, the sundeck is the perfect place to immerse yourselves in the legendary scenery.
Recently, "Light Up The Wonder" featuring "ballad prince" Le Hieu set an emotional tone for an audience of 100 on the sundeck as they cruised across the bay.
Paradise Delight is the latest in Paradise Vietnam's super cruise collection, joining popular overnight cruises with sizes ranging from 8 to 39 cabins including Paradise Elegance, Paradise Sails, Paradise Peak (Ha Long Bay), Paradise Grand (Lan Ha Bay), and the boutique Tuan Chau Paradise Suites hotel complex.
Source: Vietnam News