Thu, 5th Oct 2023 02:15 (GMT +7)
Efforts made to preserve and promote ancient village of Phuoc Tich
Wednesday, 02/08/2023 | 16:39:27 [GMT +7]
A
A
Located on the bank of the O Lau River in Phuoc Phu Village, Phong Hoa Commune, Phong Dien District, Thua Thien Hue Province, the ancient village of Phuoc Tich is an attractive destination, especially for visitors who are interested in exploring cultural heritage.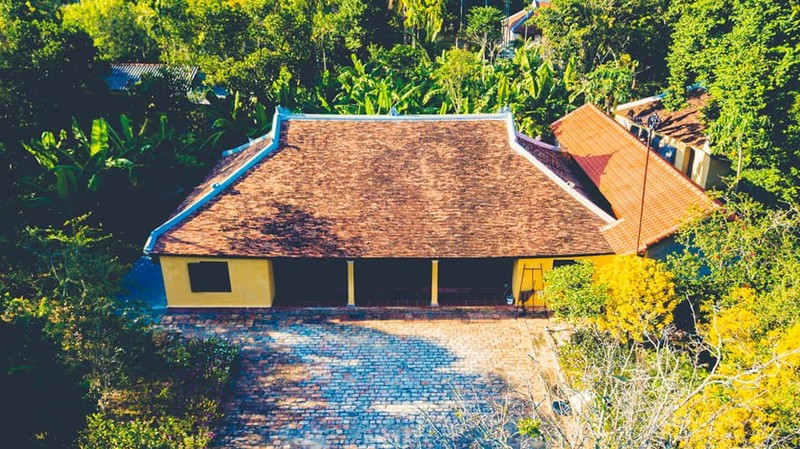 Phuoc Tich is dubbed as one of the three most beautiful ancient villages in Vietnam, and gained recognition as a national architectural and art monument in 2009.
Visitors to the village can explore ancient houses, Champa culture, ancient Vietnamese culture, and the traditional craft of pottery making, which has been practiced for more than five centuries.
Over the years, great attention has been made to preserving and promoting heritage values in the ancient village of Phuoc Tich, thereby attracting more tourists to the site.
Promoting heritage values
According to historical documents, Phuoc Tich Village was established in 1470 under the reign of King Le Thanh Tong, with an area of about 49ha.
The village was first named Phuc Giang, with "phuc" meaning blessings and "giang" meaning river, to convey the people's wish for a riverside area full of blessings.
Then under the Tay Son Dynasty, Phuc Giang Village was renamed Hoang Giang, to remember the Hoang family that founded the village.
During the reign of King Gia Long, the village was renamed Phuoc Tich to accumulate blessings for the descendants.
Experiencing more than 550 years of establishment and development, Phuoc Tinh village now boasts more than 30 century-old houses carved with sophisticated patterns, boasting invaluable architectural and cultural values.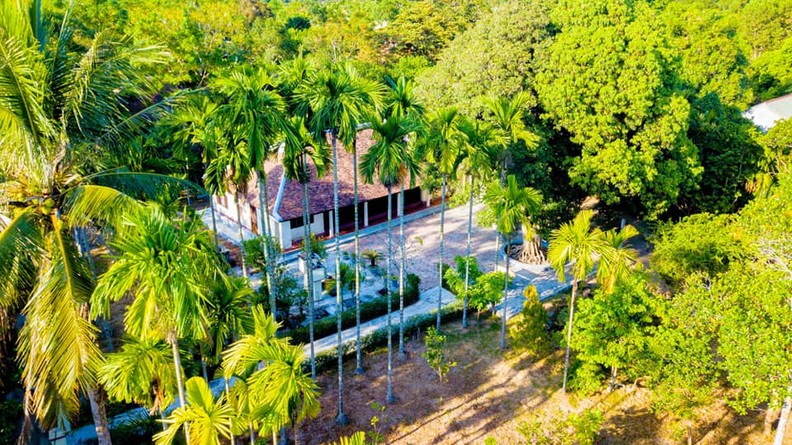 These ancient wooden houses were built with three compartments and two lean-tos, surrounded by a garden with rows of green tea bushes serving as the fence and a brick-covered courtyard.
The village has also relic sites for belief and religious practices such as communal houses, pagodas, temples, and Champa culture-related relic sites.
According to Doan Quyet Thang, Director of the Management Board of Phuoc Tich Ancient Village's Architectural Art Monuments, ancient houses in Phuoc Tich ancient village are distinguished from others thanks to their unique architectural style as well as elaborate and sophisticated carvings featuring images of four sacred animals and flowers.
The houses are symbol of the families' tradition which have been handed down and uphold through many generations.
Chairman of the Phong Dien district People's Committee Nguyen Dinh Bach reported that under the project on protecting and promoting the value of typical Hue garden houses in Phuoc Tich ancient village, 23 out of 25 garden houses have been restored and upgraded with a total investment of more than 15 billion VND.
A typical garden house in Hue has two main parts: "nha ruong" (house built with many beams or "ruong" and pillars or "cot") along with the surrounding garden, designed according to geomancy and their owners' spiritual life and skills.
In 2021, the district implemented a 20-billion-VND project to improve the village's tourism infrastructure, including the lighting system, the electricity network, and tourist car park. The project has helped to better serve visitors and lure more tourists to the village.
Reviving the traditional craft of pottery making
In addition to traditional "ruong" houses and majestic ancient worshiping monuments, Phuoc Tich ancient villagers also practice their traditional pottery making craft, which has been practiced for more than 500 years.
In the past, ceramics created from the Phuoc Tich pottery village was considered precious and only used to serve the kings of the Nguyen Dynasty.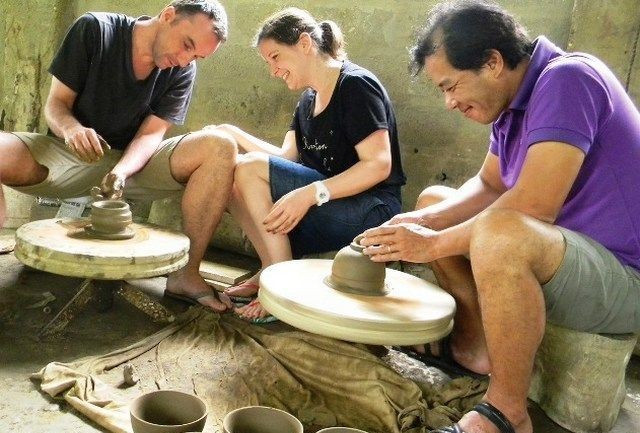 Phuoc Tich ceramic products are favoured not only for their durability and waterproof but also uniqueness.
Typical pottery products in Phuoc Tich include jars, pots, and money pots.
After a long time of quiet operation, nowadays, Phuoc Tich's pottery kilns are active again, they not only turn out pottery products but also help promote the traditional craft to tourists.
The villagers have exerted efforts to devise new designs and increase the quality of their products using traditional techniques.
A total of 12 tourist activities and services have been launched for visitors to explore Phuoc Tich Village, such as visiting garden houses, baking, making pottery, cycling, row boating on O Lau River, and releasing lanterns.
The ancient village welcomed nearly 41,000 visitors in 2022.
Recently, the Department of Cultural Heritage under the Ministry of Culture, Sports and Tourism in coordination with the Vietnam National Institute of Culture and Arts organised a conference to seek ways to revitalise the traditional pottery making craft and promote sustainable tourism development in Phuoc Tich ancient village.
According to Dr. Tran Dinh Hang, Director of the Vietnam National Institute of Culture and Arts in Hue, Phuoc Tich villagers only offer customers with souvenirs and decorative products. He called on the local pottery practitioners to produce more popular goods, such as household utensils and kitchenware, in order to provide wider range of selection for visitors.
Meanwhile, Assoc. Prof. Dr. Dang Van Bai, Vice Chairman of the National Cultural Heritage Council, stressed that it is necessary to put forward supportive mechanisms, policies, and action plans which can mobilise the full participation of local residents, who are the owners, practitioners and beneficiaries of the craft, in the revitalisation of the pottery making craft in Phuoc Tich Village.
Source: Nhan Dan