Thu, 5th Oct 2023 02:21 (GMT +7)
Cruise tours in Ha Long Bay canceled as Storm Talim approaches
Tuesday, 18/07/2023 | 15:43:28 [GMT +7]
A
A
The People's Committee of Quang Ninh issued an official notice to suspend sightseeing, entertainment, and swimming activities in Ha Long Bay from 3pm on July 17.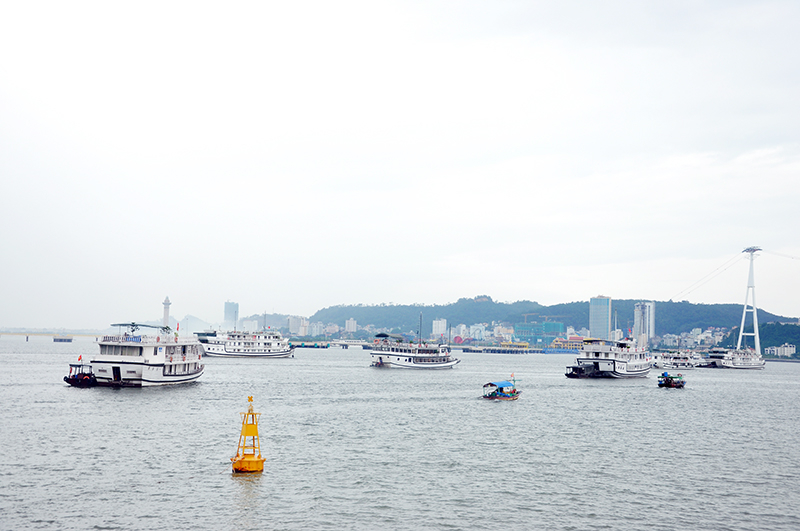 The province also notified vessel and boat owners and captains operating at sea about the storm's location, movement, and safe routes to follow. They also conducted inspections and provide guidance on safe anchorage for ships and boats and had rescue forces and resources readily available to promptly respond to any adverse situations that may arise.
Districts and cities were urgently directing and urging the pruning of tree branches and reinforcing cages and rafts of aquaculture and fishing farms in riverside and coastal areas.
Talim, the first storm to hit Vietnam this year, was about 140km east-southeast of Mong Cai, the northern province of Quang Ninh, with a velocity of 89-117km per hour as of 4am on July 18, reported National Centre for Hydro-Meteorological Forecasting.
The centre forecast that by around 4am on July 19, the storm will move in a west-northwest direction at a speed of some 20-25 km per hour. While moving further inland, it will gradually weaken.
The meteorological center said that between July 11 and August 10 tropical convergence tends to be more active and stronger, leading to thunderstorms, tornadoes and high waves at sea.
It has forecast two or three tropical depressions and storms will form over the East Sea this year.
By QMG Reporters