Wed, 4th Oct 2023 13:40 (GMT +7)
Boosting economic growth a prime goal
Thursday, 14/09/2023 | 10:24:01 [GMT +7]
A
A
The government has set a prime priority on fueling economic growth, which is showing signals of recovery, with consumption, exports, and investment being the biggest focuses.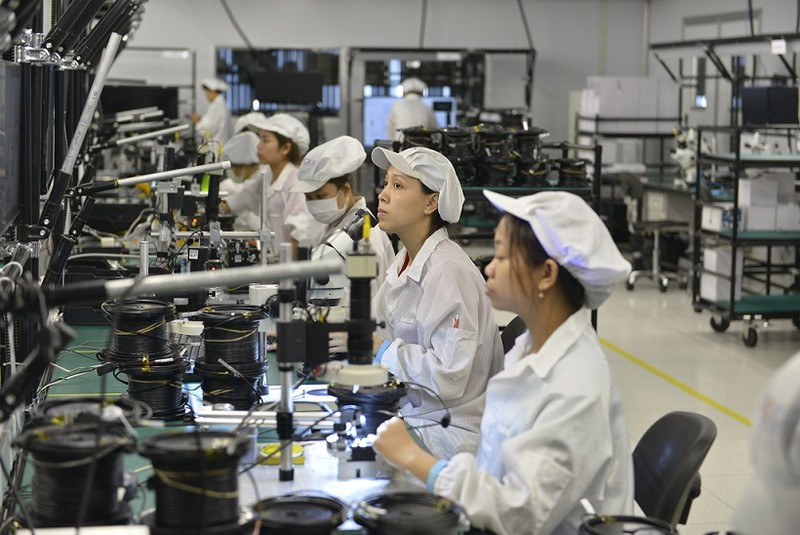 The government has just promulgated Resolution No.144/NQ-CP, dated September 9, 2023, following its meeting on the national socioeconomic situation, in August.
"All priorities are aimed to spur on economic growth, especially the three key driving forces, including consumption, exports, and investment, with solutions to boost industrial production – especially processing and manufacturing," the resolution stated.
The Ministry of Planning and Investment (MPI) is required to study and propose strong incentives for the country to be able to woo big foreign businesses and investors, with good financial health and high technology, and large-scale projects, which can have big impacts on Vietnam's exports, employment generation, and the processing and manufacturing industry.
The MPI must also coordinate with relevant ministries and agencies to solve difficulties and obstructions for enterprises and investors, particularly when it comes to incentives, legal procedures, and business and production sites to quicken investment projects in the country.
The State Bank of Vietnam must "continue implementing the effective, timely, flexible, and proactive monetary policy, through the continuation of reducing lending rates, restructuring debts, and properly increasing money supply."
Prime Minister Pham Minh Chinh has also required ministries, agencies, and localities throughout the country, to employ all feasible measures to fuel domestic production and business activities, which will help drive economic growth forward.
"All efforts must be made to achieve all targets set earlier. Boosting economic growth must be the No.1 priority now," he stressed.
He also ordered ministries to work with one another, to exercise an appropriate and prompt fiscal policy, via the continuation of exempting, reducing, and extending the payment of taxes and fees, in addition to quickening tax refunds and public investment.
The MPI is now gathering data to come to a final economic growth figure for Q3 of this year while continuing to update growth scenarios in line with new developments in the international and domestic economic situations.
The economy grew 3.32% year-on-year in Q1 of the year before bouncing back to 4.14% year-on-year in Q2, leading to a six-month growth rate of 3.72% year-on-year.
A month ago, the MPI reported to the government two growth scenarios for H2 of 2023 and the whole year, based on such a low growth rate for H1 of this year.
Under the first scenario, the economy is predicted to ascend 6% this year, with 6.8% for Q3 and 9% for Q4, which are 0.3 and 1.9% higher respectively than the initial plan set earlier this year. The rate must be 8% in H2 of the year.
Under the second scenario, the whole-year growth rate is estimated to sit at 6.5%, with 7.4% for Q3 and 10.3% for Q4, which are 0.9 and 3.2% higher respectively than the initial plan set earlier this year. The rate must be 8.9% in H2 of the year.
"However, it would be a very hard job to realise such goals, as the economy grew 13.71% and 5.92% in Q3 and Q4 of last year, which was very high. Nevertheless, we will have to do our best to implement the set goals despite the enormous difficulties ahead. We must take advantage of all opportunities and policies, and overcome woes to accomplish the growth goal," said MPI Minister Nguyen Chi Dung.
According to the General Statistics Office (GSO), Vietnam's index for industrial production (IIP) in August climbed 2.9% on-month and 2.6% year-on-year. Meanwhile, the on-year IIP in July increased only 2.3%, said the MPI, adding that the Purchasing Managers' Index of the industrial production sector hit 50.5 points in August, "showing an expansion in production with the volume of new orders and output bouncing back."
Nevertheless, the GSO also said that the poor performance of many enterprises and the global grey economic situation, have resulted in a year-on-year drop of 0.4% in the eight-month IIP.
The year-on-year eight-month IIP of the years in the 2019-2023 period was 9.5; 2.2; 5.5; 9.2, and -0.4%, respectively.
The eight-month IIP of 2023 for processing and manufacturing reduced by 0.6%, as compared to the corresponding period last year, when such an IIP climbed 10.1% year-on-year. The IIP of the industry of water supply and waste management and treatment witnessed an expansion of 4.8%, and the mining industry declined 2.5% year-on-year. Meanwhile, the IIP of electricity production and distribution increased by only 1.7% year-on-year.
Vietnam Electricity (EVN) reported that in the first seven months of this year, the total produced electricity volume is estimated to hit 161.8 billion kWh, up only 2.69% as compared to the same period last year and lower than the year's plan by 862 million kWh.
EVN also reported that this year, it is expected that the group will continue facing increased difficulties in production and business activities, due to a very high climb in assorted input materials. For example, the price of imported coal is set to increase by 2.32 times as compared to 2021, and 5.3 times over 2020; while the oil price is expected to increase by 1.22 times against 2021 and 2.06 times as compared to 2020. Additionally, the exchange rate in 2023 is also forecast to stay higher than the average level of 2022 – affecting the group's performance.
According to the Ministry of Industry and Trade (MoIT), in the first eight months of this year, Vietnam's total export turnover is estimated to hit 227.7 billion USD, down 10% year-on-year. Which, Vietnamese exporters earned 59.9 billion USD, down 9.2% and accounting for 26.3% of the country's total export turnover; and foreign-invested exporters raked in 167.8 billion USD, down 10.3% and holding 73.7% of total.
The MoIT attributed the grey export situation to global geopolitical tensions, causing a shrink in demand for export in many key export markets of Vietnam, especially in the first six months of this year.
In the first eight months of this year, Vietnam saw 103,700 newly established businesses registered at 40.9 billion USD, using nearly 669,000 workers. This was up by 2.3% in the number of enterprises but down by 14.7% in registered capital and down by 3.9% in the number of employees – as compared to the corresponding period last year.
If another 53.74 billion USD registered by 32,300 operational businesses is taken into account, the total capital supplemented into the economy in the period stood at 94.65 billion USD – down by 38.3% year-on-year.
Meanwhile, the first eight months also saw 71,800 businesses with halted operations – up 20.5% as compared to the corresponding period last year; 41,100 enterprises stopped operations and waited for dissolution procedures – up 26.7%; and 11,800 enterprises completed such procedures. On average, about 15,600 businesses were kicked off the market every month.
The government is expecting the economy to grow 6.5% this year, but difficulties in industrial production are expected to dent this goal, according to the World Bank, which forecasts a moderate growth of 4.7% in 2023, gradually accelerating to 5.5% in 2024 and 6% in 2025.
Number of newly-established and dissolved enterprises in the first eight months of 2023
Number of enterprises

Up/down year-on-year

(%)

Newly-established

Dissolved

Newly-established

Dissolved

Wholesale, retail, and repair of automobiles and motorcycles

39,515

4,428

10.9

3.3

Processing and manufacturing

12,344

1,312

-5.4

-10.6

Construction

11,207

860

2.1

-25.7

Real estate business

3,066

855

-53.4

10.8

Transport and warehouse

4,945

452

-0.7

-2.0

Accommodation and catering

4,531

611

6.4

3.9

Production and distribution of electricity, water, and gas

716

225

-3.5

-28.8
Source: Nhan Dan