Fri, 8th Dec 2023 09:23 (GMT +7)
42nd ASEAN Summit: Việt Nam helps build ASEAN's vitality, reputation
Friday, 12/05/2023 | 08:37:18 [GMT +7]
A
A
Prime Minister Phạm Minh Chính showed Việt Nam's efforts and wishes to work with other ASEAN member states in building the identity, value, vitality and reputation of the regional bloc and deepen Việt Nam's relations with them, while attending activities within the framework of the 42nd ASEAN Summit in Indonesia from May 9-11.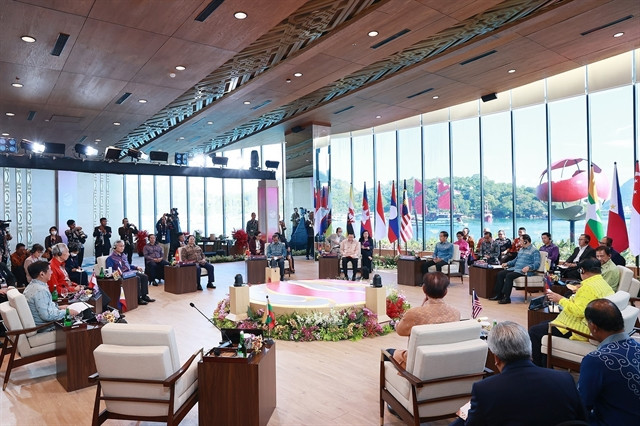 Specifically, during his stay in Labuan Bajo, PM Chính had nearly 20 activities, both bilateral and multilateral.
With the Summit's theme of "ASEAN Matters: Epicentrum of Growth", Chính and other participating leaders discussed and outlined the future of the ASEAN Community for the next 20 years, with stronger development goals and aspirations.
The PM highlighted three core factors to ASEAN's characteristics, values, vitality and reputation, which are maintaining independence and strategy self-reliance, turning itself into a growth epicentre, and better adapting to external shocks.
He emphasised that strengthening solidarity and unity should be the key task for an independent and self-resilient ASEAN.
Given risks and uncertainties of the global economy, PM Chính stressed the urgent need for the 10-member grouping to expand the intra market in order to promote recovery and sustainable development, calling for efforts in negotiations to advance the ASEAN Trade in Goods Agreement, and concertedly and drastically rolling out projects on regional connectivity in terms of institutions, infrastructure and people.
With the spirit of taking people as the growth centre, target and momentum in ASEAN Community building, the bloc should work to narrow its development gap, especially in remote areas and sub-regions, he continued.
To achieve the goal of and aspirations for peace, security, stability and prosperity, he appealed to ASEAN member countries to join hands in building self-resilience and solidarity, unlock development resources, and raise breakthrough initiatives to build the ASEAN Community, helping the bloc turn itself into a growth epicentre regionally and globally.
PM Chính's proposals received support and were appreciated by other ASEAN leaders.
During his stay, he attended dialogues between leaders of ASEAN countries and representatives of the ASEAN Inter-Parliamentary Assembly (AIPA), the ASEAN Business Advisory Council (ABAC), and the High-Level Task Force on ASEAN Community's Post-2025 Vision.
He also had bilateral meetings with Indonesian President Joko Widodo, Lao PM Sonexay Siphandone, Cambodian PM Hun Sen, Sultan of Brunei Haji Hassanal Bolkiah, Singaporean PM Lee Hsien Loong, Malaysian PM Anwar Ibrahim, Philippine President Ferdinand Marcos Jr., and Prime Minister of Timor-Leste Taur Matan Ruak.
At these meetings, Chính and leaders of ASEAN countries discussed the implementation of agreements, commitments and measures to strengthen cooperation, with specific and substantive contents.
The Vietnamese leader's participation in the 42nd ASEAN Summit and related activities affirms that Việt Nam makes positive, proactive, and responsible contributions to strengthening ASEAN solidarity and effectively responding to challenges. It also demonstrates Việt Nam's priorities in terms of strategic infrastructure connectivity, digital transformation, green transformation, food security, energy, sub-regional development, and response to climate change, affirming the role, image, and prestige of ASEAN, thereby contributing to the building of the ASEAN Community, and upholding ASEAN's principled stance on international and regional issues.
The activities are an effective implementation of the foreign policy of the 13th National Party Congress on continuing to promote and improve the efficiency of foreign affairs and international integration and Directive 25 of the Secretariat on strengthening and raising the level of multilateral diplomacy by 2030.
Source: Vietnam News