Fri, 8th Dec 2023 09:31 (GMT +7)
2022 PAPI report reveals poverty as top concern in Việt Nam
Thursday, 13/04/2023 | 09:58:02 [GMT +7]
A
A
The Centre jointly implemented the report for Community Support and Development Studies (CECODES), the Centre for Research and Training of the Viet Nam Fatherland Front (VFF-CRT), and the United Nations Development Programme (UNDP).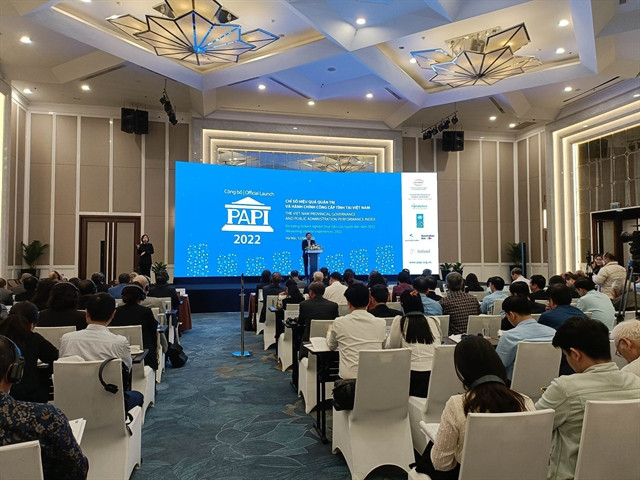 The 2022 Provincial Governance and Public Administration Performance Index - PAPI Report on Việt Nam was released on Wednesday, highlighting that poverty remains the primary concern in Việt Nam, particularly in the aftermath of the COVID-19 pandemic.
The PAPI report was unique in its position to deliver invaluable insights into government performance at all levels, with a record 16,117 respondents randomly selected from Việt Nam's 63 cities and provinces.
It assesses government performance in governance, public administration and public service delivery every year and contributes to actualising the 2023 legislative agenda.
This year's PAPI report reflected public optimism about the national economy, with 66.1 per cent of respondents rating the national economy as good in 2022, a 19.4 per cent increase from the previous year.
The percentage of citizens who assessed economic conditions as "bad" decreased from 19.8 per cent in 2021 to only 6.1 per cent in 2022. Similarly, at the household level, fewer citizens reported their economic situation as "poor" (11.4 versus 15.3 per cent in 2021).
However, the report also highlighted that although 56 per cent of respondents claimed their household economic conditions were better in 2022, this rate was still among the lowest levels since 2012.
Furthermore, the number of citizens who considered their household economic conditions to be "poor" increased in 2022, reflecting the ongoing impact of the pandemic.
Ethnic minorities and women were the most acutely impacted, given the higher prevalence of poverty and vulnerable employment among them.
The report also noted a shift in people's opinions on the most important issues in 2022. Concerns over health and insurance issues fell sharply, with only 6.38 per cent of respondents citing them as the most important issue.
Poverty, on the other hand, returned to the top, with 22.13 per cent of respondents selecting it as the most pressing issue.
The report also highlighted a 4.8 per cent rise in citizens expressing greater concern about corruption in 2022 than in the previous year.
This trend is consistent with PAPI's findings in Dimension 4, 'Control of Corruption in the Public Sector,' with the first publicly perceived downturn in government performance in tackling corruption since 2016. Nepotism in State employment and corruption in land registration was cited as driving factors behind this trend.
The report noted that transparency was a critical factor in reducing corruption by exposing potential malfeasance. However, little progress was evident in the dimension Transparency in Local Decision-making.
This was primarily the result of citizens' concern about the accuracy of household poverty lists developed by grassroots authorities to allocate State resources. Nonetheless, some improvements in the transparency of commune budgets and expenditures were evident.
To support the government's 2023 legislative agenda, PAPI in 2022 included key indicators to inform policy discussions and track the implementation of two key legal documents: amendments to the 2013 Land Law and the new Law on Grassroots Democracy Implementation.
The report revealed an increase in farmland seizures, with 4.1 per cent of respondents reporting such incidents. The figure was higher in localities where over 30 per cent of residents worked in agriculture, with 6.5 per cent of respondents reporting land seizures, up from 5.4 per cent in 2021.
These findings highlight the need for stronger regulations in the Land Law to ensure transparency and equal access to land information and address this issue in rural areas.
It also revealed that perceived low compensation offered by authorities to citizens is a common source of friction underlying land seizures.
A special PAPI question in 2022 indicated that respondents' estimates of the market and official land prices in their locality diverged.
This suggested that local governments are not considering market rates when setting land seizure compensation. More frequent changes in official prices are needed to keep up with rapidly changing market prices, especially in urban areas.
The survey also pointed to citizens' low awareness of land prices, with up to 70 per cent of respondents unable to estimate a market or official land price. This lack of awareness could be due to citizens' limited engagement and understanding of local land use planning.
Addressing the conference, UNDP Resident Representative in Việt Nam, Ramla Khalidi, said PAPI's mission is to monitor the Government's implementation of development and policy agendas, contributing to enhanced responsiveness, transparency, and accountability of public institutions.
"This 2022 PAPI Report provides reliable, evidence-based data for central and local authorities to review their performance in the key areas of governance, public administration and public service delivery," she said.
Nguyễn Hữu Dũng, Vice President of the Việt Nam Fatherland Front Central Committee, said over the past 14 years, the PAPI research program had had a positive impact, transforming the awareness and actions of provincial governments.
It has practically contributed to public administration reforms – a key content of three strategic breakthroughs in socio-economic development that the Party and State of Viet Nam have been trying to implement.
"Therefore, the research and analysis of citizens' assessment of the provincial governance and public administration performance provide important indicators that help policymakers timely adjust policies and innovate operating methods to meet reality's requirements", he said.
Australian Ambassador to Việt Nam Andrew Goledzinowski said he was pleased to see the Government of Việt Nam has embraced PAPI to strengthen policy and the delivery of public services, especially at the provincial level.
"Importantly, PAPI presents the views of various voices, including women and men and people with disability," he said. "Hearing these views is critical for improving government services. Australia has supported this important governance initiative for seven years as we recognize the value of the work to Việt Nam."
The full 2022 PAPI Report and more in-depth analysis of the findings are available at www.papi.org.vn.
Source: Vietnam News