Fri, 22nd Sep 2023 07:42 (GMT +7)
Vietnamese flutist holds first solo art exhibition
Wednesday, 14/06/2023 | 10:00:58 [GMT +7]
A
A
An exhibition featuring artwork by Vietnamese flutist Lê Thư Hương is taking place at an ancient villa in Hà Nội.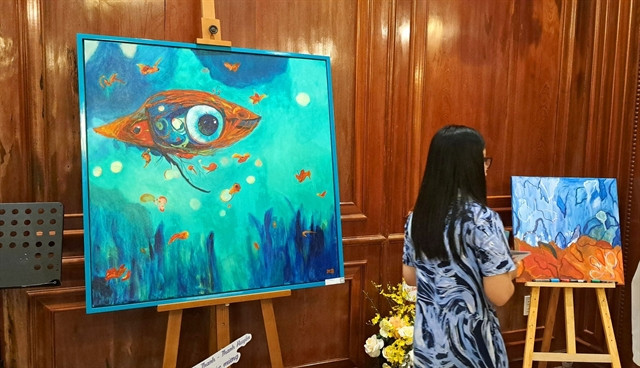 The musician has always been inspired by Japanese writer Haruki Murakami.
She gains strength from his writings: The Love of Fish and Water in which The Fish said, "I can't see your tears because I'm in the water." And The Water said, "I can feel your tears because you're in me."
This has become Hương's inspiration and the message she wishes to convey in her first solo exhibition – Dưới Nước (Underwater).
There are more than 30 paintings on display, showcasing a dynamic and contrasting colour palette that was created in a spontaneous and free-spirited way, brimming with enthusiasm and without any strict adherence to basic rules.
Hương has never had any professional training in painting. The creation of her paintings is guided with her intuition and passion for art, similarly to the way she plays the flute.
Her paintings have a surreal quality that captures the movement and emotions of water, as if reflected in the spectrum of sunlight, radiating like the sound of a flute in a symphony under the bright lights of a stage.
These images remain etched in the minds of viewers, bringing forth a positive energy and igniting a desire to explore the hidden artistry within themselves.
"Hương's paintings are all unique. The fish have beautiful shapes and vibrant colours under the sunlight," painter Lê Trí Dũng commented.
"Particularly, the eyes are drawn meticulously, and the water waves resemble sound waves transferring colours, which is the connection between painting and music, her main profession. Meanwhile, the portraits feature faces without eyes or noses. Who are you? Who are they? And who am I?"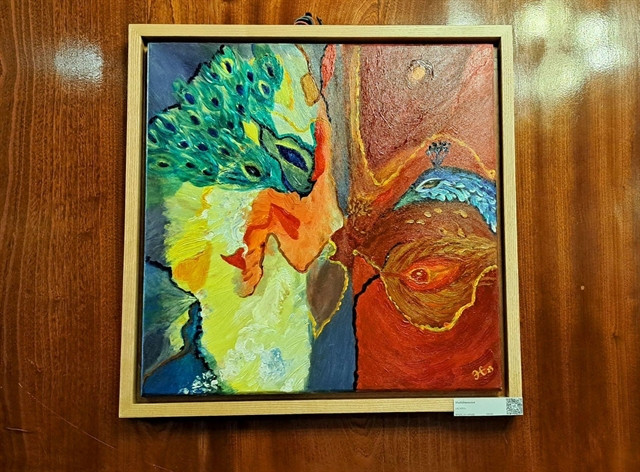 The painting Flying over the Texas Sky is intriguing, highlighted by shimmering strokes full of emotion. It can be viewed in any direction, as each of them evokes a different image and feeling, depending on each individual's aesthetic sense.
One highlight of the exhibition is the Collection Fantastique, a series of five paintings that correspond to the classic symphony Symphonie Fantastique by French composer Hector Berlioz.
Hương completed the series in five months, using a predominantly blue colour palette to evoke a dreamlike atmosphere.
The main character is a fish but also might be an eye that symbolises the ability to see into the depths of one's soul and transcend beyond physical limitations in a love story. They wander through their surreal world, carrying with them passion, hope, and burning desire, along with the bitter-sweetness of unrequited love.
"The short and long, strong and slow strokes, the contrasting red and blue colours all directly reflect the inner emotions of the artist onto the canvas," said artist Lê Thiết Cương.
"The paintings are so emotional that the viewer no longer sees the logic or reasoning behind them."
Hương's gift for art is inspired from his father, painter Lê Bá Dũng, PhD in art, also the creator and author of many artworks and researches on art.
"My small-sized paintings must create a distinction and leave a personal mark," Hương said.
"If my life were compared to a symphony, so in this next chapter, I will dedicate to it an impromptu full of colours, paintings and music."
Underwater exhibition runs until June 16 at the ancient villa located at 56 Phó Đức Chính Street, Ba Đình District, Hà Nội.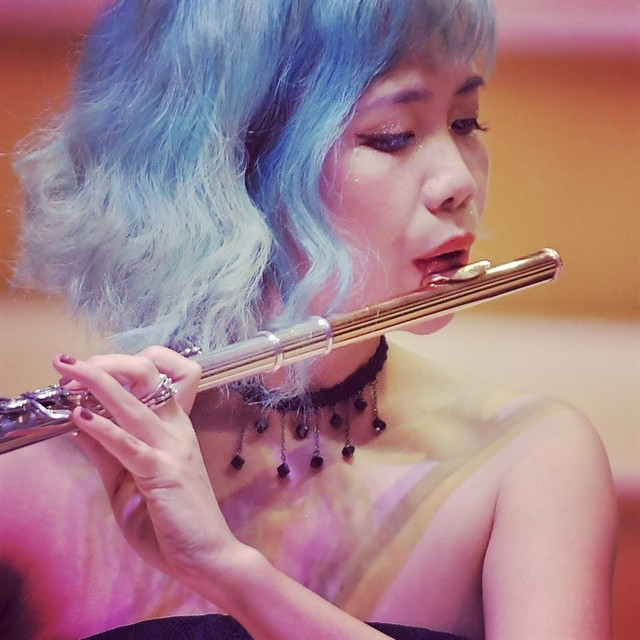 Hương, 45, has a BA in music from the Royal Danish Academy of Music, a master's in music from the Việt Nam National Academy of Music, and a doctorate in musical arts in flute performance from the University of North Texas, US.
She is now working as a lecturer at the Việt Nam National Academy of Music and the principal flutist of the Hà Nộii Philharmonic Orchestra.
Source: Vietnam News