Wed, 29th Nov 2023 14:46 (GMT +7)
Vietnam wants private sector to become driving force for economic growth
Thursday, 04/05/2023 | 08:21:13 [GMT +7]
A
A
Vietnam will focus on developing its private sector to turn it into an important driving force for the socialist-oriented market economy, contributing to rapid and sustainable socio-economic development and improving the economy's self-reliance.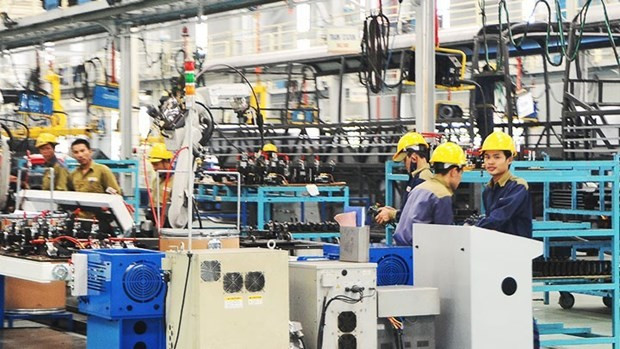 This is the main goal of the Government's Resolution No. 45/NQ-CP on its action programme to implement the 12th Party Central Committee's Resolution No. 10-NQ/TW, dated June 3, 2017, regarding the development of the private economic sector.
Under the Government's resolution, Vietnam strives to have about 1.5 million enterprises by 2025, including 60,000 to 70,000 medium- and large-sized enterprises.
The country also expects to have at least 2 million enterprises by 2030, together with the establishment of a lot of private groups with high potential and competitiveness in the domestic and international markets.
The growth rate of the private economy is anticipated to be higher than the overall growth rate of the economy, while the proportion of the private sector's contribution to the country's GDP is about 55% by 2025 and about 60-65% of GDP by 2030.
The labour productivity of the private sector is expected to increase by about 5% per year, while 35-40% of private enterprises will have innovative activities, narrowing the gap in technology level, human resource quality and competitiveness compared with the leading group of ASEAN-4.
The programme sets out main tasks of continuing to perfect mechanisms and policies, create a favourable business and investment environment for private economic development, promote fair competition, develop infrastructure and enhance access to resources of the private sector. It also aims to support the sector's innovation, technology application, human resource development, and productivity improvement.
The Government assigned the Ministry of Planning and Investment to coordinate with relevant ministries and sectors in researching and proposing a legal framework for household businesses in order to create conditions for them to expand scale and improve their operational efficiency.
Attention must be paid to studying and perfecting mechanisms to encourage enterprises to invest in agricultural production and develop agricultural support services.
The Ministry of Industry and Trade was asked to work with related ministries, sectors and localities to set forth solutions and policies to effectively exploit the domestic market; support enterprises to apply digital technology solutions for product traceability; and strengthening the prevention and combat of commercial fraud, manipulation and market dominance.
Source: Nhan Dan