Wed, 4th Oct 2023 14:39 (GMT +7)
Vietnam an outstanding example in implementing SDGs: Foreign MPs
Monday, 18/09/2023 | 08:13:10 [GMT +7]
A
A
Vietnam is an outstanding example in implementing sustainable development goals, Deputy Speaker of the People's National Assembly of Algeria Monder Bouden said on September 16.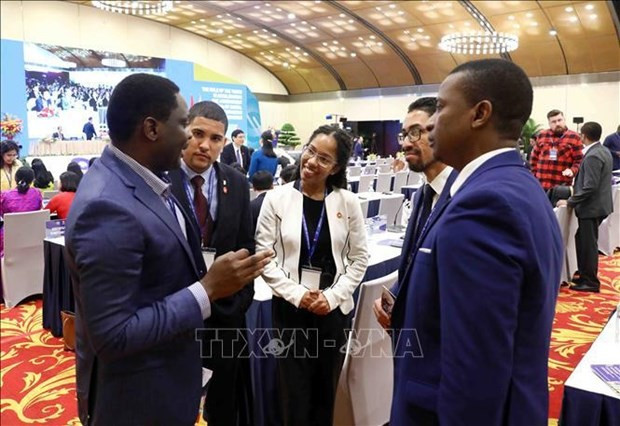 Speaking to the Vietnam News Agency on the sideline of the 9th Global Conference of Youth Parliamentarians in Hanoi, he said that Vietnam is considered by international observers as a country with a good growth rate. It is predicted that Vietnam will become a high-income country and a developed country by 2045, he continued.
According to Bouden, the conference's theme "The role of young people in promoting the realisation of sustainable development goals (SDGs) via digital transformation and innovations" was highly valued by international friends because it attracts the interest of many people and is in line with contemporary issues. The theme highlights the need to promote the role of young people in implementing the United Nations SDGs via digital transformation, innovation, and entrepreneurship, he said.
Fikile Masiko, a member of South Africa's Parliament, said that digital transformation, especially for young people, is always a top priority for her country.
South Africa and its Parliament always encourage and create the best possible educational conditions to attract young people to participate in digital transformation as well as keep up with global trends, she added.
Sharing the same view, Belgian parliamentarian Wouter Vermeersh spoke highly of the conference's theme as young people are especially interested in new technology, digital transformation, artificial intelligence, and creative startups. The conference will contribute to connecting young people and young parliamentarians in these fields, he said.
Regarding the third session on promoting respect for cultural diversity in support of sustainable development, Nguyen Thi Ha, a Vietnamese delegate, said culture is an important factor for countries to realise sustainable development goals, adding that it is also identified as one of the elements that decide the strength and position of each country in the international arena.
Vietnam's inclusion of cultural and human issues in sustainable development at this conference has shown the viewpoint of the Party and State of putting culture on par with economics, politics, and society and, developing culture and people is to meet the requirements of sustainable development of the country, she noted.
At this session, parliamentarians exchanged views and experiences in promoting the development of each country's culture and people.
Source: Nhan Dan