Tue, 6th Jun 2023 07:05 (GMT +7)
Việt Nam takes strong measures to achieve net-zero carbon emissions
Friday, 12/08/2022 | 15:45:36 [GMT +7]
A
A
Reaching net zero carbon emissions by 2050 is an inevitable development goal, which should be achieved through a strong energy transition and low-emission economic development.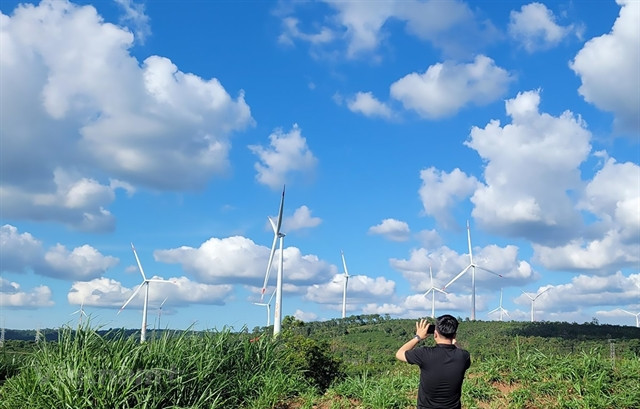 Reaching net zero carbon emissions by 2050 is an inevitable development goal, which should be achieved through strong energy transition and low-emission development, Head of the Ministry of Natural Resources and Environment's Department of Climate Change Tăng Thế Cường has said.
"Climate change is taking place globally at great pace, so reaching net zero emissions by 2050 is Việt Nam's inevitable development goal, showing the country's strong commitment at COP26 to making active and responsible contributions to solving the climate crisis," he said.
Cường emphasised that this is also a new global trade and investment rule established since COP26. Reducing greenhouse gas emissions and converting energy from fossil fuels to clean and renewable ones will be an opportunity to promote economic restructuring towards sustainability, circular economy, and sustainable development.
As one of the countries hardest hit by climate change, Việt Nam prioritises all resources for a green future. Việt Nam's contributions to COP26 have been appreciated by the international community and have opened up many opportunities for cooperation on low-emission growth.
However, Cường said that the response to climate change in the country needed to move to a new stage in a new global context. It should be towards global goals and implemented effectively, substantively and transparently while promoting the building of a green and circular economy.
The National Strategy on Climate Change by 2050 has been pushed to update new international trends and address urgent issues and priorities related to implementing the Paris Agreement and Việt Nam's commitments to net zero.
The strategy has set out tasks which require coordination among ministries, Government agencies and people's committees of provinces and cities. All units must develop plans to reduce greenhouse gas emissions by 2030 and after 2030.
The strategy requires emission facilities with greenhouse gas emissions of 3,000 tonnes of CO2eq or more each year to review and reduce emissions from 2022. The requirement will be applied to facilities with green gas emissions of 2,000 tonnes of CO2eq from 2030 and those with 500 tonnes of CO2eq from 2040.
With that roadmap, by 2050, Việt Nam will be able to reach zero net emissions.
Cường said that the National Strategy on Climate Change has set out specific tasks for the main areas of carbon emission.
In terms of the energy sector, the strategy sets out the most basic task of accelerating clean energy, using energy economically and efficiently, and creating breakthrough technological solutions for the future.
By 2030, the proportion of renewable energy sources, including hydroelectricity, wind power, and solar power, will account for at least 33 per cent of total electricity generation. The number will rise to 55 per cent by 2050.
The strategy also focuses on gradually converting coal power to cleaner energy sources, reducing the proportion of fossil fuel sources, halting new coal-fired power projects after 2030, and progressively reducing the scale of coal power capacity after 2035.
Industry, agriculture, transportation, and services will be among the high potential industries to convert to using clean energy.
For the agricultural sector, the application of management measures, technological innovation in cultivation and farming, changes in land use methods, and development of the agricultural value chain with low emissions are vital measures.
The forestry and land use sectors have the most important task of increasing carbon sequestration from forests. A series of measures such as the protection of existing natural forest areas, the plantation of new protection forests and special-use forests with native tree species and the improvement of forest quality, conservation biodiversity and ecosystem services will be carried out in the future.
In addition, the strategy focuses on completing regulations and standards on green buildings and green urban areas. By 2050, it will be compulsory for new construction works to use energy-saving and green building materials in residential and commercial sectors.
It also pays attention to reducing the ratio of clinker in cement production, applying molten oxide electrolysis technology in steelmaking, and gradually reducing the use of refrigerants in refrigeration systems and air conditioning.
Source: Vietnam News