Tue, 6th Jun 2023 06:12 (GMT +7)
New age for economic green growth
Wednesday, 14/09/2022 | 08:06:23 [GMT +7]
A
A
Despite its limited capacity, level and resources compared to developed countries, Vietnam is entering a new period in its efforts to transform the economy towards green growth with strong strategic goals and international commitments.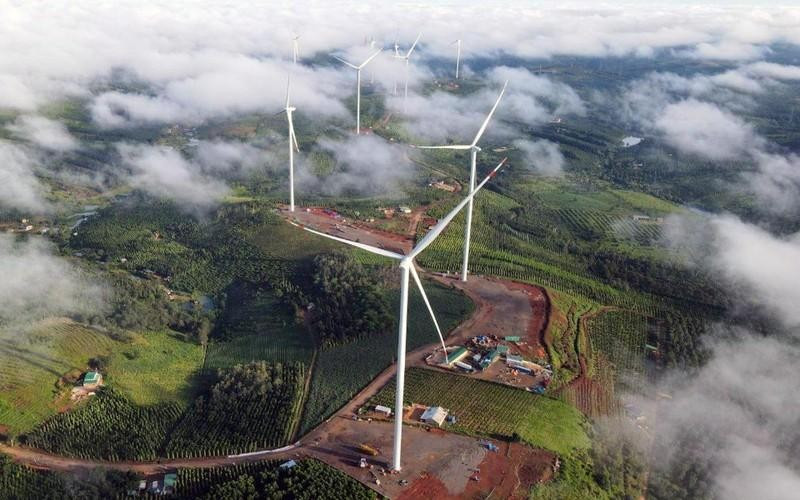 The new milestone for a new age of green economic growth is being established through the approval of the national strategy on green growth for the 2021-2030 period, with a vision towards 2050, the national action plan on green growth, and most recently the establishment of the national steering committee on green growth.
Identifying key issues
In addition to inheriting the achievements of the 2021-2021 green growth strategy selectively, the 2021-2030 green growth strategy has been implemented with new aspects, including science-technology, innovation, digital technology application, digital transformation, and some social aspects.
A highly important content to be implemented concurrently with the strategy is Vietnam's commitment to reach net-zero emissions by 2050 as announced at the COP26 conference. This goal is primarily achieved through strong energy transition, low-carbon emissions, and the first important changes are proposed adjustments to the Power Plant VIII in a way that gradually reduces reliance on coal-fired power generation and gives higher priority to renewable energy with an appropriate structure and distribution.
According to Hoang Tien Dung, Director of the Department of Power and Renewable Energy at the Ministry of Industry and Trade, Vietnam's commitment at COP26 has changed the future power development viewpoint entirely. As a result, a draft of the Power Plan VIII which had been submitted to the Prime Minister for approval had to be revised in accordance with Vietnam's commitment at COP26.
The new requirements force the green growth-oriented energy transition to meet the requirements of ensuring national energy security in the medium and long run; identifying the country's optimal and sustainable energy structure; attracting investment in energy infrastructure; removing obstacles; and promoting cleaner energy sources and renewable energy.
At the same time, it is necessary to further enhance energy efficiency, reduce the economy's energy use, create conditions for all people in society to have access to and benefit from sustainable energy development policies at affordable costs.
Deputy Minister of Planning and Investment Nguyen Thi Bich Ngoc underlined that the transition towards green and sustainability is an inevitable and irreversible trend. Efficient energy use is extremely important in this process, so it is necessary to introduce more proactive measures nationwide as well as enhance capacity for localities. Vietnam's transition needs to receive adequate companionship and support from international organisations, development partners and large global enterprises, along with a strong political will, synchronous and comprehensive coordination from all stakeholders, and the consensus of the people and the business community.
Mobilising large resources
Along with major orientations and policies for each specific task and activity, the size of the resources needed for green economic growth also begins to be calculated and announced.
In a recent report, the World Bank estimated that Vietnam would need to invest 6.8% of its GDP, or about 368 billion USD from now until 2040 to realise the development path that adapts to climate change and achieves net zero emissions. The World Bank also noted that if there are appropriate policies and strategies, Vietnam can utilise its decarbonisation activities to achieve net zero emissions without slowing down GDP growth. The Government's commitments can be and need to be reinforced by the participation of the domestic private sector and through foreign, public and private financial resources.
According to the Ministry of Natural Resources and Environment, Vietnam needs an additional 100 billion USD for climate change adaptation and another 373 billion USD to achieve net zero emissions by 2050. As such, besides tapping into internal strength, it is necessary to enhance cooperation with development partners through adequately strong technical and financial assistance. After the COP26 conference, development partners and international financial institutions have expressed their desire and commitment to work with the Vietnamese Government in implementing the commitments.
World Bank expert Rahul Kitchlu has said that the bank stands ready to support Vietnam in its energy transition effort through sharing knowledge and international experience and mobilising low-cost capital sources for climate change, helping Vietnam to transition to green energy in an effective and sustainable manner.
Mobilising and arranging resources for green growth are an important task, which is crucial to the effectiveness of implementing the green growth strategy in the new period. The structure of resources for the 2021-2030 period includes the state budget and international financial assistance, which is comprised of official development assistance, support capital and preferential loans for green growth.
The resources also include commercial loans and private investment through green credit and green corporate bonds, foreign direct investment for green growth, revenue from the trading of greenhouse gas emission quotas and carbon credit and other crowd-funded capital such as public-private capital for green projects, and domestic investment funds to realise the green growth target and mitigate climate change impacts.
Source: Nhan Dan