Fri, 22nd Sep 2023 07:46 (GMT +7)
Localities welcome 2.5 million tourists during National Day holiday
Wednesday, 06/09/2023 | 09:21:48 [GMT +7]
A
A
During the National Day holiday from September 1 to 4, 2.5 million tourists visited various localities nationwide, according to the Department of Tourism under the Ministry of Culture, Sport and Tourism.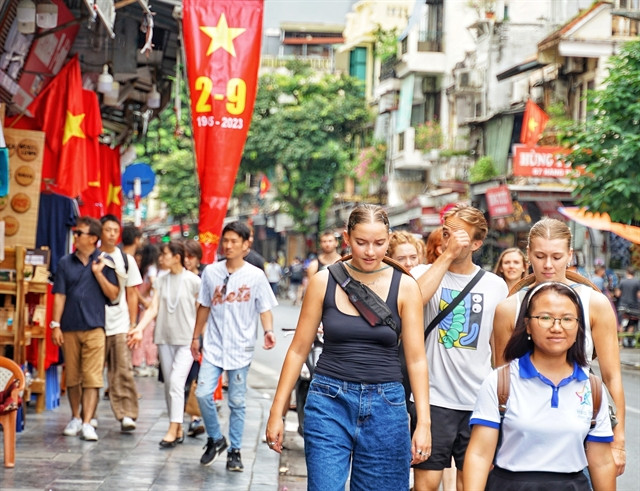 This figure marks a 16.7 per cent drop compared to the same period the previous year.
The average occupancy rate in tourist accommodation establishments was 55 per cent, with a noteworthy surge to over 60 per cent on September 1 and 2.
A decline in the number of tourists and tourism revenue was observed, attributed to visitors' tendency to limit spending amid rising public transportation costs. Consequently, many opted for shorter, local trips to economise.
Moreover, anticipated adverse weather conditions, including warnings of heavy rainfall and the influence of typhoon Saola in the Southern region and the Mekong River Delta, led to the cessation of train and boat services to various tourist destinations. This prompted many tourists to cancel or adjust their travel plans.
On a brighter note, certain localities witnessed a spike in tourist numbers over the holiday. These include Khánh Hoà Province with a rise of 141 per cent, Bà Rịa-Vũng Tàu Province at 36.5 per cent, Quảng Ninh Province at 150 per cent, and Thanh Hoá Province with 26.6 per cent.
Conversely, some areas experienced a drop in tourism. Kiên Giang Province, impacted by unfavourable weather, saw a dip in visitors by 32.9 per cent. The average occupancy of its accommodation establishments was pegged at 27 per cent, and total revenue was only VNĐ153 billion (US$6.38 million) in comparison to last year's figures, as reported by the department.
The department revealed that this year saw a shift as tourists from the southern provinces preferred short tours to northern provinces such as Hà Giang, Lào Cai, and Mộc Châu to immerse themselves in the ripe rice season and experience the culture of highland ethnic groups. This indicates that initiatives promoting inter-regional tourism are indeed deepening and bearing fruit.
Furthermore, cultural tourism spots in Tây Nguyên (Central Highlands) and the central regions have witnessed a positive uptick, with the primary demographic being families and smaller groups of tourists.
Interestingly, there was a notable increase in the number of international tourists visiting major tourist destinations during the holiday. This trend is a promising indicator for Việt Nam's upcoming international tourism peak in October, the department commented.
In terms of specifics, Đà Nẵng City was at the forefront, welcoming 78,900 international visitors. This was followed by Hà Nội with over 41,700 arrivals, marking an 83.6 per cent rise compared to the same timeframe. HCM City recorded 37,600 visitors (an increase of 15 per cent), while Khánh Hoà Province saw 23,450, a remarkable surge of 363.34 per cent. The bulk of these international visitors hailed from Korea, China, and the US, typically staying for around 4-5 nights.
The outcomes from the National Day holiday tourism activities highlight that despite challenges, domestic tourism in Việt Nam is on the rebound, acting as a catalyst for international tourism. Notably, local regions are proactively developing new offerings and amplifying their hallmark tourism products to lure both local and overseas guests, as highlighted by the department.
Source: Vietnam News