Tue, 6th Jun 2023 07:36 (GMT +7)
Enhanced cooperation for Viet Nam's maritime space for ocean sustainability and climate change response
Monday, 28/11/2022 | 08:54:18 [GMT +7]
A
A
The United Nations Development Programme (UNDP) and the Norwegian Embassy in Ha Noi have signed an agreement on November 23rd 2022 to support planning of maritime space for ocean sustainability and climate change response in Viet Nam.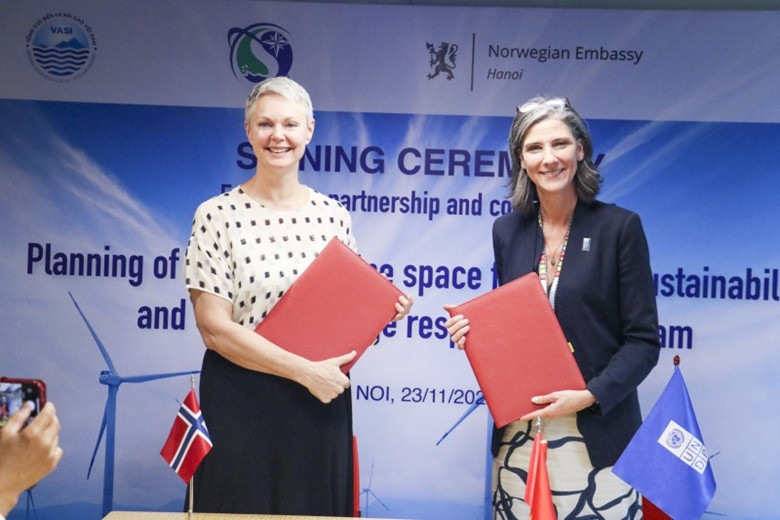 Attending the ceremony were representatives of the Norwegian Embassy in Hanoi, UNDP, the Viet Nam Administration of Seas and Islands, and the Viet Nam Meteorological and Hydrological Administration.
This new technical assistance package will support the Vietnamese government in strengthening and implementing maritime spatial planning (MSP). It will also assist Vietnam in creating and establishing a more rational use of marine space and the interconnections between its uses, balancing the need for growth with the need to maintain marine ecosystems and achieving social and economic goals in an open and organized manner.
This endeavor aims to promote a cross-sectoral approach to the management of economic, environmental, and social concerns in strategic planning and long-term investments. The MSP is not intended to replace sector-specific planning. Instead, it provides integrated evidence-based data to support decision-makers make more confident, complete, and complementary decisions.
The technical assistance package will take place at central level and in three sites at local level. The sites were selected based on the following criteria, namely: a small eco-region with the potential for a practical solution; political and administrative support; the availability of a reasonable amount of spatial biophysical data and information of critical resources; and a competent and willing authority to develop and implement the marine spatial plans.
Viet Nam is a coastal country with more than one-third of the population living in coastal areas. The economy of the sea, coastal provinces, and cities account for approximately 50 percent of the country's gross domestic product (GDP), with the marine economy alone contributing 20 to 22 percent. However, Viet Nam's ocean health is threatened by habitat fragmentation, degradation, loss, fishing and other kinds of overexploitation, climate change, and pollution, mainly marine litter. Marine resources, including coral reef in Viet Nam, has been experiencing degradation and dramatic decrease.
Located in a privileged geopolitical position in the East Sea, in addition to the myriad of marine resources, Viet Nam boasts of petroleum, natural gas, and minerals in coastal and offshore areas that have the potential to bring significant economic benefits to the national and local economies. This technical assistance package builds on the potential to diversify the economy and respond to climate change, including marine renewable energy, ocean wind power, marine pharmaceuticals, and upscaling of algae and seaweed production that complies with environmentally sensitive development.
"The Ocean provides significant opportunities for a green and blue economic rebound and offers great potential for onshore and offshore wind power, which, if sustainably developed, will support energy security and help Viet Nam meet its commitment of net zero emissions by 2050," said Ms. Ramla Khalidi, UNDP Resident Representative in Viet Nam. "UNDP will continue to accelerate and strengthen the work on Marine Spatial Planning, which is vital to unlocking the potential of the Blue Economy, and in particular to leverage Viet Nam's enormous potential for marine wind energy as a key renewable power source for the country's climate target."
"Norway has good experience in development and application of marine spatial planning (MSP) that can be shared with Viet Nam. In order to achieve the high-income aspiration by 2045 and net zero commitment by 2050, Viet Nam needs to shift its growth model, essentially through a smooth energy transition process as well as unlocking its blue economy potentials. Viet Nam therefore needs to build its capacity in science-based, sustainable ocean management, in which MSP is essential. We are happy to work with UNDP Viet Nam and our Vietnamese partners in this process through a three-year project "Planning of national marine space for ocean sustainability and climate change response in Viet Nam" that we signed today, said Mrs. Hilde Solbakken, Norwegian Ambassador to Vietnam and Lao PDR.
The three-year technical assistance package will accelerate progress in Marine Spatial Planning by emphasizing the promotion of research, technology transfer, and innovation in the marine sector. It will conduct integrated planning that promotes sustainable marine development in the target province areas.
Source: en.dangcongsan.vn