Thu, 5th Oct 2023 02:30 (GMT +7)
Boosting Vietnamese agricultural exports to Europe
Thursday, 27/07/2023 | 10:00:46 [GMT +7]
A
A
Vietnam's agricultural, forestry and fishery exports to the European Union (EU) market reached 2.1 billion USD in the first six months of 2023, down 16.6% over the same period in 2022, according to the Ministry of Agriculture and Rural Development.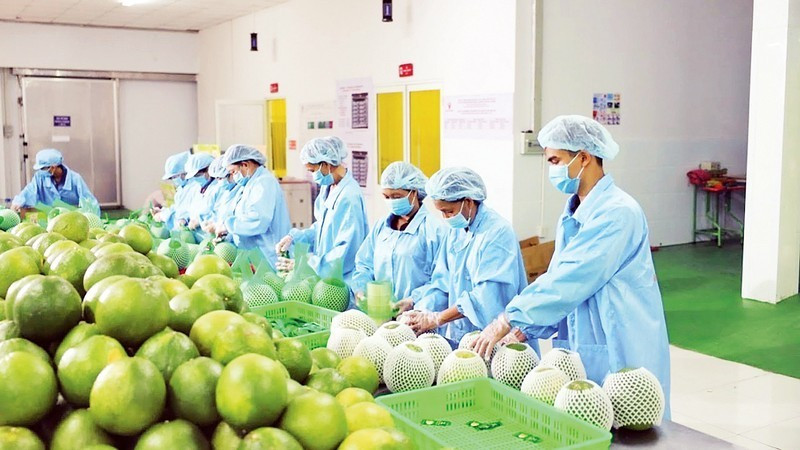 The reduction is explained by the fact that the EU is facing an energy crisis and a 'fever' of food prices, leading to an economic recession and food consumption cuts in many countries, including leading economies.
Data from the European Statistics Office showed that the EU imported approximately 32,000 tonnes of cashew nuts from Vietnam in the first four months of this year, worth 186.2 million EUR (equivalent to 205.14 million USD), down 12.8% in volume and 20.1% in value.
EU imports of Vietnamese cashew nuts accounted for 55.78% of EU total imports of the nut in the first four months in 2022 but the rate fell to 50.49% in the same period in 2023.
Regarding wood and wood products, exporters are facing new regulations and requirements from the EU market, so exports are forecast to continue declining in the remaining months of the year.
The EU is an important market of Vietnam, thus, Vietnamese agriculture and export businesses expect to increase their export turnover to this market, especially since the EU-Vietnam Free Trade Agreement (EVFTA) was signed.
Accordingly, many key agricultural products of Vietnam exported to the EU such as pepper, cashew nuts, vegetable, coffee, tea and rubber have enjoyed preferential tax rates since the EVFTA took effect from August 2020, bringing a great competitive advantage to Vietnamese agricultural products.
However, Vietnamese agricultural products entering the EU recently have not achieved the expected growth rates partly because of non-tariff measures such as sanitary and phytosanitary measures (SPS) or technical barriers to trade (TBT), posing challenges to Vietnamese agricultural exports to this market.
Most recently, the European Parliament (EP) passed a new law banning the import of goods believed to be related to deforestation, in a bid to boost global efforts to combat climate change.
The new law will be applied to coffee, cocoa, soybeans, sawn timber, palm oil, cattle meat, rubber and byproducts from countries around the world. Products in this group that are involved in deforestation will be banned from being imported into the EU.
Faced with that fact, the Vietnamese agricultural industry needs to continue to change its production and farming methods according to good agricultural practice standards as well as green and sustainable production criteria to meet strict quarantine requirements and to effectively take advantage of the tariff incentives contained in the EVFTA.
The Ministry of Agriculture and Rural Development is currently promoting the implementation of solutions in approved projects, such as "Pilot project to build standardised agricultural and forestry raw materials areas for domestic consumption and export in the 2022-2025 period" and "Project on promoting agricultural, forestry and fishery exports until 2030".
The agricultural sector will also accelerate the building and submission to the Government for approval of the project entitled "Sustainably developing one million ha of land specialising in high-quality rice farming in connection with green growth in the Mekong Delta" and the project on "Promoting a logistics system to improve the quality and competitiveness of Vietnamese agricultural products until 2030, with a vision to 2050". These projects are expected to help Vietnamese agricultural products better meet the requirements and regulations from the demanding EU market.
Source: Nhan Dan