Fri, 8th Dec 2023 09:27 (GMT +7)
AI-generated cat goes viral in Vietnam
Friday, 20/01/2023 | 06:05:11 [GMT +7]
A
A
An image of a cat that went viral on Vietnam's social media and thought to be the most beautiful mascot statute for the Year of the Cat, turned out to be AI-generated.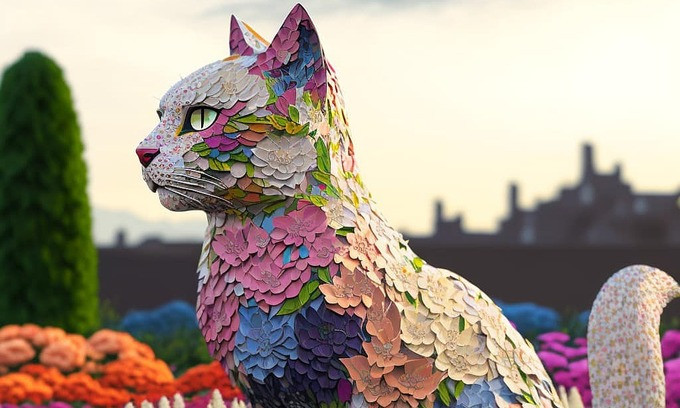 An AI-generated image of a cat that has gone viral in Vietnam. Photo courtesy of Bo Nguyen/Midjourney
The phrase Meo Ninh Thuan (Ninh Thuan Cat) has been circulating on social media since Monday afternoon; many people believed it to be a mascot statue of the south central Ninh Thuan Province. The image depicts a statue of a cat out in the open, covered in flowery patterns and surrounded by a flower garden.
In fact, the image was generated by Midjourney AI through a prompt made by Bo Nguyen, a restaurant owner in Ho Chi Minh City. Nguyen uploaded the image on his personal Facebook page on Sunday last week.
Nguyen was surprised to see the image go viral on social media. He believed people called it "Ninh Thuan Cat" because his Facebook page showed that his hometown is Ninh Thuan.
Midjourney is an image-generating AI developed by David Holz which became popular in Vietnam last August. Nguyen knew of the AI and often used it to generate images after work. He then shared the images with friends, used them for advertisements and other purposes.
He came up with the idea of generating images of cats upon seeing mascot statues across the country made to welcome the Year of the Cat.
Nguyen said AI helps even amateurs like him to be able to easily create images and realize ideas that he could not draw himself. He also said that it took him two weeks to get used to using Midjourney. He said further that he decided to pay to utilize the full potential of AI.
The use of AI to generate artwork has proved to be controversial, with several artists saying the act contributes to copyright infringement and makes art lose its beauty.
In January, a Vietnamese artist caused a stir online after reporting that one of his original artworks uploaded on Reddit resulted in his account being suspended as administrators believed it was AI-generated.
Source: VnExpress