Sun, 10th Dec 2023 13:37 (GMT +7)
WB forecasts Vietnam's 2023 growth at 6.3%
Tuesday, 14/03/2023 | 08:58:40 [GMT +7]
A
A
Vietnam's economic growth is projected to ease to 6.3 percent in 2023 from a robust 8 percent last year, as services growth moderates and higher prices and interest rates weigh on households and investors, according to the World Bank's report released on March 13.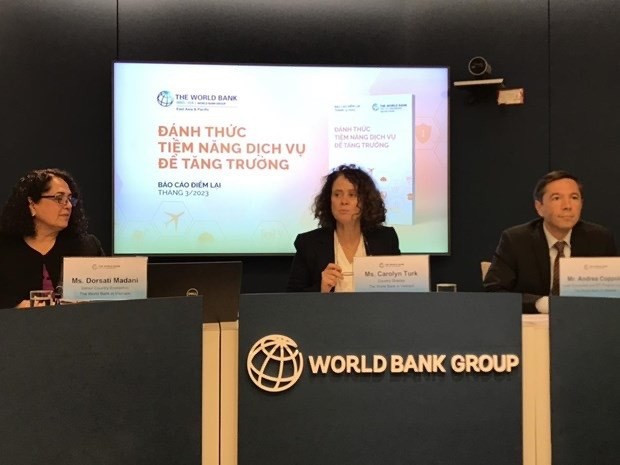 In its Taking Stock report's March 2023 edition entitled "Harnessing the potential of the services sector for future growth," the WB provided recommendations for reforms to tap into the potential of the service sector.
It said the service sector will grow moderately, mostly driven by domestic demand which may be affected by higher estimated inflation of 4.5% this year. The economy is expected to benefit from part of the 2022-2023 economic support programme. A flexible monetary policy, in combination with fiscal policy objectives, should help keep domestic inflation in check.
WB Country Director in Vietnam Carolyn Turk said Vietnam has the fiscal space to implemet measures to boost growth, unlike many other countries. "Effective implementation of priority public investments is key to support growth, both in the short-term and in the longer-term. Also, fiscal and monetary policies must be synchronised to ensure that support to the economy and macroeconomic stability are achieved effectively," she said.
Service has become the largest sector of Vietnam's economy, increasing from 40.7% of GDP in 2010 to 44.6% in 2019. The employment share of the sector also rose from 29.6% in 2010 to 35.3% in 2019. As the largest source of employment, it has absorbed a significant portion of the workforce from the agriculture sector.
However, labour productivity and efficiency in Vietnam's service sector remain low compared to other countries, reaching 5,000 USD per worker in 2019 in comparison to 20,900 USD in Malaysia, 9,300 USD in the Philippines and 7,300 USD in Indonesia.
According to WB senior economist Dorsati Madani, if utilised effectively, the service sector could play an important role in supporting Vietnam's sustainable productivity growth and achieving the goal of becoming a high-income economy by 2045. Priority should be given to removing trade and foreign investment barriers in this sector and launching reforms to improve competition and access to finances for domestic firms. Services that can further drive growth in other industries, specifically in manufacturing and processing, should be heeded.
Source: Nhan Dan