Fri, 8th Dec 2023 09:35 (GMT +7)
Vietnam wins first gold medal for golf at SEA Games
Thursday, 11/05/2023 | 09:25:58 [GMT +7]
A
A
Vietnam won its first gold medal in golf in the history of the SEA games Wednesday.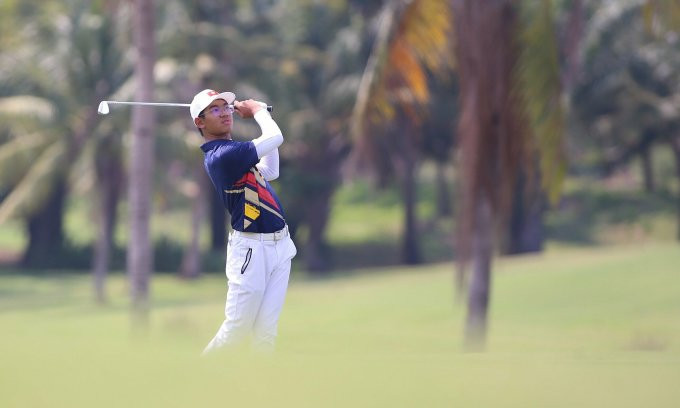 With a total score of (-13) after three days of competition, 15-year-old golfer Le Khanh Hung defeated his more experienced opponents to bag the gold in the men's singles.
Hung also became the youngest athlete to win a gold medal at the Games in Cambodia this year.
The 32nd SEA Games golf event was held from May 8 at Garden City par 72, Phnom Penh.
In the men's event, Khanh Hung took first place from start to finish - standing at T1 (-3) after round 1, and -10 at the end of round 2.
Thai ace Ratchanon Chantananuwat and Malaysia's Anson Yeo Boon Xiang were at T2 (-8).
Chantananuwat, who ranked 27th in the world amateur chart (WAGR) this week, was the top candidate for the gold medal. The seasoned Thai golfer had attended many tournaments in the LIV Golf League, which brings together more than 30 former PGA Tour champions, and the top first-class golf tournament system in Asia (Asian Tour). He won a regional cup in April 2022.
However, Chantananuwat could not catch up with WAGR-ranked 535th Hung in any of the three rounds.
In the final round, Hung bogeyed in hole 3, causing his score to drop to -9. But he did not repeat the mistake as he then added four birdies to raise his score to -13, which he kept till the end of the round.
Chantananuwat finished at T5 (-7).
In the women's event, Malaysia's Ng Jing Xuen finished at T1 (-13) to win the gold medal. Thailand's Eila Galitsky won the silver medal, and Foong Zi Yu of Malaysia took bronze.
Source: VnExpress