Thu, 5th Oct 2023 03:56 (GMT +7)
Vietnam responds to unpredictable developments in rice market
Friday, 08/09/2023 | 08:43:23 [GMT +7]
A
A
The complicated and unpredictable situation of global food trade has had a strong impact on the supply of rice, raising concerns about world food security issues, as well as affecting the trend of the economic recovery of many countries, as inflation has yet to be curbed.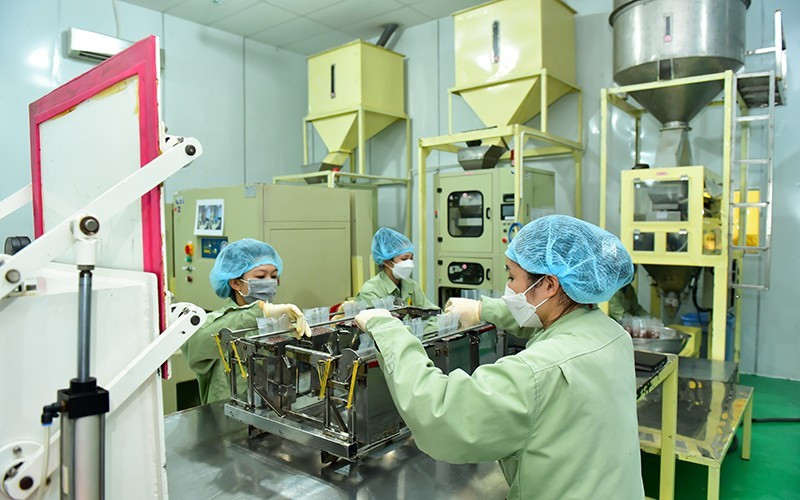 Tight control of the market
Vietnam exported more than 4.83 million tonnes of rice, worth more than 2 billion USD, in the first seven months of 2023. With a total rice output of over 43.1 million tonnes in 2023, Vietnam is expected to export about 7.5 million tonnes of rice this year. Thus, the amount of rice left for export in the last months of the year is anticipated at about 2.67 million tonnes.
Expert Vu Vinh Phu assessed that rice exports in the past seven months advanced by about 15-20%, in both value and output, which is good news for businesses and rice farmers. This is also a positive signal contributing to boosting the economy until the end of the year, especially in this difficult context.
However, Phu saw that there was a phenomenon of rice speculation and profit-taking. This is an act of taking advantage of the market to raise rice prices unreasonably. Rice is an essential commodity with a major contribution to the basket of commodities for calculating the consumer price index (CPI). If the rice price climbs up suddenly, it will lead to a price rise in many other items accordingly. Therefore, it is necessary to control the rice spike to limit its effects on the people.
Recently, the Ministry of Industry and Trade requested the Vietnam Food Association and traders to strictly comply with the provisions of Government Decree No.107/2018/ND-CP, on rice export. They are required to regularly maintain a reasonable reserve level and ensure the balance of export and domestic consumption, contributing to stabilising rice prices in the domestic market.
In addition, market management forces at localities are also directed to coordinate with local authorities, to closely monitor rice prices and check wholesale and retail companies, to control rice supply and prices, preventing speculation, hoarding, price gouging, and transportation and trading of rice of unknown origin.
Taking advantage of export opportunities
According to Assoc. Prof. Dr. Ngo Tri Long, India's suspension of rice exports and Thai farmers advised to reduce rice planting areas due to drought, have created a direct impact on world rice prices. Export rice prices have skyrocketed in the global market, pushing up rice prices in many countries. However, rice prices sold in the Vietnamese market have not changed much, especially at supermarkets and price stabilisation stores.
Economist, Assoc. Prof. Dr. Dinh Trong Thinh said the information that Vietnamese rice price is the most expensive in the world is good news because the price of Vietnamese rice has always been lower than that of Thailand. However, rice exporters should note that this price fluctuation may only happen in a short period, before returning to the equilibrium level.
Meanwhile, the consistent goal of the Government and the Ministry of Industry and Trade is to take advantage of market opportunities and ensure food security. The supply chain cannot be broken, while appropriate storage is of great significance.
Besides, it is advisable to carefully calculate the amount of rice to be sold because selling at attractive prices is a rare opportunity.
India, the largest rice exporter to the UK market (accounting for 27%) will temporarily suspend rice exports, which will result in a supply shortage of about 75,000 tonnes of rice, in the second half of 2023. If marketing efforts are actively implemented, Vietnamese rice exporters will certainly have the opportunity to raise their market share in this market.
Despite being a major rice exporter in the world, Vietnamese rice exported to the UK is often sold under distributors' brands, thus, consumers are not aware of the origin of rice from Vietnam.
In the context of supply disruption and competitive advantages, thanks to the UK-Vietnam Free Trade Agreement, domestic exporters need to seize this 'golden' opportunity to require rice distributors in the UK to use Vietnamese rice brands. This is considered a long-term solution for Vietnamese rice to maintain its market share in the UK, once the quality of Vietnamese rice has conquered consumers.
"With a community of more than 5.5 million people of Asian descent, the demand for rice in the UK is huge, but this country does not grow rice and all consumption demand depends on imports. In 2022, the UK imported nearly 3,400 tonnes of rice from Vietnam, an increase of 24.5% compared to 2021. This is quite a modest level, only accounting for about 0.6% of the market share," according to Trade Counselor at the Vietnam Trade Office in the UK Nguyen Canh Cuong.
The Ministry of Industry and Trade said that it will continue to closely monitor the world rice market and promptly notify relevant ministries, agencies, and rice exporters, to take the initiative in regulating rice production, trading and export activities.
Furthermore, the ministry will also boost trade promotion activities to improve the value of Vietnamese rice products, in addition to making good use of preferential mechanisms under free trade agreements, to diversify export markets.
Source: Nhan Dan