Sun, 10th Dec 2023 14:38 (GMT +7)
The blossoming of a once barren land
Monday, 29/05/2023 | 07:46:02 [GMT +7]
A
A
When visiting the lush Golden Camellia Park in Nho Quan District in the northern province of Ninh Bình, it is hard to imagine that a few years ago the valley was abandoned with few crops surviving, the local soil deemed too rough to do anything worthwhile.
But things have changed. Part of the valley has been converted into the park, hosting several greenhouses nurturing the seedlings and plants of camellia for revered ornamental flowers and essential oil. Covering an area of 26 hectares, it is the only park of its kind in the country.
The success of the park is largely down to the vision of Vũ Văn Tâm, the chairman of Vũ Gia Herbal Company Ltd, which supplies materials to produce various herbal products, including those from golden camellia.
Tâm says that Cúc Phương National Park is home to over 2,000 types of plants, including many valuable species. He says there are dozens of types of golden camellia, but the ones growing in the buffer zone of the park are great for human health.
Some research has suggested the plant could be beneficial to inhibiting tumour growth, lowering blood pressure, and preventing atherosclerosis.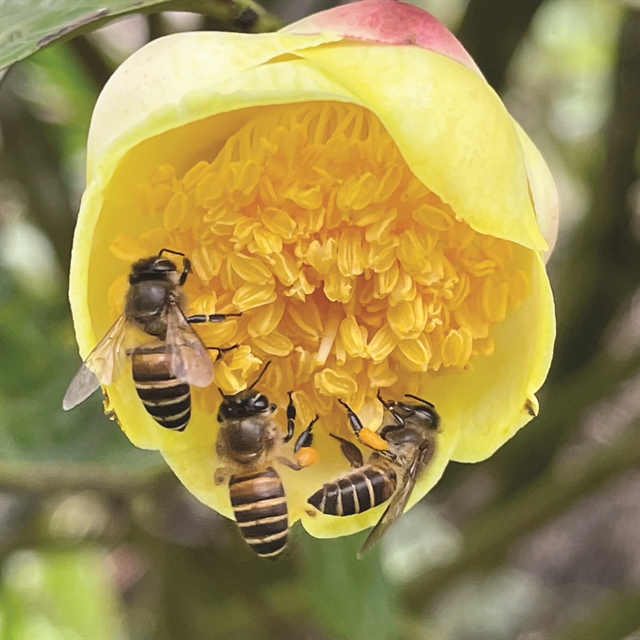 Tâm sees it as his duty to spin gold from the plant's wide-ranging properties, of which he is a keen proselytiser.
"I learnt about the plant on a business trip to a northern mountainous area, where a local herbalist offered me a drink from the flower," he tells Việt Nam News. "The herbalist says the plant was good for people's health."
"Then I learned from various sources that the golden camellia has over 400 chemical substances, none of which are toxic or have side effects. All improve people's health, enhance resistance and prevent diseases naturally and safely."
Tâm soon invested in the park with some friends, hoping to produce herbal products from the plant.
"The material source in nature is limited, so we decided to plant camellia by ourselves to have a stable source of raw material for production," he adds.
The plant also resides in China, but it is Việt Nam that is considered a paradise for the golden blooms, with over 50 types. The park alone has collected 30 kinds from across the country.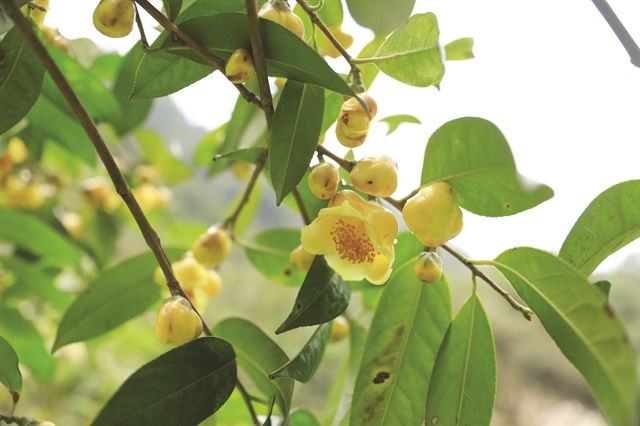 The company has chosen types with high productivity to plant en masse.
"Each year we harvest several tonnes of the fresh flower, and dry them to pack in boxes for consumers to enjoy as a drink," Tâm says.
"We want to let Vietnamese people use the products first, and then we will think of export later.
"Protecting and developing golden camellia is vital, as the plant has been growing wild in the forest. The natural forest area has been much reduced over time, resulting in the disappearance of the wild plant."
Tâm wants to collect all the genres of the endangered plant to share with nature lovers and plans for more products like instant herbal tea from the flowers and leaves, and even cosmetics for women.
Big potential
Camellia is a perennial plant. It blooms once a year, and the number of flowers and leaves increases rapidly year by year.
The company has set up an automatic irrigation system, with the golden camellia plants grown alongside other plants to get shadow from the sun.
"We are trying to apply green cultivating methods by using organic fertilisers from cattle dung and decomposed vegetables to save the environment," Tâm says. "We raise red ants to limit the black ants that harm the plant, and make biological traps for flies."
After being picked, the flowers are freeze-dried at minus 50 degrees Celsius, so they maintain their shape, colour and chemical substance.
The company has received a GACP-WHO certificate from the Ministry of Health for "Good Agriculture and Collection Practices". Its production line has been approved with the HACCP certificate by the Quacert Centre for food safety; and they have 4-star OCOP (One Commune, One Product) standard for Ninh Bình Province, and were among the best products of the north in 2022.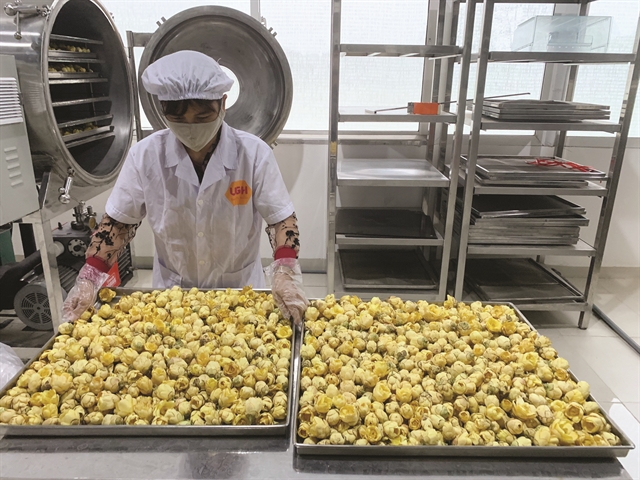 According to the International Camellia Journal, substances from the flower can limit the development of tumours by over one-third, which may even help in treating cancer. They can also help reduce cholesterol in the blood as well as or better than existing drugs. The leaves are also thought to prevent inflammation and allergies and maintain a healthy thyroid gland.
"I believe herbal tea from golden camellia is a potential product," says Phạm Văn Trung, head of the Rural Development Agency under Ninh Bình's Agriculture and Rural Development Department. "It's really meaningful for us as the product is made locally."
Bigger ambitions
But Tâm's dream goes beyond mere money-making and into the realm of the spiritual. He wants to soon open the park to the public and has designed the area with lakes, streams, and facilities for practising Zen.
"I intend to set up 108 areas for practising Zen or yoga throughout the park," he says. "I want more people to enjoy the fresh air here and live closer to nature. I'm finding tranquillity for my soul in this valley."
Hoàng Thanh Thủy, founder & CEO of the Mekong Coconut Company, says that she can feel Tâm's enthusiasm for the park.
"He has a long-term vision and the courage to turn this barren land into a fertile park," she says. "With his heart, strong will, and calmness to live in nature, I hope he will make this place special."
Nguyễn Thị Liên, project manager of the Regional Biotrade Project, says she really appreciates the creation of the park.
"This is a good model of biodiversity created by a private enterprise. This is a highly recommended model for many enterprises, who are still wondering about their role in protecting natural resources and preserving and recovering nature," she says.
"Such a project like Biotrade will help push models of producing and trading products that have local origins and search markets for other such products."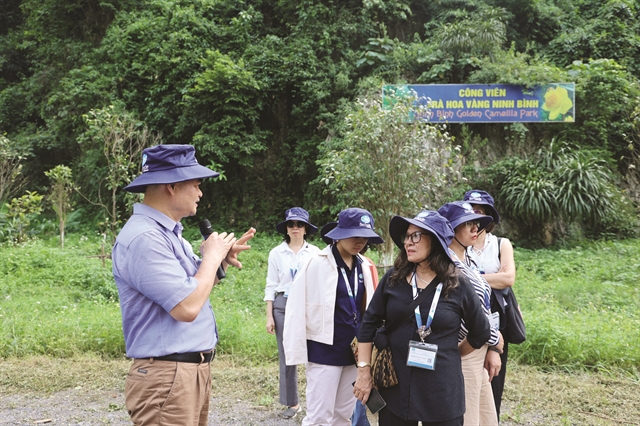 Nguyễn Thị Thu Liên, an official from the Association of Food Transparency, also shows her admiration for Tâm's efforts.
"Maintaining a clean material source, using no chemical fertilisers and no growth stimulants while still reaching the desired productivity for market demand is not simple," she says.
"All living organisms inside the park have a close connection to one another. They collaborate, share mutual benefits, and create a diverse ecosystem to protect a park with biodiversity and ensure the local community's benefits.
Whilst Tâm has full belief in the value of the project, he often jokes that it was the land that chose him, not him who chose the land.
"Seeing is believing. People here can see a valley of yellow flowers in spring and a tranquil green land with birds twittering and streams gurgling. They will believe there is nothing we cannot do," he says. 
Source: Vietnam News