Wed, 29th Nov 2023 15:12 (GMT +7)
Tet celebration introduces Vietnamese culture in Paris
Tuesday, 17/01/2023 | 08:41:23 [GMT +7]
A
A
The Association for the Promotion of Vietnamese Culture (APCV) in France has held a programme in Paris to introduce the culture of Vietnam, one of activities celebrating the traditional Lunar New Year (Tet).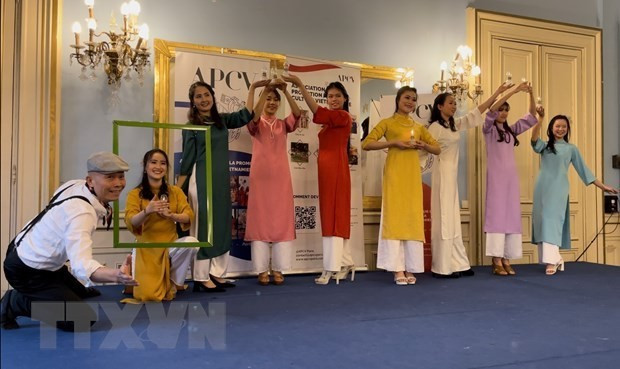 Visitors to the January 14 event, including Vietnamese and French, were impressed with a show of "ao dai" (a traditional costume of Vietnam), performances of the country's martial art Vovinam, and traditional dishes, among others.
The programme also aimed to mark the 50th anniversary of the two countries' diplomatic ties and 10 years since the establishment of the strategic partnership.
Éric Pliez, Mayor of the 20th arrondissement of Paris, said he was delighted to attend the Tet celebration and witness the development of the APCV, one of the 3,000 associations operating in the arrondissement.
Vietnamese Ambassador to France Dinh Toan Thang highly valued the APCV's organisation of the programme, especially when Vietnam and France are marking 50 years of their diplomatic relations and 10 years of the strategic partnership in 2023.
He said what the association has done to popularise and preserve the Vietnamese culture are highly encouraging, and that contributions by each people will help reinforce the two countries' friendship.
The diplomat also called for the APCV's continued efforts to educate younger generations about the friendship and solidarity.
Founded in January 2019, the APCV gathers more than 200 members who are Vietnamese people and foreigners in five countries, namely France, the US, Sweden, Japan, and Vietnam. Aside from the headquarters in Paris, it also has branches in San Francisco of the US, Hanoi, and Ho Chi Minh City.
In celebration of the biggest traditional festival, the Embassy of Vietnam in Italy has held a hybrid programme connecting the Vietnamese communities in Italy, Cyprus, and Malta.
Similar events have also been organised by the embassies in Canada, South Africa, and Belgium.
The coming Lunar New Year, the Year of the Cat, will start on January 22.
Source: Nhan Dan