Sun, 10th Dec 2023 13:51 (GMT +7)
Positioning performing arts in the flow of art creation
Friday, 24/03/2023 | 08:52:30 [GMT +7]
A
A
After more than 20 years of practice in the country, performing arts is still a new, young and less supported form. Although they have not been formally trained at art schools or museums, performing artists are still practicing creativity, expanding opportunities for contact and exchange across the region and the world.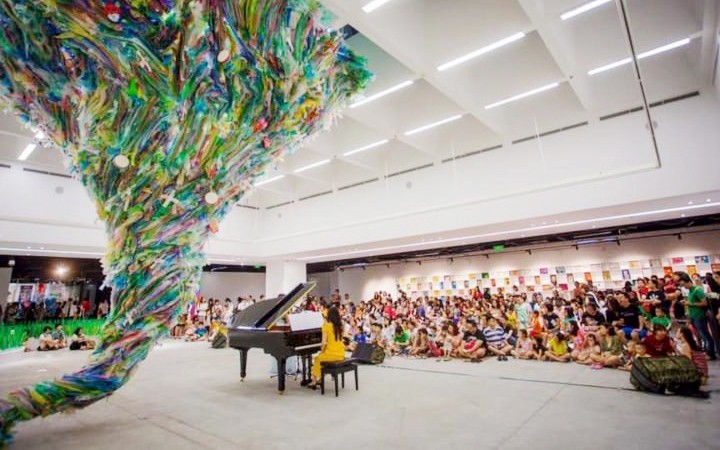 A performing workshop entitled "Ambiguity between Space, Time and Existence" was held by the Centre for Art Patronage and Development (APD Centre) for young performing artists and practitioners to exchange. Under the guidance of artists Seiji Shimoda from Japan and Seelan Palay from Singapore and under the project "Hay la" (Or) - a platform focusing on Vietnamese performing arts, students were trained with skills of performing and exploiting the elements of space, time, materials, behaviour and emotions.
The practice lesson was also part of the programme of opening the archives of the Lim Dim Performing Arts Festival 2004f nder the APD Art Library Project which gather, restore and share documents and discussions on performing arts in Vietnam.
With a changing society, performing arts has become an important language of Vietnamese contemporary arts. The understanding of performing arts has become broader and gradually more accepted and supported by the public. The performance and practice has been gradually developing out of confined spaces and approaching the digital environment.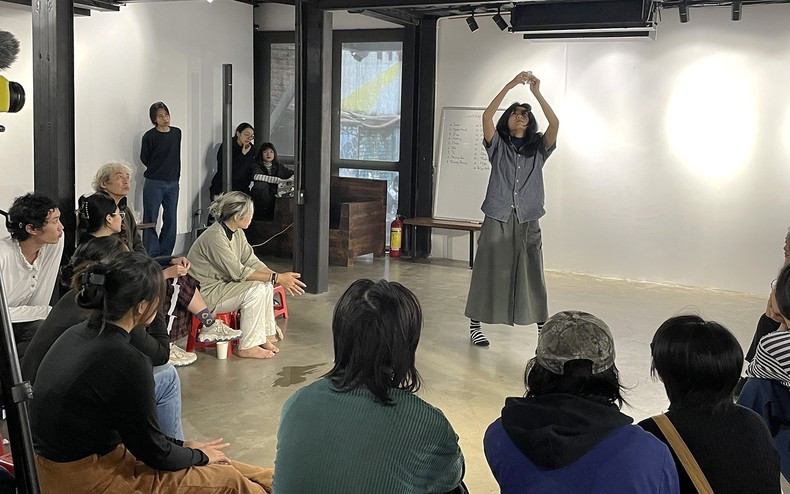 Nguyen Phuong Linh (also known as Flinh) is a conceptual artist born in 1995. She is one of 26 prominent faces in the Forbes Vietnam's "30 Under 30" list in 2022. Studying fine arts at the Vietnam Fine Arts University, Flinh began experimenting with contemporary art in 2016 with the practices of installation and performance. Participating in many national and international performance exhibitions, Flinh said that in performing arts, artists do not communicate with viewers through a painting or a statue. They react and interact with the public through their own bodies, convey messages and connect with other people around them through their behaviour.
The artists' works come from personal stories and the internal problems of society. Because there is no script, the artists must commit and take responsibility for all risks when stepping out of a closed space, entering real life, and facing and accepting all interactions with viewers. Therefore, performing arts has an honesty as it is not featured through the filter of languages, images and lines. The practice of performing arts helps Flinh not only reach a meditative state but also discover her own abilities and face challenges.
Until now, the performing arts is still controversial because it always interacts and expresses the performers' attitude or reaction to social issues. Performing artists and people around them are ready to receive unexpected and multi-dimensional interactions. Therefore, the expression of some performance works is sometimes quite eccentric and odd, so performing arts is considered a fringe and unorthodox art form.
Because of the means of expression using the body with diverse improvisation and without standardisation, a number of exhibitions and impromptu performances have been stopped midway.
Therefore, after more than 20 years of its presence in Vietnam, it is time for the performing arts to be positioned as well as oriented into the flow of art creation. It is necessary to develop a management mechanism as well as a system of standards to identify performing arts in a thorough manner, with a system of theory, archive library, museum and training institutions in universities. The organisaation of art tours and workshops at contemporary art centres is also the fastest approach to introduce performing arts to contemporary art lovers.
Source: Nhan Dan